Pancakes – what would the US be without them? Be they sweet, be they savoury – everybody has a favourite. But are they for breakfast? Should they be for lunch? Maple syrup and bacon or cinnamon and apple? Everyone is different and everybody has an opinion, but what about where to eat them? With over 1500 restaurants it feels like there's an IHOP on almost every corner, but if you're looking for something a little more special, here – in no particular order – are our top ten pancake houses from across the United States.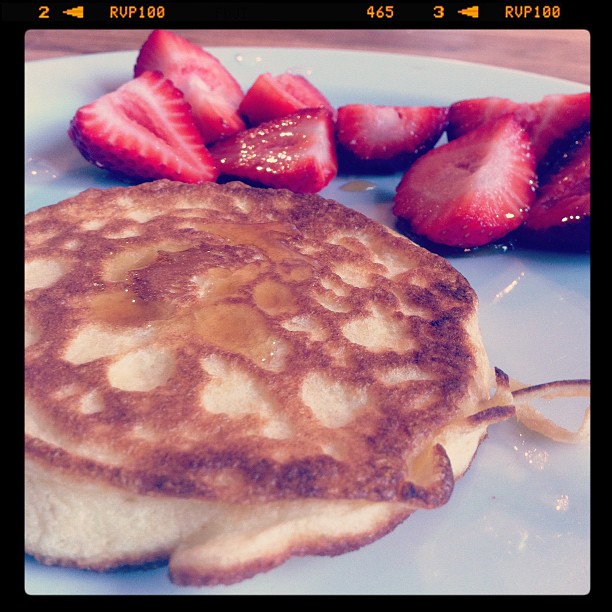 image from instagram
1. The Original Pancake House, Portland, OR.
Since 1953 this place has been exciting its customers and has them coming back time and time again. Open for breakfast and lunch only and with no reservations the queue often stretches down the road. Whether you have one of their more famous dishes – such as the apple pancake or a Dutch Baby – or one of the other flavours, these sour dough pancakes are sure to have you raving about them for a long time afterwards.
Address: 8601 SW 24th Ave, Portland, OR 97219, United States
Phone:+1 503-246-9007
2. Lake Placid Lodge, Lake Placid, NY.
These plain and simple buttermilk pancakes, served at breakfast, are sure to delight anyone who loves their pancakes. Cooked until they are thick and fluffy these delicious pancakes are made with local ingredients and topped off with plenty of local maple syrup.
Address: 144 Lodge Way, Lake Placid, NY 12946, United States
Phone:+1 518-523-2700
3. The Flying Biscuit, Atlanta, GA.
This little cafe in Atlanta – known also for its biscuits – is said to serve up some of the best oatmeal pancakes known to America. Served in a stack with apricot compote and maple syrup they are the ultimate in brunch food, and are served all day long.
Address: 3515 Northside Pkwy NW
Phone: (404) 816-3152
www.prunerestaurant.com
4. Prune, New York City, NY.
If 'Dutch style' pancakes are more your thing then Prune, in New York, is the place to go. These plate-sized pancakes are cooked in the oven due to their size, but come out with a fluffy centre. Topped with seasonal fruit, cream and maple syrup, these are a great breakfast/brunch treat.
Address: 54 E 1st St, New York, NY 10003, United States
Phone:+1 212-677-6221
For the latest deals on flights and holidays to New York use the links below.
New York Holidays
London Heathrow to New York
Manchester to New York
London Gatwick to New York
Newcastle to New York
Glasgow to New York
5. Richard Walker's Pancake House, San Diego, CA.
The Walker family and their restaurants are stuff of pancake legend. Having started in Illinois Richard has branched out on his own with two restaurants in Illinois and this one in California. Often queued out the door this is establishment boasts a huge array of flavours and its use of only fresh ingredients makes it standout success for San Diego.
Address: 520 Front St, San Diego, CA 92101, United States
Phone:+1 619-231-7777
6. Dottie's True Blue Café, San Francisco, CA.
As far as San Francisco's concerned Dottie's True Blue Café is where breakfast is at. From breakfast loving locals to out of town visitors, the buttermilk pancakes (spiced with cinnamon and ginger) are an absolute winner – just be prepared to wait for your table!
Address: 28 6th St, San Francisco, CA 94103, United States
Phone:+1 415-885-2767
For the latest deals on flights to San Francisco use the links below.
London Heathrow to San Francisco
London Gatwick to San Francisco
Manchester to San Francisco
Birmingham to San Francisco
Newcastle to San Francisco
Edinburgh to San Francisco
Glasgow to San Francisco
7. Ina's, Chicago, IL.
Ina herself is a bit of a Chicago legend and her restaurant is no different. From first-time diners to faithful regulars everybody is there for the delicious breakfasts. Wholesome food that will not break the bank, Ina's pancakes (with cream, blueberries, or a whole range of other toppings) are not to be missed.
Address: 1235 W Randolph St, Chicago, IL 60607, United States
Phone:+1 312-226-8227
8. Maialino, New York City, NY.
Plain and simple, but with a twist. This chic New York Italian Restaurant doesn't seem a likely place for a pancake paradise; however, it comes up trumps. The pancakes have the unusual twist of a ricotta based batter, which gives them their rich and velvety texture. Served with another spoonful of ricotta on top and syrup on the side these pancakes have earned the restaurant quite a reputation.
Address: 2 Lexington Ave, New York, 10010, United States
Phone:+1 212-777-2410
9. Lula, Chicago, IL.
This hip little Chicago café has been causing a storm of late, not for being cool, but for delivering its diners with fresh and exciting food. Breakfast and brunch pancakes are at the heart of this with the 'griddle cakes' following the rest of the menu's style of only using the freshest foods of the season.
Address: 2537 N Kedzie Blvd, Chicago, IL 60647, United States
Phone:+1 773-489-9554
10. Stanley, New Orleans, NY.
From the rubble of post-Katrina New Orleans has risen one of the most talked about pancake places in the US. Stanley (one half of a duo of restaurants – Stella! and Stanley – named after the Streetcar Named Desire characters) serves up pancakes of the Deep South like nowhere else. The stack, served with a scoop of vanilla ice cream and Steen's cane syrup, will have your mouth watering and you wanting to come back for more.
Address: 547 St Ann St, New Orleans, LA 70116, United States
Phone:+1 504-587-0093
What do you think of our 'top ten'? Have you been to any of them, or think you've been somewhere better? We'd love to hear from you and see where you would recommend.