The Golden State is popular with tourists for many reasons. These include its attractive, laid back cities, its magnificent coastline and forests, and the vine-covered slopes of its wine-growing regions. California is also where you'll find world-famous attractions like Disneyland, Hollywood, the Golden Gate Bridge and Alcatraz Island.
Here we consider just some of the cool things you can do only in California.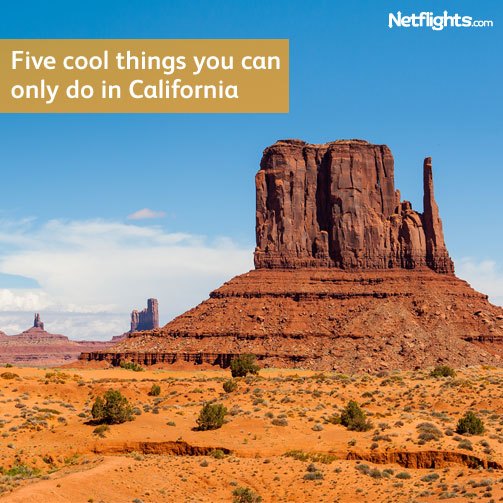 1.     Visit the surreal landscapes of Death Valley
Death Valley is the lowest area in North America, as well as the driest and hottest. It features unique and strangely beautiful desert landscapes, including dunes, huge flat stretches of cracked, parched land and blindingly white salt flats and mountains.
In Death Valley National Park, you can visit Badwater Lake, where you'll find miles of white salt; the Devil's Golf Course, with its craggy, wind-carved salt structures; the viewpoints at Zabriskie Point and Dante's View; the eccentric Scotty's Castle and even some authentic Old West ghost towns.
2.     Marvel at the world's largest trees
At the Sequoia and Kings Canyon National Parks, as well as in the Redwood National Park, you can see California's majestic redwoods (properly known as Sequoia sempervirens). These are the tallest trees in the world, reaching heights well in excess of 105 metres. These trees aren't just tall – they're also very, very old. The oldest known redwood is approximately 2,200 years old.
3.     Eat at the original Farmers Market in Los Angeles
The Farmers Market in Los Angeles dates to 1934, when a group of farmers congregated in an empty lot to sell produce from the backs of their trucks. This makes it one of the oldest in the country. Today the market is a southern Californian institution, featuring stalls, shops and restaurants selling just about every type of produce and cuisine imaginable. Along with standard American fare, you'll find plenty of Latin and Asian-inspired food. Colourful flower stalls add to the appeal, and there are plenty of outdoor tables.
4.     Ride the world's scariest roller coasters
California is known for its world-class amusement parks, of course including the original Disneyworld in Anaheim. If you like roller coasters though, you should visit Six Flags Magic Mountain in Valencia. This amusement park features a total of 18 roller coasters, among them the world's tallest and fastest stand-up roller coaster, the world's tallest vertical drop ride and the world's tallest and fastest flying coaster. Here you'll also find X2, known as a "fourth dimension" roller coaster because its seats rotate 360 degrees, independently of the main chassis. Special effects include fog and even a flame thrower.
5.     Get your breath back at Yosemite National Park
California's Yosemite National Park spans over 3,000 square kilometres of wilderness, across the western slopes of the Sierra Nevada Mountains. It was first designated as a protected area in 1864. California includes a vast number of parks and nature reserves, but Yosemite is one not to miss. It includes spectacular granite cliffs and glaciers, groves of towering sequoia trees, magnificent waterfalls and crystal-clear streams. The park was declared a World Heritage Site in 1984.