Flying long haul is a fun and exciting time, making that far off destination seem all the more magical. But to save money many of us opt for a journey that requires a flight change.
With this comes the layover, an ideal time to stretch our legs and wander around the airport. But why not take your exploring a little further than the walls of the airport?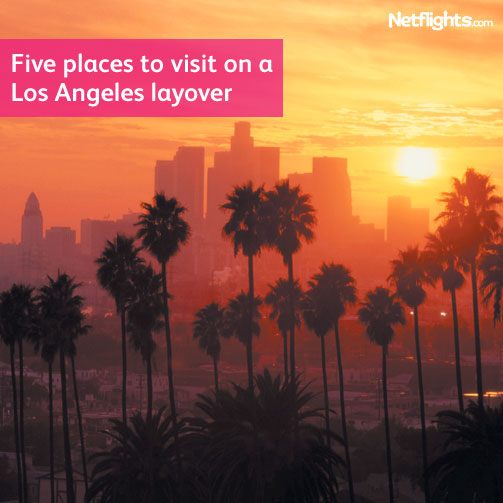 How about when you're visiting destinations like Australia, New Zealand, Asia and Hawaii, amongst others, which could require a layover at LAX airport?
Luckily, just outside the airport doors are a whole host of things to help you pass the time. Here are our five favourite things to do, for when you're waiting in LA.
A spot of shopping
With A-listers strolling up and down the high streets, Los Angeles is known across the globe for its fabulous shopping opportunities. So rather than sticking to the contained world of airport shops, why not venture out and do a little shopping?
Coming out of LAX you'll be spoilt for choice, as the airport is ideally located to reach a number of mega malls like the Beverly Center and the Del Amo Mall; alongside shopping districts such as Rodeo Drive and Robertson Boulevard. These places are filled with numerous high street, designer and independent shops, giving you the perfect opportunity to pick up some souvenirs on your fleeting LA stop.
Tanning top up
If your next stop is tanning central you can get a quick base coat during your layover; or if you've just left a sun soaked destination, you don't have to give it up just yet. Not far from LAX airport are an abundance of beaches, boasting golden sands surrounded by clear waters, giving you the perfect opportunity to grab that last bit of sun, or kick start your travels with a little taster.
Those nearby include Santa Monica, Venice Beach, Marina del Rey, Hermosa, Redondo and Manhattan Beach. All taking between 15 and 60 minutes to reach, you can get there by public transport or taxi. All beaches are surrounded by various places to eat and shop, with many featuring water sports such as surfboarding alongside other sporting activities like skateboarding and biking.
Get exploring
If sightseeing is one of your favourite things to do on holiday, why not make the most of LA and experience a guided tour.
These tours run from 9am – 5:30pm, so if you're here during that time frame, it's perfect. Picking you up from LAX the tour takes you around the City of Los Angeles, where you'll see Hollywood, the various beaches and homes of some of the world's biggest stars before returning to the airport. This tour takes around 5.5 hours, so isn't ideal if you're only there for a short layover; ideally a stopover of seven hours plus would be recommended.
Go downtown
Hop on public transport, metro buses/trains, and get a true taste of authentic LA by heading downtown. Here you can experience some sights you may not have considered before, such as the Walt Disney Concert Hall, the Music Center, Chinatown, the LA Flower District, Shopping Districts, LA Fashion District, MOCA, California Market Center, Olvera Street and various other interesting attractions.
Only taking between 30 to 60 minutes to access, this is a great way to pass the time. If your layover is longer than you expected, and you have more time to kill, it's only a 21 minute ride from Downtown Los Angeles to Hollywood and Highland on the Red Line.
Take a refreshing walk
No one walks in LA, this is a fact many of us have learnt over the years, but amongst the many roads, you'll find amazing places to enjoy a fascinating walk and reconnect with nature.
After a long flight, stretching your legs at places like Kenneth Hahn State Recreation Area is like a dream come true. Less than 10 miles from LAX this is the perfect place to kill a few hours whether you're travelling alone, with friends or as a family. Enjoy the amazing family-friendly recreation area and five miles of hiking trails filled with lush scenic views, a lotus pond and ideal spots for a picnic; if you have time of course.