New York City includes several world-class zoos, including the Bronx Zoo, Central Park Zoo, Prospect Park Zoo, Queens Zoo, Buffalo Zoo and Staten Island Zoo. Each is home to a diverse range of animals, from marmosets and ring-tailed lemurs to rhinos, emus, otters, rare frogs, gorillas, tigers and even giraffes.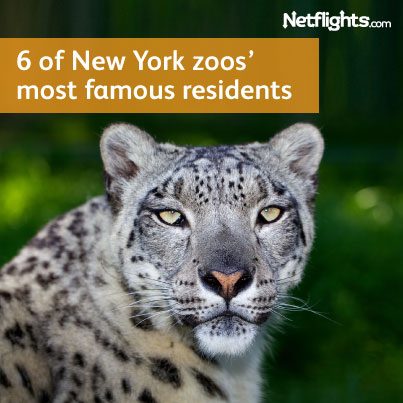 Over the years, many of the animals living in the zoos became well-known in their own right. Here we introduce you to New York's most famous animals – some of whom have passed on and others you can still meet today.
Leo the snow leopard
Under any circumstances, snow leopards are pretty special – but not every snow leopard survives being orphaned as a cub, moves to a new continent, and later serves as an ambassador for co-operation between Pakistan and the United States.
In 2005, Leo was rescued as a cub in the Naltar Valley of northern Pakistan, after a mud slide killed his parents. By the next year, Pakistan and the United States had reached a ground breaking agreement, and the leopard was transported to the Bronx Zoo as part of the snow leopards Species Survival Plan (SSP).
In April 2013 Leo's first cub was born. His arrival was greeted with welcoming statements from both the US and Pakistani governments.
Gus the polar bear
Gus, a 320-kilogram polar bear, was the first zoo animal ever to be treated with Prozac. It was thanks to his neurotic behaviour that New Yorkers fell in love with him.
At his home in Central Park Zoo, Gus drew attention to his problems when he started swimming obsessively, always in a figure of eight pattern, for up to 12 hours each day. A behavioural therapist was called in, and after spending time with the bear, gave his opinion that Gus was "just bored and mildly crazy in the way that a lot of people are in New York".
News of the depressed bear spread, and Central Park Zoo became famous for its neurotic inhabitant. On the therapist's advice, zookeepers redesigned the bear's habitat and set about making his time at the zoo more interesting. In 2002, they even installed a Jacuzzi to cheer him up.
By the time Gus passed away in 2013, at the respectable age of 27, roughly 20 million people had been to visit him.
Mia the cobra
A shy adolescent who only measures around 50 centimetres in length, Mia the Egyptian cobra caused the Bronx Zoo to shut down its Reptile House in 2011. After escaping from her cage it proved a struggle to find the missing snake, and took six days before caretakers found her hiding in a dark corner.
The news of the cobra's escape spread like wildfire on Facebook. After she was found and safely returned to her enclosure, The Daily News invited readers to vote on a name for the snake. The winner was Mia – for M.I.A., or "missing in action".
Happy the elephant
In 2006, researchers set out to prove that elephants are self-aware, or able to see themselves as others do. Their experiment had already failed with two elephants at the Bronx Zoo when they painted a white X just above Happy's right eye, and left her to find a large mirror in her enclosure. To the researchers' delight, Happy gazed at herself in the mirror and repeatedly reached up with her trunk to touch the new mark.
The results of the experiment were published in a journal of the National Academy of Sciences, and images of Happy watching herself in the mirror spread across the internet.
Edith and Katie the sea lions
In 2011, New York's Central Park Zoo welcomed two new California sea lions – Edith, at an age of just 9 months, and two-year-old Katie. Along with the zoo's two much older sea lions, Edith and Katie are a popular attraction. Full of energy, they delight Manhattan crowds whether they're in their pool, or at feeding demonstrations.
New York's red panda cubs
In the autumn of 2013, the Bronx Zoo and Prospect Park Zoo each welcomed a pair of red panda cubs – in both cases, consisting of a brother and sister. The red pandas are favourites with visitors, and people worldwide have been viewing footage of the new arrivals on the internet.
Red panda cubs are undeniably gorgeous, with teddy-bear ears, glossy auburn coats and fluffy tails. In China, they're also called "hun-ho", or "fire-fox". It's estimated that fewer than 10,000 of these animals are left in the wild, due to deforestation of their natural habitats.