Although Singapore is a remarkable city that is full of culture, history and architecture, most travellers will tell you that they visit for the food. Since Singapore is a true cultural melting pot, there is no end to the amazing and diverse foods on offer. Influences are obvious from the local Malaysian heritage, the European colonisation and the Chinese and Indian immigrants.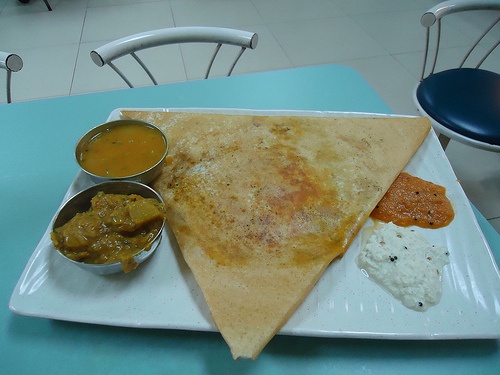 Most of the best foods in Singapore are the street foods, which are available from hawkers in sidewalk cafes and roadside stalls. Here are the eight foods that you won't want to miss the next time that you visit Singapore.
1. Char Kway Teow: One of the dishes that comes most highly recommended by locals is the delicious Char Kway Teow. This meal consists of flat rice noodles that have been stir-fried in a sweet and sticky soy sauce, and the addition of cockles is also popular in most restaurants. This dish may be greasy and filling, but it is the perfect dish to fill you up for a day of sightseeing or after one two many drinks the night before.
2. Chilli Crab: Tourists who visit Singapore often rave about the chilli crab, which is a delicious seafood dish. Chilli crab is, as the name implies, crab that has been tossed in a spicy chilli sauce. The crab is kept whole, which makes the dish quite messy to eat. However, this small inconvenience is well worth the heat, flavour and depth of chilli crab. It is typically served with a piece of bread to sop up every last bit of the incredible sauce.
3. Carrot Cake: When you think of carrot cake, you might think of a dessert. In Singapore, carrot cake looks like a thin potato pancake, but it is made from ingredients like shredded carrots and turnips, egg, garlic and a fish sauce. It is usually topped with fresh spring onions.
4. Roti: This tasty bread is most commonly associated with India, but immigrants to Singapore have made it a major part of the local diet. The flaky thin bread is used to sop up extra curry, but you can also find it filled with chicken or vegetables and served as a kind of sandwich. It can also be eaten plain as a light snack on the go.
5. Rojak: If you have had enough of the most common fried foods in Singapore, you will definitely want to try Rojak. This refreshing salad manages to hit all the major flavours of sweet, spicy, sour and salty at once. The salad changes from vendor to vendor, but the typical version will include ingredients like apples, turnips, bean sprouts, pineapple and mango. All the ingredients are shredded and served together with a flavourful dressing, crushed peanuts and fritters on top.
6. Hainanese Chicken Rice: This Chinese dish consists of chicken soaked in a ginger broth and then sliced thinly. The broth is used to cook the rice, which gives it a salty and meaty flavour. The sliced chicken is then served on top of the rice for a full meal.
7. Satay: This dish might be more commonly connected to Thailand, but it is also readily available in Singapore. Satay is meat, usually chicken or beef, that is grilled and served on a skewer with a thick peanut sauce.
8. Pisang Goreng: If you are ready to enjoy something sweet while touring Singapore, be sure to look for a stall selling Pisang Goreng. These battered and fried bananas come with a range of sweet toppings that include a cinnamon sugar mixture or chocolate sauce.
When embarking on a foodie tour through Singapore, you will definitely want to enjoy as many of these delicious foods as possible.
Check the links below for the best prices on flights to Singapore from the UK.