It's one of the world's most famous festivals. It was the scene of 2Pac's comeback as a hologram, host of one of the Stone Roses' 2013 gigs and is bulging with A-list celebrities from both sides of the Atlantic. Coachella is a name on the lips of all festival experts. But how much do you know?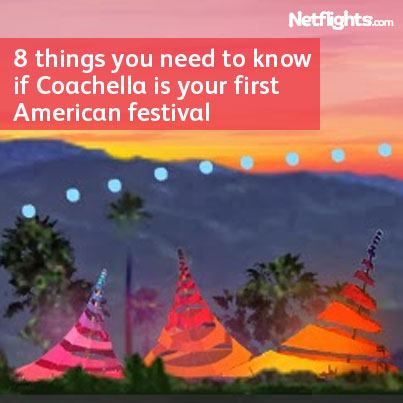 Here are 8 things you need to know if it's your first American festival.
1. Firstly, you'll need to think about how you're going to get there, while keeping in mind how big America is compared to the United Kingdom.  Flights into Palm Springs International Airport are expensive around festival time, meaning that it usually works out cheaper to fly into LAX and road trip the near 150 miles to the site with a rental car.  There are also shuttles that run from Los Angeles if you don't fancy the drive.
2. It's not like a British Festival. While warm cans of cider might be a staple at home, drinking at Coachella isn't that easy. There are designated drinking areas (which unfortunately are cramped and away from the real action). Don't worry; the line-up is that good you don't need booze. This really is a festival US style.
2. Coachella is small. If you've never been before you probably imagine the festival site being like Glastonbury mixed with the OC. You'd be wrong on the first bit. There are only around 5 stages which are all within 10 minutes walking distance. It's ideal and means you shouldn't miss any of your favourite bands.
4. People watching is a real pleasure here. We've probably all seen the YouTube video of the guy unable to pick up his flop flop from 2010, and whilst drunken behaviour like this might not be the same as festivals at home there's plenty of American clichés to look out for. Think frat boys, hipsters and Californian blondes.
5. If you're not camping on-site, remember to leave early to avoid the long queues and potential of missing that quirky band you love that's playing an early slot.  Otherwise, say hello to your high spirits and be prepared to wait it out.
6. Coachella is set in the desert, so don't be a fool and remember to keep drinking water throughout the day.  Drinking alcohol only will dehydrate you to a potentially dangerous level, which will only serve to destroy what should be a memorable and fun weekend.
7. Make sure you lather up with sun cream, as dialling up your tanning levels to lobster will lead to a highly uncomfortable experience you can happily do without!  Waterproof protection would be ideal to counter the dancing you crack out in the heat of day.
8. The heat provides the opportunity for the skimpiest of dress codes – mainly swimwear! This might be a little uncomfortable for the pasty Brits, but for the bronzed locals it's just a normal summer's day.
Have fun! It's an experience of a lifetime.