Shangri-la Hotels certainly live up to their name. Inspired by the legendary land in James Hilton's novel 'Lost Horizon', it's a name that has brought a luxurious experience that's really out of this world for business and leisure travellers.
Beginning with a first luxury hotel in Singapore in 1971, there are now 72 Shangri-la hotels with 30 000 rooms across the world. You'll find them most easily in Asia, but also in North America, the Middle East and Europe. They're growing all the time too.
The Singapore Shangri-la is a good place to start. It is literally in a different world, set in 15 acres of lush botanical gardens. Filled with 133 000 plants, flowers and trees, as well as two hundred Japanese Koi fish, there are organised tours available every Friday morning.
Stay at the Bangkok Shangri-la and you'll gaze upon the waters of the Chao Phraya river. The hotel has its own yacht called 'Horizon' and you can enjoy a restful river cruise on board. Return to the hotel and you can further unwind in the largest spa suites in Bangkok, or take a yoga class. Plenty of indulgence is available for chocolate lovers in the hotel's Chocolate Bar. Choose from gourmet nibbles, drinks and cakes, all made from some of the best quality chocolate around. Lovers of Thai food can learn how to cook it properly at a professional lesson in the hotel.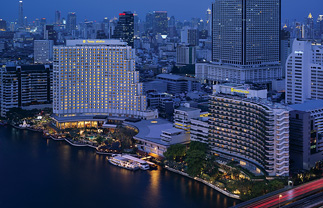 The first Shangri-la in North America is on the west coast of Canada in Vancouver. Here, you can eat very well at the 'Market by Jean-George' restaurant. Conceived by French culinary maestro Jean-George Vongerichten, its dishes are creative interpretations of the freshest local produce. For pure refreshment, drop into the Ginger Juice Bar or sample some authentic Chinese tea drinking in the Xi Shi Lounge.
In Sydney, the Shangri-la allows you to drink in the most spectacular views of the Sydney Opera House and the iconic Harbour Bridge whilst you enjoy fine dining. If you like the food created by chef Steven Krasicki in his 36th floor 'Altitude' restaurant, private cookery lessons are available. A suite at this Shangri-la really makes the most of the hotel's spectacular location with 270 degree panoramas taking in Sydney's sights on almost every side.
Still in Australia, the Shangri-la in Cairns has its own breathtaking waterside location. Set within the Pier complex, the hotel overlooks the Marina and the beautiful Coral Sea. This is the perfect gateway to the Great Barrier Reef. You'll be able to arrange all manner of transport to explore this wonder of the natural world: sailing boats, large luxury cruises, helicopters or even seaplanes. Big game fishing and diving are other options for maritime entertainment. Inland, there's another must-see attraction:
the glorious flora and fauna of the ancient Daintree rainforest.
Hong Kong's Island Shangri-la offers another kind of spectacular sight. Its stunning architecture contains 771 chandeliers, as well as the largest Chinese silk painting ever created. Depicting the 'Grand Motherland of China', it spans 16 storeys in the atrium. The food in the hotel's Petrus Restaurant is well worth a look (and taste) too. Created by masterchef Frederic Chabbert, it has been awarded a coveted Michelin star and resulted in respected Conde Naste Traveller magazine voting this Shangri-la one of 'best hotels in world for dining'.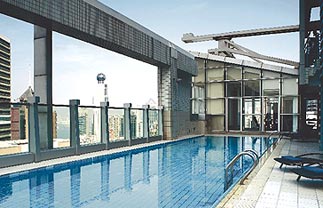 In Abu Dhabi, the hotel lies on a kilometre of private beach and has a real Arabic feel to its layout and architecture.
This even includes a unique souk market with a number of shops under one roof. These are connected by waterways on which you can be taxied along in an Arabic gondola, or as they are called locally, an 'abras'.
If you've enjoyed a Shangri-la hotel, or are about to, we'd like to hear about your experiences. Where did you go, what was it like? Any tips or suggestions? Let us know about your visit to Shangri-la.
For the best deals on breaks to Shangri La hotels visit our deals page.