Toronto is a cosmopolitan hub for the arts that through its sheer versatility will see any culture vulture salivating with possibilities to spend their time. With 4.5 million residents Toronto is one of the most multi cultural populations of any city in the world. Rather than just mention a few museum, perhaps like other blogs might, this blog is going to highlight areas of the city that literally drip culture. Each of the places below is full of bars, cafes, gigs, book readings, poetry, art and other things that make Toronto a cool city.
The Annex

Any neighborhood of Toronto that Margret Atwood and John Ralston Saul call home is a place that has some reserves of culture! Located near to the University of Toronto campus the Annex has long been a stomping ground for intellectuals, U of T students and writers. Used book stores dot this area, as well as an intriguing outdoor book seller whom always is up for an engaging political and religious discussion with his near encyclopedic knowledge – used record shops and art supply stores. Cool independent cafes are abound with a few of the best being snakes and lattes – a cafe with hundreds of different board games to be played – and the green beanery.
There are places for gigs like the Annex Wreck room and Lee's Palace… the latter which can't be missed with its graffiti adorned exterior walls. For quiet'ish' drinks, and intellectual banter the Victory Cafe, which has regularly poetry readings and band performances, and the Green Room – a bar located in back alley and is adorned with ever altering selections of local art on its walls – are you places.
Ossington/ Dundas
In the last few years all things cool and hip have moved west to the Ossington and Dundas strips. This area is full of non mainstream bars and music venues. Ossington exists as a kind of foil to the down town clubbing and entertainment district; a refuge where those who are not interested in dress codes, drinking till you can't stand and listening to refurbished, and sometimes not so refurbished dance trash come.
The most apt comparison is to New Town in Sydney and Shoreditch in London. You can get your pre-requisite douse of culture just checking out the varied fashions of the hipsters shuffling between this areas varied bars and art galleries.
Queen Street West
If the Annex is the home of intellectuals and writers Queen Street West caters best to musicians and artists. One of the most storied streets in all of Canada, Queen Street from start to finish is littered with independent shops, cafes, bars, and art galleries. Any person coming to Toronto and wanting to see the cities culture would be advised to walk its full length – if you have two hours to kill – from the beaches in the east to Roncenvale avenue in the west. In doing this you will see reincarnations of the street again and again from high brow hipster, to impoverished pseudo ghetto, to high end retail.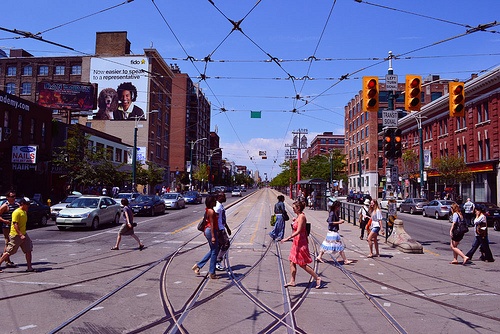 One thing not repeated in its length is similarity or corporate redundancy. Also be sure to check out Trinity Bellwoods Park, a park that unofficially allows drinking (against the law in Canada) in public and is a great park in its own right wear collections of hip Canadians spend a warm summers day.
For the latest deals on flights to Toronto use the links below.