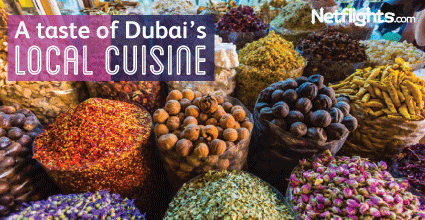 Thanks to its Michelin-star rated chefs and huge variety of restaurants suited to every taste and budget, Dubai has earned a reputation as one of the most vibrant dining destinations in the world. But between the multicultural eateries and celebrity haunts, there's a world of Emirati cuisine just waiting to be explored. Check out our list of restaurants and cafés that are sizzling with local flavour.
Seven Sands
Boasting a beachside location on the promenade at Jumeirah Beach Residence, Seven Sands offers breakfast, lunch and dinner with a taste of the UAE. Its name and menu reflect the seven emirates with authentic dishes made from local ingredients presented in a modern setting. Grab something quick like shawarma (a spiced chicken wrap) or legemat (sweet fried dumplings) to go or take your time to enjoy a lavish feast of a whole lamb cooked in aromatic spices.
Sheikh Mohammed Centre for Cultural Understanding (SMCCU)
A haven of Dubai's culture and customs located in the Al Fahidi district, the SMCCU serves authentic Emirati cuisine in a restored wind tower house. Take a guided walking tour around the historic district before finishing with a traditional Bedouin meal, prepared by local chefs. Try mhammar, local fish prepared with caramelized onions and rice or chabab, a pancake spiced with cardamom or saffron.
Al Hadheerah
Nestled in the desert at the Bab Al Shams Desert Resort, you'll find an open-air restaurant offering live music, falconry displays and Tanoura dancers. Once you tear your eyes away from the spectacular entertainment, help yourself to an elaborate buffet of traditional Emirati food. Sample shawarma, kebabs, grilled fish and many more dishes cooked and prepared to perfection on wood-fired ovens, spit roasts and live cooking stations.
Al Fanar
Providing authentic cuisine that delights residents and visitors alike, Al Fanar sets the stage for a journey into Dubai's origins as a small fishing port. Nostalgic scenes of traditional life are recreated within the restaurant, from the architecture of the old town to the sights and smells of the souk. The themed restaurant offers an array of classic fare including hearty stews, kebabs and rice dishes. End your meal with a steaming pot of Arabic coffee (Qahwa) or tea.
Klayya Bakery and Sweets
When you've had enough of fine dining, pay a visit to this small, quirky café in the Al Barsha Mall. Sit back on brightly coloured cushions and enjoy a traditional breakfast of freshly made bread, spiced pancakes or date omelettes. To finish, wash it down with some sweet, creamy karak tea and you're all set for a day of retail therapy.