Flying in Business Class is how flying should be. It's elegant and comfortable, peaceful and calming. Attentive service is bestowed upon you from the moment you step onboard, and you can relax in the knowledge that your every comfort will looked after by the highly trained crew.
Alongside comfortable seating, technology and overall ambiance, onboard wining and dining has become an increasingly strong area of focus for airlines. It helps them differentiate themselves in the ultra-competitive premium aviation sector, and create loyalty in their Business Class passengers. The premium cabins have always served better food than economy class, where you can expect bland foodstuffs. But today airlines are going one step further, locked in something of a taste race as they pull on the skills of award-winning chefs, locally sourced ingredients and all their service experience to create truly exceptional dining for their passengers.
But, seeing that you lose around 30% of your taste buds in the air, just who can claim to serve the best Business Class food? Here's our top five.
Singapore Airlines
Our top spot deservedly goes to the global aviation superstar from the tiny city-state perched just north of the equator. Singapore Airlines has time and again set the standard for outstanding onboard product, particularly for the premium traveller, and continue to raise that bar ever higher.
Singapore offers true restaurant-style dining, while the menu – designed by an International Culinary Panel – combines the airline's Far Eastern heritage with it's international perspective. World-renowned chefs including Alfred Portale, Carlo Cracco and Matthew Moran take inspiration from their local cultures and travel experiences to constantly develop new and exciting dishes for you to enjoy. An online 'book the cook' option even allows you to choose your favourites from this incredible range of dishes before you fly ensuring that your flight will be a special one with you in foodie heaven throughout.
Sample mains from London include Braised short-rib of beef served with potato purée, red chard and horse radish cream; Grilled lamb cutlets marinated in spiced yoghurt, bubble and squeak, Greek salad and raita dressing; Cantonese roast duck with vegetables and steamed rice; and Lobster Thermidor, grilled asparagus, roasted diced tomato with herbs and fingerling potatoes.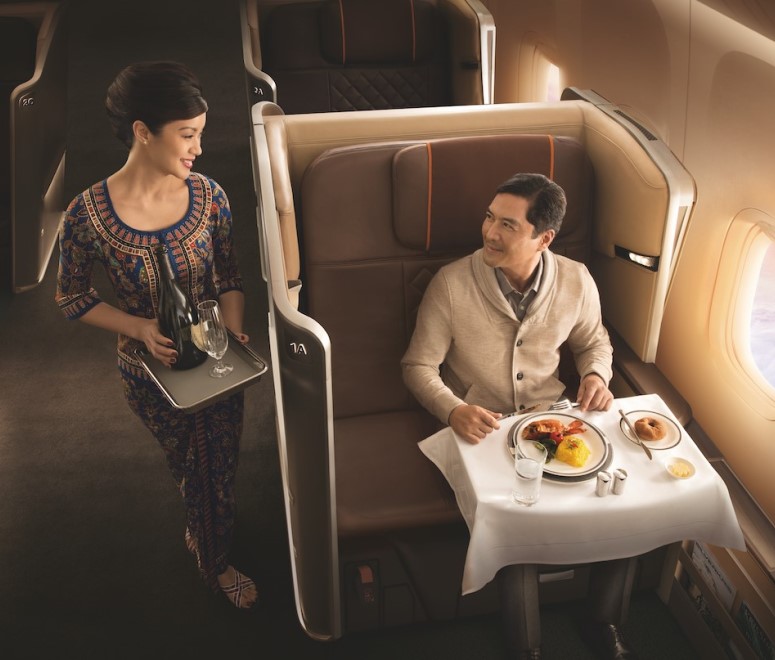 Qatar Airways
Sumptuous, diverse cuisine served beautifully under candlelight on crisp white linens – Qatar Airways' on-demand à la carte dining captures authentic Arabic recipes, mixed with traditional Western dishes in a celebration of flavours. Qatar's A380's feature a dedicated lounge and bar area that feature a range of 'help yourself' canapés such as poached prawn and wasabi or the delicious lamb loin and butternut squash, while for their main meal, passengers can select from options like grilled prawns and scallops served with green papaya salad, pepper-crusted beef tenderloin served with garlic, and pan-fried sea bass served with crushed Brussel sprouts, there's plenty of choice for everyone. For dessert, we'd recommend the warm gooseberry cake with chopped pistachios and red currant confit.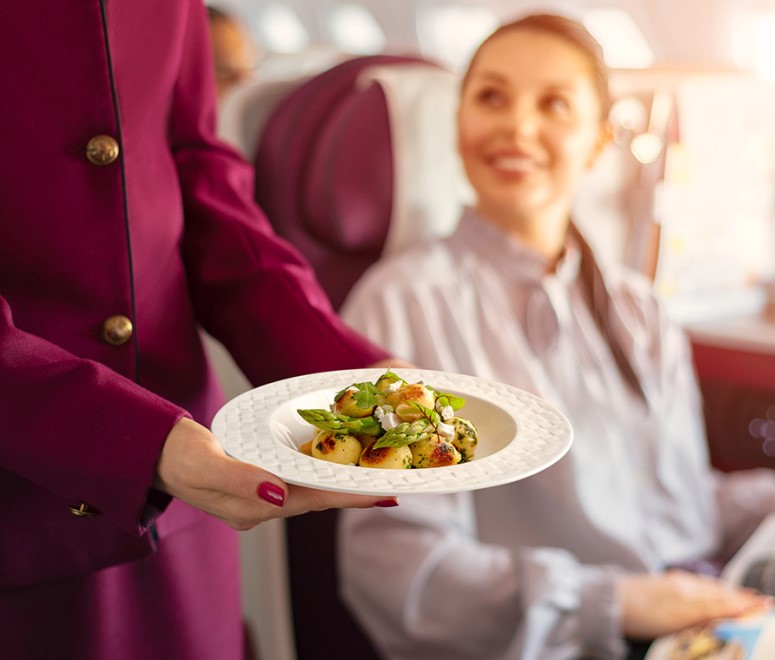 Malaysia Airlines
Malaysia Airlines has done a lot recently to turn itself around, and their Business Class food, famed for its amazing chicken satay, really hits the spot. Hospitality is what defines Malaysian culture and with a distinguished 'Chef on call' service available to pre-order your meals from 14 days to 24 hours before departure, passengers have an enormous selection of tasty dishes to choose from, made from locally sourced and sustainable produce, ranging from local Malay dishes to western favourites, including Southern-style barbecued beef ribs with potato and corn salad and roasted pumpkin; grilled Kenchin-style sea bream with green peas rice and simmered Japanese-style vegetables; traditional Malaysian beef rendang with lemongrass, ginger and galangal; and grilled lobster tails with creamy mashed potatoes, cherry tomatoes and lightly buttered asparagus tips.
Cathay Pacific
If you have a passion for travel and exploring new flavours, then Cathay Pacific's Business Class food is going to be exactly what you are looking for. Created in collaboration with chefs from prestigious hotels in Hong Kong and around the world, its restaurant-style Business Class dining is continually evolving and evocative of destinations near and far.
Featuring local, sustainably-sourced produce and seasonal vegetables, the menu offers a choice of Asian infusion dishes and old favourites that cater to all tastes.the menu offers a choice of Asian infusion dishes and old favourites that cater to all tastes. Expect wok-fried prawns, black truffle, asparagus, and mixed baby vegetables paired with steamed Jasmine rice; or grilled Australian prime beef tenderloin, fine haricot vert, carrot, roasted new potatoes and red wine jus. Alternatively, you can opt for the 'Hong Kong flavours'  menu, and indulge in interesting local specialities including Efu noodle soup with crab meat sauce; coconut and red bean pudding; or roasted duck with lai fun rice noodles in soup.
Air France
As the flag carrier for a nation renowned globally for its fine cuisine, it should be no surprise that Air France ranks highly when it comes to Business Class dining and service. Elegant tableware features from French designer Jean-Marie Massaud with porcelain by Guy Dugrenne and steel flatware by Christofle compliment a carefully curated with dishes matched perfectly with wines chosen from Paolo Basso, named the world's top sommelier in 2013. It's all been designed to make passengers believe that they're in a restaurant on the Avenue de Versailles, not an aircraft at 32,000 feet.
On the airline's flights departing from Paris, Business Class passengers enjoy meals created by Michelin-starred chefs such as Anne-Sophie Pic and Arnaud Lallement, the leading stars of French cuisine. Passengers can look forward tournedos with foie gras and poêlée landaise; chicken and shrimp served with paella-style rice; orzo pasta with piquillo, red pepper cream and Espelette pepper; lamb confit with olives and lemon, pistachio and pepper semolina; and saithe cooked in coriander-infused butter with Biscay-inspired ginger.