A summer of sport, food and travel is on the horizon – sounds amazing!
We're excitedly preparing ourselves for the imminent arrival of each World Cup team's national dishes to make a limited appearance on our menus in restaurants. So, work up that global greed and whet your appetite with our top five dishes that we think make the cut above the rest….
Locro, Argentina
Locro is the national dish of Argentina but is also popular in Bolivia, Peru and Ecuador. As a thick, warming stew, this dish is usually served in winter time. Its yellowy colour and dense texture liken it to a korma sauce – although you can expect this dish to pack way more of a punch than its look-a-like cousin.
Vital ingredients include butternut squash, corn, potato (in its truest form locro is made with a particular type of potato 'papa chola' which is hard to find outside its native region), beef (sometimes chorizo is used), onions, garlic and cheese. Don't forget generous lashings of paprika for that all important kick.
If you fancy having a go at making this scrumptious stew for yourself then you'll need the following:
1 white onion, diced
½ garlic glove
2 cups of water
½ butternut squash, peeled and diced
Small handful of crumbles queso fresco cheese
Paprika to season
½ red pepper, chopped finely
4 baking potatoes, peeled and chopped
1.5 pounds of beef, sliced
Half a chorizo sausage, chopped finely
¼ cup of sweetcorn
Salt and pepper to season
This recipe serves 4, so scale up or down depending on how many people you're cooking for.
Fry off your onion and add the garlic. Sauté until fragrant.
Brown the beef and chorizo in the same pan.
Add the peppers.
Take a large pan and put the above ingredients in along with your water, butternut squash, sweetcorn and potatoes. Cook over a low heat for 2 – 2 ½ hours.
Season with salt and pepper.
Serve the stew hot, and sprinkle with queso fresco cheese.
A spicy red sauce made with red peppers and paprika is sometimes served on the side. This is called quiquirimichi.
It's tradition in Argentina to serve this dish on May 25, which is the anniversary of the May Revolution.
Feijoada, Brazil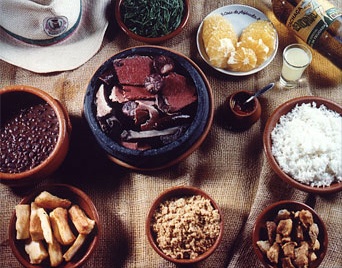 If you're flying out to the world cup host then it's probably good manners to be au fait with some of their local cuisine. We've picked Feijoada for you to try – the king of all main courses made with beans, beef and pork.  It's a meaty affair so probably one to avoid if you're a vegetarian.
Feijoada is made with black beans (pinto beans can also be used), salted pork trimmings (everything from shoulder and belly to ear and tail), bacon, smoked ribs, a minimum of two types of smoked sausage and jerked beef. Told you it was meaty!
To try your hand at cooking this meat mania, you'll need:
Olive oil
1 onion
200g pork shoulder and / or pork spareribs
2 rashers of bacon, chopped
1 pound beef diced
300g smoked sausage
200g dry black beans
1 glove garlic, crushed
2 tins chopped tomatoes
1 bay leaf
(makes 4 servings)
Pour piping hot water over your beans and leave them whilst you prepare the meat.
Brown your onions in a pan with olive oil and add your pork shoulder. Fry for a few minutes. Take out the pork and add your garlic. Sautee for 2 minutes.
Add in your shoulder again, plus the other cuts of meat. Add enough water to cover and toss in your bay leaf. Cook for 45 minutes – 1 hour.
Drain the beans and add them to your stew and simmer for another hour –hour and a half.
Throw in your tomatoes and simmer until cooked right through.
Season with salt and pepper and serve.
They add vegetables too, and popular greens include cabbage, kale, carrots, potatoes, pumpkin and sometimes…banana. The vegetables are added right at the end and kept on top of the meat so that they're coated and cooked by the vapours from the dish.
The dish is traditionally cooked in a clay pot over a low fire and served with white rice. Bring on the meat!
Zurich Geschnetzeltes, Switzerland
This dish roughly translates as sliced meat Zurich style. We think it sounds just the right side of rich; it's saucy and meaty and not too heavy. Veal is sliced into thin pieces and sautéed in a piping hot pan with butter and onion. White wine, veal stock and cream are added to the pan to create a jus, along with diced onions. It's seasoned with lemon juice, salt and pepper.
Cook to impress and try this one at home! You'll need:
500g veal shank
10g flour
Sunflower oil
Oregano
For the sauce:
250g diced mushrooms
30g butter
½ onion
Flat leaf parsley
150ml white wine
250ml single cream
Firstly, sprinkle the veal in flour.
Heat your pan with oil and fry off your veal until it is pretty much cooked through.
Once almost cooked, take out of the pan and leave to rest.
Fry off your onions and mushrooms. Add the white wine.
Mix in the cream and bring your sauce to the boil.
Throw in your veal with chopped parsley.
Season to taste.
Voila!
Zurich Geschnetzeltes are usually served with either fried potato rosti, rice, mashed potatoes or tagliatelle pasta.
It strikes us as the perfect après ski dish; warming, rich and totally European.
Kedjenou, Ivory Coast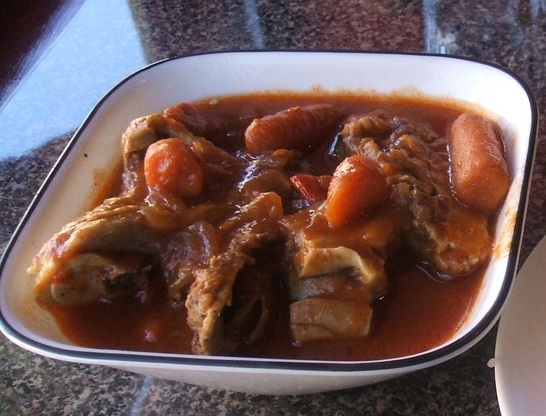 Slow-cooked chicken is always a winner.  But when your chicken has been wrapped in banana leaf and grilled in a sealed terracotta pot over hot coals, you know you're on to something special. Introducing Kedjenou; it's a really popular dish in the Ivory Coast, Africa, and we think it sounds delicious.
The meat is left to cook in its own juices alongside carrots, aubergine, tomatoes, onions, a bay leaf, ginger and thyme.
Despite its exotic origin, Kedjenou is really, really easy to emulate at home. You'll need the following:
A large chicken cut into serving portions
2 tbs peanut oil
2 aubergines finely cut
8 large beef tomatoes, chopped
2tbs fresh grated ginger
1 bay leaf
100ml chicken stock
1 clove garlic
Handful of jalapeno peppers (take the seeds out if you're not a fan of the spice!)
Salt and pepper to taste
Most importantly, you will need a sealed pot to cook your dish in – the secret with kedjenou is that the ingredients cook in their own juices and need a tight lid to keep the moisture in.
Heat your oven to 160 degrees.
Sautee your onions, garlic and jalapenos.
Throw all your ingredients into your cooking pot, placing the lid on tightly. You can use tin foil as an alternative but make sure it's wrapped up really cosy.
Cook for an hour and a half – two hours on a low heat. 'Shake' the dish every 10 minutes. This is vital as it will prevent food from sticking to and burning on the edges, and will help the juice absorb all the flavours.
Season with salt and pepper.
The fruity flavours of the spices and vegetables infuse into the chicken, which works really well in creating a juicy, meltingly tender meal that's fragrant and wholesome.
It's served with Attiéké, a carb-heavy dish made from grated cassava (a bit like couscous), but rice will suffice!
Chazuke, Japan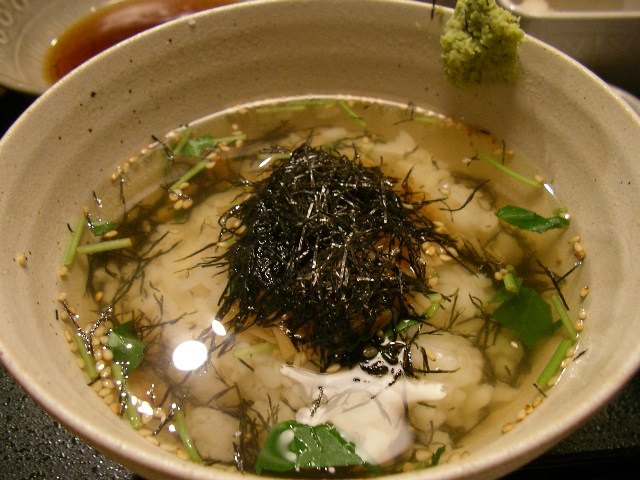 Chazuke (or, ochazuke as it's sometimes known), is really popular in Japan. It's renowned for being light, refreshing and a real palette cleanser. In Japanese, 'cha' means tea so quite literally; this dish involves hot green tea being poured over steamed rice and your choice of topping (which makes it mega healthy too). It sounds odd at first, but trust us on this one. It was initially seen as a handy way to use up leftover rice but quickly became a popular snack.
The beauty of this dish is its versatility – popular toppings include grilled salmon, seaweed, pickles, wasabi, chicken, onions, sesame seeds – the list goes on!
We've rustled up our favourite combination – what do you think?
½ cup uncooked rice
2 cups Japanese green tea
Toppings
Roasted nori (seaweed)
1 tablespoon of soy sauce (optional)
1 tablespoon wasabi paste (optional)
½ grilled chicken breast
Boil your rice on the hob until it's cooked through
At the same time, grill your chicken
Place the rice in a bowl, and top with chicken, wasabi, soy sauce and seaweed
Pour your hot tea over the dish.
Serve immediately.
What toppings would you choose for this far east dish?
It's perfect as a starter or if you're looking for a quick-fix snack.