The world cup brings 32 nations together for a festival of football. And what better place to do it than the party capital of the world – Brazil? The drums are beating, the samba steps are tiptoeing and the horns are blowing – that's just in the Netflights.com office!
We might have Brazil on the brain, and the samba rhythm in our feet, but it's not just Brazil that sets the world alight when it comes to drinking, and dancing 'till the early hours. The other countries in the world cup do pretty well too. So much so that we'we've been about here and there in recent months to find you the best spots to party from around the world.
Grab your dancing shoes and your party bag, we're off!
Green Valley, Brazil   http://www.greenvalley.art.br/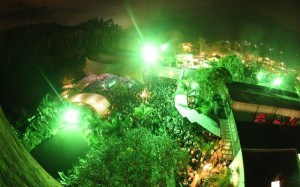 First stop. We're heading off into the rainforest.
When it comes to partying until the small hours, no one quite does it like the Brazilians (The Rio Carnival is the testament to that!), so it's only natural that we'll start here – in the Green Valley. Green Valley is lush and tropical, with a massive canopy above and the rainforest surrounding it. It's a little less samba and a bit more electronic though. Think more James Zabiela, David Guetta, Fatboy Slim and glow sticks rather than skimpy feathers, wings and whistles.
The club was recently voted number 1 in the world by DJ Mag, beating Space in Ibiza to the top spot. It says it all really. We're predicting it will be bursting at the seams come the summer.
Goa, Italy  http://www.goaclub.com/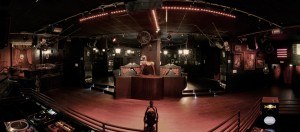 We're back in reality in Rome. Well, not quite. Goa isn't really what you'd call reality.
From an old motorbike repair shop to a club space with an atmosphere that mimics a full moon party, the club takes its name from India's beautiful and smallest state, Goa.
While Goa in India is now home to hippies from the 60s who have made it their retreat for life, the club has the same effect – you just never want to leave! Since 1996 the 700 capacity club in Rome has played home to some big names in electronic music and is a hit amongst locals and tourists in the know.
The décor is marvellous, based on an old English lord's Indian mansion; you'll find rocking horses, draped curtains and wooden floors. The walls are mounted with replica (as we're led to believe…) oil paintings encased in thick ancient looking frames that loom over you like windows into the past. It's a surreal place to party and a little different from many spots in Italy.
Admission varies from €10 – 25 and usually includes a free drink. The dress code is fashionably chic (whatever that is) – just remember, it's Italy so always dress to impress.
Studio 80, Netherlands  http://www.studio-80.nl/
The pace is gathering on our party expedition. Next stop, The Dam.
The Dutch capital is home to the magnificent Studio 80. Value for money guaranteed, entry can be as little as €6 before midnight and you get the opportunity to see some great artists. Once regarded as Amsterdam's best kept secret, nowadays it is competing with the city's other hot spots for tourists, with many making the friendly intimate settings of Studio 80 their target destination as they embark upon the city.
As a non-profit organisation Studio 80 is more about giving aspiring DJs a chance rather than making money. Expect to pay around the €3-4 mark for a beer and a little more for a wine. The dress code is pretty casual, like many places in Amsterdam.
The Croft Institute, Australia http://www.thecroftinstitute.com/
And relax. Down under.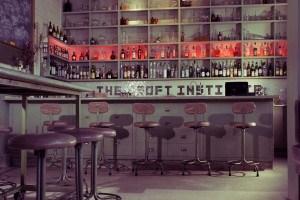 It's time to take some time out from the hectic partying we've been doing so far and take some time out to chill. There really is nowhere better than the Croft Institute in Melbourne. Whether you're gearing up for a big night or enjoying a relaxed one it's ideal. Loosely based around a science lab you can enjoy cocktails made with all manner of scientific equipment. We couldn't get enough of the use of pipettes for mixing drinks!
The bar itself is tucked behind Chinatown down a couple of graffiti covered alleys. We stopped a few times questioning our whereabouts, but keep going and you'll find the entrance tucked away.
Cost wise you're looking at about $8 a beer and $12 – 16 for a cocktail. It's worth it. Just remember, Melbourne is hipster central. A bushy beard isn't essential, but you'll fit right in!
Rex Club, France  http://www.rexclub.com/
Viva la France! And long live the Rex Club – we're back on the clubbing train!
The Rex Club is currently celebrating its 25th anniversary as a clubbing Mecca located in the world's most romantic city. Current line ups feature everyone from Ostgut Ton's Ryan Elliott to House legend Kerri Chandler.  With a history which mirrored that of Manchester's world famous Hacienda, Rex Club has been here since the start of the clubbing revolution.
One of the most respected men in Electronic music Laurent Garnier started the club way back in 1992. In the past, one of the world's biggest music acts Daft Punk recorded a full live album at Rex Club, playing to a sensational live crowd. This club knows no limits and is a staple attraction to anyone who is interested in seeing what really goes on in Paris.  Soak in the true culture of the city, Rex Club is not hugely known to tourists and you can expect a majority native local crowd – the Parisians are great to party with!
The dress code is relaxed (just your best clubbing wear) and you'll be looking at €15 maximum for entry. Drinks are a little on the expensive side, but it's worth it for the atmosphere!
What's your favourite place to party in the world? Make sure you get in touch and let us know – we're planning our next trip!