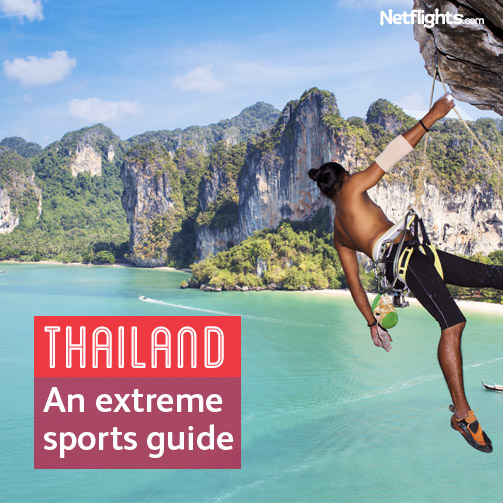 With over, 3,200 kilometres of coastline, a largely tropical climate and a landscape naturally endowed with caves, Karst mountains, forests and beaches, Thailand is a prime destination for extreme sports.
Caves
The options for caving in Thailand are vast. One of the best areas to explore is the Pang Mapha District in northern Thailand. Here you can be a real life explorer, checking out caves that have yet to see a human – though experts only need apply. For beginners and others with an interest in caves, don't miss Tham Lod Cave, home to 1,700 yearold coffins and one of the most spectacular bird shows on the planet – the sight of 300,000 swifts flying back to the cave every night is breath taking. For another standout experience visit Spirit Well, a 100 metre deep collapsed cave with an ancient forest at the bottom.

Diving
If you've ever dreamed of scuba diving, don't miss Koh Tao, also known as Turtle Island. Located in the Gulf of Thailand, via a two hour boat ride from Chumpon, it can be touristy, but it's also in a prime location for diving. There are numerous diving schools and shops. Pick one where you can become PADI certified but avoid the area when it's windy, typically October to December as visibility is affected.

Rock Climbing
For a taste of some of the world's best rock climbing, head for Ao Nang in Krabi Province in southern Thailand. Here you'll find craggy, limestone hills fronting turquoise blue waters and coral reefs. With over 700 bolted sports climbing routes, there is quite literally a route for any type of rock climber.
Cliff Diving
If you're an adrenalin junkie, then you're going to want to try cliff diving. Krabi is a popular base for this sport but be forewarned and choose a jump less than 40 feet high – or you might actually injure yourself. The good news – you're jumping into the crystal clear Andaman Sea – and it's warm.

Rafting
For river rafting, head to northern Thailand during the rainy season, primarily between August and October. The Mae Taeng River, within easy access of Chiang Mai, offers Class III and higher rapids in an unforgettable landscape of jungle, terraced rice fields and gorges. Pass through hill tribe villages and look out for elephants.

Kitesurfing
Kitesurfing is gaining traction in Thailand. Pak Nang Beach in Trang enjoys consistent wind all year round. High season is November to April when the weather is good, but when the monsoon season arrives in May, advanced kitesurfers have the chance to ride even bigger waves. The wind blows hard here – averaging 12 -25 knots, higher then you'll find in Phuket, the other main centre for kitesurfing.

Become a Slingshot
Have you ever wanted to be a human slingshot? In Pattaya, just a few hours south of Bangkok, you can become just that. It's the only place in Asia to offer such an experience. After donning a full body harness with a neck restraint, you are pulled back 40 metres and then launched like a slingshot. Expect to experience a force of up to 4G at a speed of 150 kph in under a second. Does it get any crazier than this?
With an outstanding selection of adrenalin inducing experiences across the country, Thailand is truly a paradise for thrill seekers.