When you think of great places to go skiing, does Dubai come to mind? You're probably scratching your head right now as pictures of deserts, camels, and crazy architecture fill your mind. Clear your mind of all those images and pay attention. How would you like to go skiing in a controlled environment where all your equipment is provided? How would you like to interact with penguins? You're thinking this sounds great, right? Not only can you experience this in the Middle East, it's all indoors and the amenities will astound you. So pack your bags and head to Dubai, to one of the world's largest shopping malls, and prepare for the perfect ski experience the whole family will enjoy at the Ski Dubai indoor ski resort.
Located in the Mall of the Emirates, Ski Dubai is an indoor wonderland where you can have endless fun where conditions are always pristine. It's the perfect family outing you can enjoy all day long and day after day. This massive resort offers more than your mind could ever imagine, like a mountain nearly 279 feet high (85 meters) and more than 242,187 square feet (22,500 square meters) of skiing area. Whether you're a beginner or expert skier, you'll enjoy the challenges this resort offers. There's plenty of room to move around and ski lifts to take you up the mountain.
Admission starts at £115 (640 AED) for children 3-6 years old, £136 (760 AED) for children 7-13, and £158 USD (880 AED) for adults. These prices include four vouchers for skiing or snowboarding lessons, a complementary free skiing or snowboarding lesson, and two ski vouchers for 50% off slope sessions. You can also opt for a Power Pass, Super Pass, Ski Slope Day Pass, and other special passes for an additional fee. You don't have to worry about bringing skis, snowboards, or winter clothing with you as all you need is included.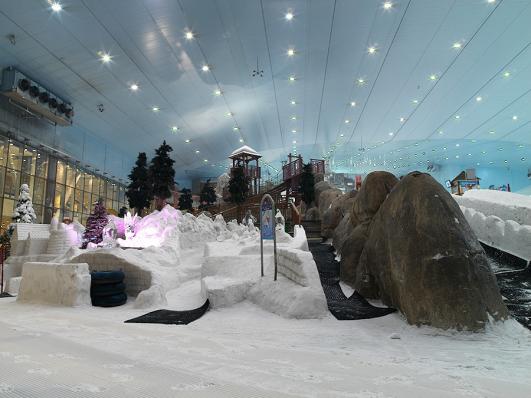 What kind of fun awaits you at Ski Dubai? In addition to skiing and snowboarding you can go tobogganing or just play in the snow, and that's not all. Go bobsledding on the twin bobsledding run or step inside the Giant Ball and roll down the slopes like a giant hamster. There are five ski runs with varying degrees of difficulty and a freestyle zone for skiers and snowboarders to show their stunt skills. For both kids and adults there is the very cool Snow Cavern, an interactive play area with snow sculptures and an ice bridge and the interactive Snow Park, the largest of its kind in the world.
With all these great activities, what else could you possibly hope for to make your day complete? How about penguins? Yes, Ski Dubai has Gentoo and King penguins with such names as McFatty, Pebbles, and Pumpkin. You can meet and touch these wonderful birds which are well cared-for and people-friendly. What could be better than a penguin hug? Ski Dubai is committed to keeping their penguins healthy and happy, and you'll see lots of flapping wings from some very happy penguins. Ski Dubai's Snow Penguins are sure to be the highlight of your wonderland experience.
Even if you're not a skier, you can still enjoy Ski Dubai. Ride the chairlifts for a little sight-seeing or relax over a hot cup of cocoa and food at the St Moritz Cafe or the Avalanche Cafe. Ski Dubai also offers private party rooms for the kids, so you can put on the best birthday party that will long be remembered. With all this fun to be had, why wait any longer?
http://www.malloftheemirates.com/en/entertainment/ski-dubai.html
https://www.theplaymania.com/skidubai
For the latest deals on flights and holidays to Dubai use the links below.
Dubai Holidays
London Heathrow to Dubai
Manchester to Dubai
London Gatwick to Dubai
Glasgow to Dubai