When it comes to pizza wars, New York never backs down. From grimy joints selling by the slice to upmarket Italian pizzerias, New Yorkers can't get enough of that delicious combination of dough, tomato sauce and mozzarella.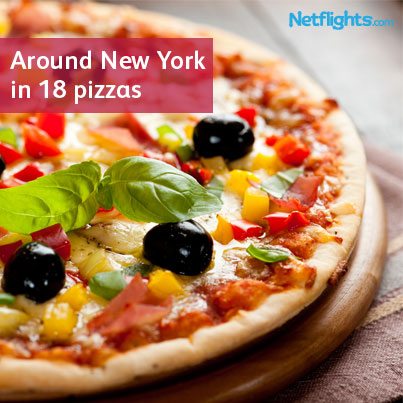 But while the locals might stay true to the same joint they've been visiting for years, where do you go for that authentic slice of pizza pie in the Big Apple?
We've picked our top 5 and the best of the rest. If we've missed your slice of pizza heaven let us know and we'll be sure to pay a visit.
Note: All links will open a location in Google Maps!
Where else can we start but the first pizza joint in the whole of the United States? That's right; Lombardi's has been open since 1905 and has consistently been voted as one of the top pizzerias anywhere in the country. The pizza menu is small and classic, but it's the original Neapolitan sauce that steals the show.
Just round the corner from Fordham University, this is naturally a haunt for students. Many consider this one of the best pizza joints around, as the food is fantastic, but it's the trumpet playing owner, Sal, that keeps the locals flocking back. Him and the karaoke, live music and occasional conga.
3. John's of Bleecker Street, Manhattan
Open since 1929 (originally based in Greenwich Village), John's is the all out experience and famed for their coal fired brick oven pizzas. The clientele are a loyal bunch, but that doesn't mean you won't be welcomed with open arms.
Located in trendy, Greenpoint, Paulie Gee's offers an authentic rustic experience (country music included) for the local hipster residents. Their thin crust oven pizzas are classic, but with a real New York twist – Beef Brisket and BBQ sauce anyone? They've also got a wide selection of vegan pizzas too – the hipsters will be happy!
With more than 50 years in the business this family team make classic Neapolitan style pizzas – the recipe brought over from Naples by Joe Pappalardo himself.
Best of the rest
6. Brother's Pizza, Staten Island – six massive shiny pizza ovens and some of the best pizza pie around. Worth the trip to Staten Island.
 7. Sacco Pizza, Hells' Kitchen – open for 50 years, selling authentic NY thin crust.
 8. Nonna's Pizzeria, Manhattan – the definition of a Grandma's slice!
 9. Ray's Pizza, Little Italy – the clue's in the location.
10. Di Fara Pizza, Brooklyn – the locals (and those from further afield) queue round the block for a slice from this small Midwood pizza joint.
 11. Grimaldi's Pizzeria, NYC – This chain of restaurants is a New York institution. Our favourite location? Nestled right under the Brooklyn Bridge.
12. Luigi's Pizza, Manhattan – a favourite of actor Steve Buscemi.
 13. Koronet Pizza, Broadway – great location and the BIGGEST slices around. Seeing is believing.
14. Amore Pizzeria, Flushing – classic Sicilian pizza at its best.
 15. Coals, Bronx – only open since 2004, this acclaimed pizzeria has had the food critics in awe, with a new location opening up in Port Chester.
16.  Speedy Romeo, Brooklyn – they do things a little differently here!
17. Artichoke Basille's Pizza, Manhattan (4 locations in NYC) – late night post party pizza anyone?
18. Percy's Pizza, Greenwich Village – great location and slices for $1.