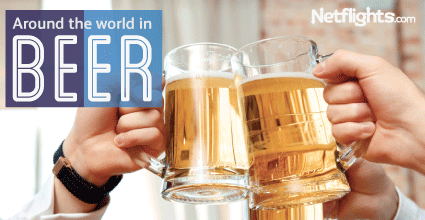 Raise a glass to International Beer Day, which celebrates the art and science of brewing beer, as well as giving you another excuse to gather friends (and strangers) over a pint.
To show our love and appreciation of what is probably the world's oldest beverage still enjoyed today – humans have been brewing for longer than we've been writing – here are six of the most unique beers the world has ever seen, with and without beer goggles!
Brewed by monks
Swing by Sint Sixtus Abbey of Westvleteren in Belgium and sample beer brewed by Trappist monks. The brewery, which has been going since 1838, produces three internationally renowned beers that are only available from visitor's centre, where there's also an eye-opening exhibition on life as a monk here.
Beer from ancient yeast
Fossil Fuels Brewing Company brews using a strain of yeast that's over 45 million years old. The strain was extracted from a 45-million-year-old Lebanese weevil encased in ancient Burmese amber – how very Jurassic Park! The beer has received good reviews, so it's worth heading to California, USA, to give it a try.
Hello Kitty in a can
In China and Taiwan, you can buy Hello Kitty Beer. The fruit-flavoured beer comes in typically kitsch brightly coloured cans and has an alcohol content of 2.3% to 2.8%, about half the amount of regular beer. For 70p a pop, you can try peach, lemon-lime, passion fruit and banana flavours. Unsurprisingly it tastes more of fruit juice than beer.
Beer with plenty of balls
Wynkoop Brewing Company in Denver, USA, uses bull testicles to make its seasonal Rocky Mountain Oyster Stout – three balls per barrel, to be exact. It started as an April Fool's Day joke, but quickly turned into reality when people kept on talking about it. At 7.2%, this creamy stout is packed with flavour. Head to the Wynkoop Brewpub to try their carefully curated craft beer and food pairings.
Pizza beer
Mamma Mia! Pizza Beer is made by Tom and Athena Seefurth in their home brewery in Illinois, USA. They steep a whole margarita pizza – including the wholewheat crust – in the beer, a bit like you would a tea bag, resulting in flavours of oregano, basil, tomato and garlic. You'll be pleased to hear that Pizza Beer is "a debris-free product"!
Breast-enhancing beer
Bulgaria's traditional Boza Beer may have a barely-there alcohol content of 0.5% but tradition states that it packs a punch in other areas – specifically the chest. Apparently, Boza makes boobies bigger! That might because of Boza's high calorie content, so the chest won't be the only part of you that grows. Boza is thick, creamy, sweet and usually drunk for breakfast!