Close your eyes and think of Miami. If it's not an '80s TV cop that springs to mind, it's those soft pastel shades and decorative lines of its wonderful buildings.
It is actually thanks to the mighty 1926 hurricane that so decimated local buildings that these beautiful Art Deco masterpieces exist today. Miami and especially the South Beach area was rebuilt in what was the most trendy style of those days.
Today, South Beach and surrounds has the biggest collection of Art Deco architecture in the world, mostly dating from 1923 to '43. Over 800 flamboyant, gorgeous buildings.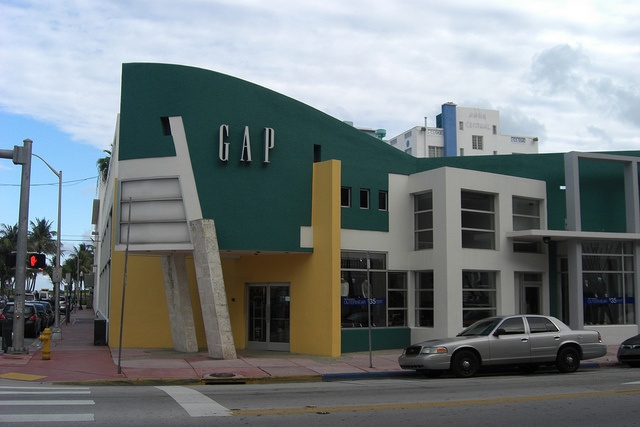 image from globalphotos.co.uk
Having survived a 1970's attempt to pull them all down in a bid for 'modernisation' they are at the heart of Miami's hip and happening arts, shopping, eating, partying, sun-worshipping, hedonistic scene.
The best place to start your Art Deco experience is with the people who have been at the centre of the preservation movement. You'll meet them at the Art Deco Welcome Centre, where you can find out all about the Miami Design Preservation League's work, and discover how best to see Miami's treasures.
There are plenty of options if you want to tour the best slices of Art Deco. Get yourself a guide or do it yourself – you can walk, bike or be driven. Mobile phone guides are also a good idea.
A properly-guided tour will teach you the differences between all the styles in town: Streamline, Moderne, Florida Deco and Mediterranean Revival.
To travel in some appropriate style, Roam Rides will take you on a Vespa scooter tour, also taking in the hippest art galleries and the remarkable street art projects that have brightened up some of the duller, un-Art Deco parts of town. Another way to go is on a GoCar tour. Their bright yellow 3-wheeler 'buggies' come with a GPS 'guide' that'll keep you on the right track.
The main Art Deco areas of interest are bounded by the Atlantic to the east, Alton Road on the west, Sith Street to the south, with Dade Blvd its northern boundary.
Every year, there's a big weekend celebrating the wonder of Art Deco, with music, a huge furniture Expo, films, lectures and fashion shows. 2012's weekend marks the 35th year of the Miami Design Preservation League, and runs from 13 – 15th January.
By the way, if you really want to see the 'soft sherbet' hues of the Art Deco masterpieces at their very best, it pays to get up very early in the morning and see them in the dawn's first light.
Later in the day, take a stroll along the famous Ocean Drive and enjoy its cafes, bars, hotels and, of course, beautiful and fascinating people. Then, head down Lincoln Road, with its mix of boutiques, cafes, funky art and antique shops. Outside of Miami's five major shopping malls, you will find something much more individual at the many vintage fashion shops, where you can pick up some classic designer labels.
Appropriately enough, Miami has recently become a centre for those who love contemporary art just as much as the Art Deco beauties. For example, Art Basel Miami Beach is a massive annual international art show and sale, with nearly 1000 artists and 200 galleries. There are huge amounts of the most striking street art too.
If you've had a great time exploring Art Deco or Modern Art Miami, let us know your tips for having a great time, and seeing any hidden gems. We'd love to hear from you.
You can get deals on last minute flights to Miami from the following UK airports
Heathrow to Miami
Gatwick to Miami
Manchester to Las Vegas
Edinburgh to Miami
Newcastle to Miami
Glasgow to Miami
Birmingham to Miami