Today we have a fantastic guest posting by Heather who is a seasoned traveller, wife to David and mum to two small boys, Euan and Lewis. In a previous life she travelled the world ending up in Japan and then Spain teaching English to the unsuspecting. Now she spends her time writing her blog www.pret-a-mummy.com and planning her next family holiday. She is very experienced in travelling with children and has learnt the hard way that when it comes to family holidays, nothing should be left to chance.
Let me set the scene; you work hard all year, really hard. For two weeks a year or thereabouts you get to relax, do nothing, laze by the pool, or discover new places, have new experiences, eat lovely food. Then, you have a baby and everything changes. You are still working hard, only this holiday you won't get to relax at all, or laze by the pool. New places are suddenly too hot and crowded. Restaurants? Just forget it. But does it have to be like this?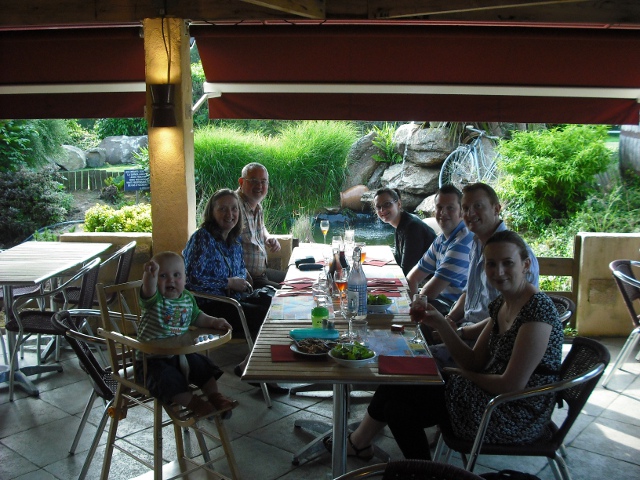 The answer is no, with careful planning and thought, you can still have the holiday of your dreams both for you and your new addition.
I remember our first holiday with our son then aged 3 months old. It was ill planned and ill conceived – driving 8 hours across country in the heat of summer to a house with no working shower and lots of dog hair in the carpet and a bed that sagged. This also coincided with our wedding anniversary, which as you can imagine, I spent in tears. What were we thinking? I wish I could have followed these simple steps:
First and foremost, plan your journey. Are you going by car? If so don't forget that the current advice is that babies should not be in car seats without a break for more than two hours, which means lots (and lots) of breaks. The best thing to do is if you are driving somewhere more than 4 hours away, figure in an overnight stay, or prepare yourself for WAAAAAHHH.
Alternatively could you go by train? If there are two of you then one person can deal with the baggage while the other deals with the baby. You will be free to walk up and down the carriage to harass other passengers, use the toilet, change nappies and feed when needed. There is also the option of flying. We did this last year with my two sons, then aged 3 and 5 months.
It was actually a lot less stressful than I thought it would be. You can take your pushchair right up to the gate and we were ushered through separately so we didn't have to queue, my advice is to adopt a sad, weary expression. Within reason you can also walk around with a restless baby on a flight which will stop them from getting bored.
There are also car hire desks at most airports so you can skip straight from your flight into your hire car within minutes. You will be able to put your own baby car seat in the hold which will save money as you usually have to pay to hire them.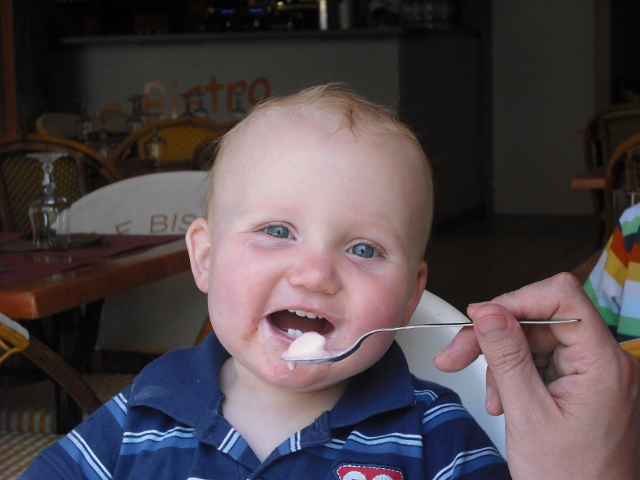 Next you need to think about accommodation, now everyone has their own take on this, but for me the best option is self catering, especially if you are weaning your baby. It will also mean you can sterilise bottles and other baby equipment more easily. Having said that, an all inclusive deal means you won't have to worry about meals and going to restaurants that are less than child friendly. Most hotels are pretty accommodating when it comes to babies so it's worth finding out how they are prepared to help before you book.
You might be worrying about how much equipment you will need to take, and how you will fit it all in. Actually it's quite simple: most things you need for your baby you can buy anywhere – although formula milk might be one exception if you are abroad as I know the UK brands are not always available. Nappies, cream, shampoo, jars of pre made food and anything else you can think of, are all available in the majority of destinations. The one thing I would advise to buy is a lightweight stroller, especially if you are flying.
Something that will withstand being bashed about by baggage handlers but is light enough to be easy to carry wherever you are. If you are going somewhere hot, don't forget a sun canopy that fits onto your stroller easily. Even if you are holidaying in the UK these are a must as the stroller will be the location for most of your baby's sleeps and this is the time that baby's skin is most likely to burn. These days you can also buy very useful things like pre-sterilised recyclable bottles and for heating milk on the go, there are thermal packs with a disc that is flexed to release heat.
If you can, book a hotel with some sort of laundry service or with a laundrette close by. Baby clothes are usually "one wear", meaning that nothing will stay clean enough to be worn again (this might apply to your clothes too!). You can cut down on your luggage simply by washing the clothes half way through your stay. Bibs can also take up a lot of room in your suitcase. I now use the wipe clean variety for meals so they can be easily reused. For younger babies that require dribble bibs there are environmentally friendly disposable ones that are now available so you don't end up bringing back a load of dirty bibs.
In the evening, don't assume that just because you have a baby your social life must come to a standstill. When we took our first son on holiday we just stayed in every evening feeling sorry for ourselves, thinking that he wouldn't be welcomed in any restaurants. This simply isn't true. It might mean going out a little earlier and coming home early too, but for me, eating out is a big part of any holiday and not one I am prepared to miss. We usually try to eat around 7pm which is early in most holiday destinations but also means other customers are not bothered by screaming (usually mine).
If you are staying in a resort area you can then all take a nice stroll together, or get an ice cream each. Then when baby has dropped off you can sit on a lovely terrace for a relaxing coffee. One word of advice about high chairs outside the UK, you might find that there are less highchairs (and changing facilities) in restaurants than you are used to, no highchair = unhappy baby and parents. We found a lightweight, wipe clean packaway highchair that folds small enough to fit in your changing bag, these are quite cheap and definitely worth investing in.
Don't be put off booking a holiday with baby, these are the times memories are made.
What are your tips for a stress free holiday with baby?

If you would like more information about family holidays visit out family holidays section on Netflights.