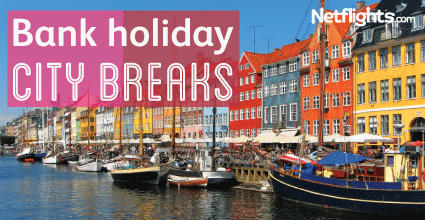 Another bank holiday is on its way and a three-day weekend is the perfect excuse for a European city break. Here are five great destinations, each with a different mix of things to do, see, eat and drink. They're also all within easy reach of the UK and make an ideal location for a quick and simple last-minute escape.
Reykjavik, Iceland
In Iceland's quirky capital, modern architecture and street art meets ancient Nordic legends and out-of-this-world landscapes. The city's must-see attractions include the Hallgrímskirkja church with panoramic views from its viewing platform, the modern Harpa Concert Hall, and the waterside Sun Voyager statue which is especially beautiful at sunset. Reykjavik's compact size means you can fit a day trip into a long weekend. One of the most popular is the Golden Circle, a 190-mile loop through Þingvellir national park with its erupting geysers and thundering waterfalls. Alternatively, relax in the steaming waters of the Blue Lagoon that are conveniently located near the airport so you can stop for a soak on your way home.
Porto, Portugal
Walking through Porto's Ribeira old town is like taking a step back in time, with crumbling mansions and baroque churches linked by a web of narrow streets. Some of the biggest names in Port – from Taylor's to Graham's – are just across the river in the Vila Nova de Gaia. You can tour and taste your way around the Port lodges or take a boat trip along the River Duoro in a rabelo, a vintage wooden boat originally used to transport Port barrels downriver. Why not make the most of one of the city's 300 sunny days each year and catch the tram out to the beach at Foz? Nearby Serralves is home to an Art Deco villa and a Contemporary Art Museum that is Portugal's most visited museum.
Sorrento, Italy
On the Southern Italian coast, the medieval alleyways of Sorrento's charming centro storico (historic centre) are full of gelato stores and workshops making handmade lace and inlaid wood carvings. Watch the sun dip down into the bay from the cliffs, and don't miss the local limoncello liqueur that's made by soaking lemon peel in alcohol. Lemons are also featured in Sorrento's Delizia al Limone, a cream-covered lemon cake. Sorrento is easily accessible by train from Naples and is in a prime location for visiting the area's other sights. The Roman ruins at Pompeii and Herculaneum, the islands of Capri and Ischia, and the Amalfi Coast are all easily accessible.
Copenhagen, Denmark
The Danish capital has always been known for its beautiful historic buildings and charming waterside setting but it's now also a top destination for design and food lovers too. There's no shortage of cool boutiques selling homewares, furniture and clothes, and dining has been taken to the next level at the world famous Noma restaurant. The old heart of Copenhagen is Nyhavn, the 17th century harbour surrounded by colourful townhouses and sailing boats. Take a boat trip out to Christianshavn, the canal district that's like a slice of Amsterdam, and don't miss out on Tivoli Gardens- the world's second oldest amusement park.
Dubrovnik, Croatia
The Croatian city of Dubrovnik gained fame as the 'Pearl of the Adriatic' but now has a new legion of fans after being used as a shooting location for Game of Thrones. The walk around the city walls is a perfect introduction to Dubrovnik as they look down onto terracotta rooftops, hidden squares and emerald waters. Get even higher by taking the cable car up 412 metres to the top of Mount Srdj. The city is packed with pavement cafés and restaurants along with buzzing waterside bars, some of which are perched precariously on the rocky shore. The clear Adriatic waters are great for swimming, or you can travel for ten minutes on the ferry to nearby Lokrum Island to get back in touch with nature.