The barbecue – or the "barbie" as it's known to our cousins down under – is a staple part of Aussie life. It is the appliance of choice for a man or woman who likes getting back to nature. It is an art form that is neither rushed or time consuming, a perfect balance of meat, fire, metal and the great outdoors. The warm Aussie climate creates the ideal conditions for outdoor cooking and permits it as doable for most of the year.  The majority of the Aussie population live near the coast where barbecuing is common practice, so the thought of sharing delicious and tender food cooked to perfection with friends on the beach watching the sun set is a natural instinct.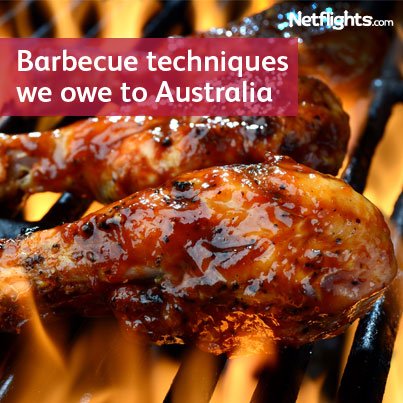 Aussies have an undisputed barbecue culture like no other and with the country being such a diverse environment with an eclectic range of wildlife; you'll be surprised what ends up on the cue and grill. Shrimps, roo, shark, halloumi cheese, capsicum (that's peppers to you and me).
The self-taught techniques these BBQ pros have obtained for themselves, is what separates the Aussies from the rest of the world. Barbecuing isn't just a seasonal treat, it's the norm.
1. Taste variation
Australia benefits from a sublime location in which it is a stone's throw away from numerous exotic and tropical locations. This results in a smorgasbord of deliciousness, outdoing what's available at your local family-owned butchers. Take a page out of the Aussie book and be adventurous with your menu. Enjoy kofte lamb from the Middle East and cook it alongside a bratwurst sausage from Germany. To get that authentic Australian experience, try and get hold of kangaroo meat, you will be pleasantly surprised by the taste.
2. Expand and extend your repertoire
Australians love to use several methods in order get different tastes out of the same produce. Mix things up and have a go at marinating the meat before or after cooking, using skewers for bite size and mixed portions, cooking in parcels, slow cooking for a tender melt-in-your-mouth taste, or smoking!
3. Avoid fat
Drain your meats of excess marinades and fat, it causes flames to burst above the cooking area and can often result in a decline in taste. Retaining too much fat when cooking could also be detrimental to the texture of the meat as the vulnerable parts can become burnt and resemble charcoal if not cooked affectionately.
4. Don't ruin your food
The Brits love to poke and prod their BBQ meats due to old wives tales that it aides the cooking process. What actually happens is that the meat loses its succulence, becoming dry and tasteless. There is no need to flip your meats four or five times, keep a watchful eye on your food and the clock and flip the meat once the time is right – give it an extra flip if you're not certain it's cooked accordingly.
The 4 day Easter weekend is on the horizon. Will you be cooking up a storm, Aussie style?