Ahh Christmas Shopping! Love it or loathe it…it's got to be done and so what better way than by indulging in a change of scenery at the same time? New York, Dubai or Las Vegas? Shop 'til you drop in one of these fabulous cities. Christmas shopping will never be the same again!
New York
A Christmas shopping trip to New York should be on everyone's bucket list! New York is a city that certainly knows how to add a touch of Christmas bling. Bloomingdales, Barneys New York, Macy's & Tiffany and Co are all stores that certainly know a thing or two about magical Christmas window displays.   Head over to the Rockerfeller Center at Time Square for a sight not to be missed at Christmas; A Norway Spruce Christmas tree up to 90 feet tall lit up with all the sparkle and glamour it deserves. Or head over to one of the many ice skating rinks and take part in one of New York's favourite Christmas pastimes.  Its ALL good!
Las Vegas
Las Vegas..the place renowned for doing everything BIG! The Vegas Strip is always jam-packed full of holiday spirit with the casinos all trying to out-do each other with decorations, lights and glitzy Christmas trees.  Plus with over 170 Shops and a GIANT toy store, do we need to say anymore? Okay…Outlet centres, Malls and the famous Fashion Show Mall on Las vegas Boulevard – home to world-famous department stores such as Macy's, Sak's, Fith Avenue and NordstromGutter. Why not make time for a spot of gambling and maybe win a nice wad of cash whilst you're there? Think you can handle it? Comfy shoes are a must!
Dubai
Here's a concept…hit the shops for Christmans AND top up you tan for the party season! Don't think that Dubai is going to be any less Christmas sparkle because the shopping malls of Dubai certainly dress for the occasion! With imported Christmas trees and all the glittering bling one could hope for,  it truely is a spectacular time to visit Dubai. Plus purchases in Dubai are TAX FREE! GET IN! Dubai offers all the retail flavour of America and the U.K. with their very own Bloomingdales, Saks 5th Avenue and even a Harvey Nichols! A Winner! If you are craving a little snow whilst you're there – fear not…Dubai has its own indoor snow resort 'Ski Dubiai' in the Dubai, Mall of Emirates. We kid you not.
Check out our latest Christmas shopping trip offers on the link below!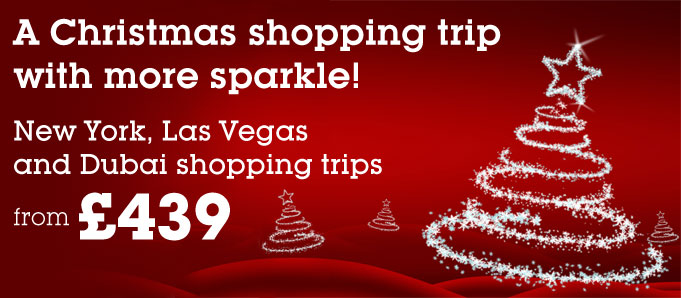 New York, Las Vegas and Dubai shopping trips from £439