As October half term looms, lots of families will be jetting off for a well-deserved break. To help you prepare for your holiday, we looked at which UK airports are the best – and the worst – for travelling with little ones. In our first annual UK Airport Review, we looked at factors like play areas, designated breastfeeding areas and free drop-off zones, to calculate the best family-friendly UK airports.
At the top of the list, London Heathrow Airport offers the best pre-flight experience for families. Achieving 88% in our report, Heathrow scored highest as both the best large UK airport and the best airport overall for families on the move.
Alongside its huge choice of airlines and destinations, Heathrow also boasts a short average delay time, free Wi-Fi and multiple recreation and soft play areas for children of all ages. But that's not all. There are numerous family-friendly dining choices across all of the terminals, and multiple mother and baby rooms suitable for breastfeeding and changing. There are also a few penny-saving schemes – like free travel for kids aboard the Heathrow Express and free drop-off airport parking for up to two hours – which add up to create a top experience for families.
Hot on Heathrow's heels, Glasgow Prestwick came second in our top 10 family-friendly UK airports. It also ranked the highest of the small airports included in our UK Airport Review. Despite its petite size, the airport has play areas, quiet spaces and a high number of baby changing facilities, which all helped to push up its percentage to an impressive 83%. It scored higher than its neighbour, Glasgow Airport, and also beat large airports like London Gatwick, Manchester and Birmingham International.
Meanwhile, the Isle of Man Airport was bottom of our overall top 10 family-friendly UK airports. Although it scored highly for its free Wi-Fi and changing facilities, a poor track-record for flight punctuality and a lack of a play area to keep kids entertained – as well as no free parking or drop-off to ease the stress and expense of travel – brought down its overall percentage to 63%.
Overall, as you might expect, larger UK airports fared better than smaller airports in this category. After all, there tends to be the space and resource available to add in what might be considered to be more 'non-essential' facilities like children's play areas. For smaller airports, getting the basics right seems to be the priority – here, the focus is on helping families by reducing queue times at key pinch points in the airport experience, providing good free Wi-Fi or a more flexible airport drop off provision.
Top 10 family-friendly UK airports
1. London Heathrow Airport (LHR) – 88%
2. Glasgow Prestwick Airport (PIK) – 83%
3. Newcastle Airport (NCL) –81%
4. London Gatwick Airport (LGW) – 80%
5. Doncaster Sheffield Airport (DSA) – 75%
6. Glasgow Airport (GLA) – 73%
7. Exeter Airport (EXT) – 71%
= Jersey Airport (JER) – 71%
8. George Best Belfast City Airport (BHD) – 69%
= Edinburgh Airport (EDI) – 69%
9. Belfast International Airport (BFS) – 64%
= Birmingham Airport (BHX) – 64%
10. Isle of Man Airport (IOM) – 63%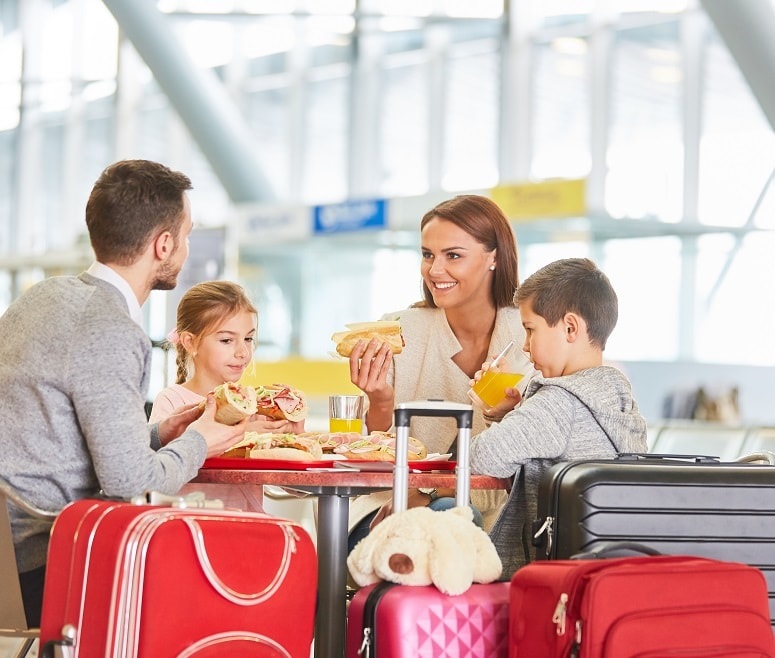 Our UK Airport Review ranked 30 airports across six categories – accessibility, family-friendliness, wellness, facilities, lounges and food. You can read the full report here.