Holiday-goers in the UK love one thing more than a good holiday – a good holiday that's also cheap! Cheap last-minute flights, hotel and bundled package deals can be a great way to save money.
In terms of holiday travel, "last-minute" implies purchasing your tickets six to eight weeks before departure, rather than several months in advance. Especially if you're not too bothered about where you'll be going and are willing to take what's offered at the time, you can have unexpected adventures at short notice, without breaking the bank.
If you're setting out from the UK, certain destinations are frequently among the best and most affordable last-minute getaway options.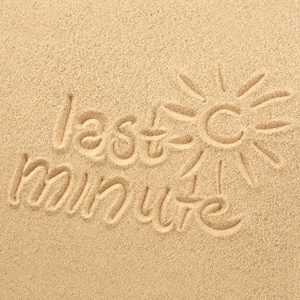 Alentejo, Portugal
Alentejo is by no means Portugal's most popular tourist destination, and this is precisely why you should go there! Alentejo covers almost a third of the country, stretching from the Tagus to the Algarve, and from the Spanish border all the way to the Atlantic coast. Not only is it rarely visited, but it's sparsely populated too, so you can appreciate the splendour of nature without the interruption of buildings, cars and so on.
History buffs will love nearby city of Evora, which is home to the Templo Romano, a UNESCO World Heritage site that's considered one of the most important Roman monuments on the Iberian Peninsula.
Kos, Greece
Also sometimes spelled "Cos", this beautiful Greek island measures only 40 by 8 kilometres, and is a mere 4 kilometres from the coast of Bodrum, Turkey. Kos features the whitewashed buildings and turquoise sea for which Greece is deservedly famous. It's also not short on historical attractions.
It's said that Hippocrates, the ancient philosopher and father of western medicine, was born on the island. The centre of town is home to the Plane Tree of Hippocrates, a memorial at a site where he once taught. Marking the entrance to the harbour of Kos is a 14th-century fortress, erected in 1315 by the Knights of Saint John of Rhodes.
Fjällbacka, Sweden
This quaint fishing village on Sweden's west coast is only an hour's drive from Gothenburg. It offers gorgeous views, and the Veddo Nature Reserve is home to an impressive range of flora and fauna. Ingemar Granqvist, a local fisherman, offers crayfish-catching trips on his boat. Bookworms can get a guided tour of the town as depicted in the novels of Camila Lackberg, a best-selling Swedish author who grew up in Fjällbacka and whose books are often set around it. An absolute must-see at Fjällbacka is the church, made almost entirely from rare red granite. There are also ancient rock carvings in a nearby town, Tanum.
Dubai, United Arab Emirates
Dubai is a booming metropolis, situated between the Arabian sea and the desert. With some of the world's most luxurious hotels, year-round good weather, sparkling beaches and the most expansive shopping malls imaginable, Dubai has become a magnet for tourists and business people alike. However, there are still surprisingly good deals to be had.
Tuscany, Italy
For tourists, Tuscany has it all. It's home to a number of impressive Etruscan art museums and monuments. Foodies flock here for the incredible cookery schools and beautiful vineyards, and those looking to unwind will enjoy the famous natural thermal baths at Saturnia. You may also like to visit the Essere Spa, situated in the beautiful 4200-acre Castello di Casole estate in Siena. The stone-walled spa is in the estate's former wine cellar, and treatments there use only the finest local ingredients, including rosemary, olive oil and of course, wine!