Sunsets, white beaches, blue lagoons and romance; these are just a few things that spring to mind when we think of honeymoons. After that day of being the centre of attention, all you want is to be whisked away to an exotic land and forget the world.
If you're getting married during the winter months, then your honeymoon is even more important as you escape the harsh cold of the UK. But where are the best places to go? Here's a compilation of our favourite winter sun holidays.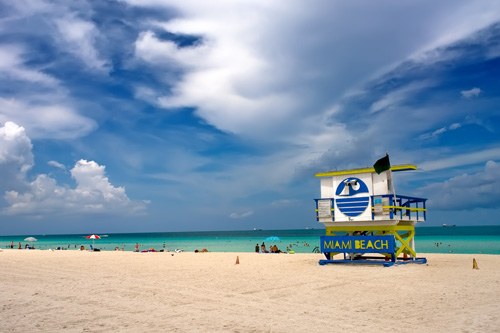 Miami
With tropical weather throughout the year, the Aloha State is the perfect place to honeymoon. With beaches lined with palm trees, offering you the ideal place to relax and unwind, the end of the year brings plenty of additions that make Miami that much better. Aside from relaxing, add some excitement and take in the sights of the whales that visit between November and May. Places like the Auau Channel, between Lanai and Maui, and the shallows just of the coast of Maui give you excellent viewing opportunities, for a once in a lifetime experience.
If natural wonders aren't enough excitement, then you're in luck. Between October and March is Miami's surf season, so grab a surf board and head to every surfer's paradise. Along the eight mile stretch of Oahu's North Shore you'll encounter some of the best surf spots like Waimea Bay and Banzai Pipeline, where you can witness some of the world's top surfing competitions. It'll be a honeymoon like no other.
Argentina
Crying will be the last thing on your mind when you're spending your honeymoon in Argentina. Although an unusual choice, it's also the perfect one; because winter in the UK means summer in Buenos Aires.
Diverse is one world you could use to describe this cultural landscape, with a variety of arts, dancing, food, shopping and much more to do. Check out the street performers of La Booca or Retiro, or immerse yourself in some exotic dancing as you take in a tango show, and try it out yourself at a local Milonga. Take a walk through the streets and check out the luxurious shopping opportunities at Palermo, that's renowned for its leather goods.
Although traditional food here is served a little differently – they're partial to a Barbeque – that doesn't make it any less tasty, as you tuck into different varieties of grilled sausages, steaks and chicken. Then there's the Argentinian countryside with its beautiful scenery offering horse rides at a variety of ranches. Is there anything more romantic than riding off into the sunset on horseback? This could be the alternative honeymoon you've been looking for.
Abu Dhabi
Not as famous as Dubai but just as extravagant; Abu Dhabi will give you the most luxurious honeymoon experience you could imagine.
Filled with beautiful beaches, crystal clear waters, lavish shopping malls and five-star hotels you can escape to an exotic location to be pampered together – it's the perfect way to spend married life. After all, if you can't enjoy a little luxury on your honeymoon, when can you?
Indulge yourself with fine dining at places like Sontaya or treat yourself to an elaborate shopping spree, at the luxury shopping malls found at stunning locations including Al Marayah Island.
Or spend the day lounging on the beach soaking up the heat of the Middle East, before cooling off in clear waters that surround you – it just screams romance. If you're not much of a beach person then spend your days relaxing at one of the many five-star spas; where you'll be pampered and treated like royalty.