Usually, taking a holiday means getting all excited about the destination, not the journey. But, for some people, the journey is the destination. Planning road trips and seeing new places along the way can be an exciting adventure and a cool way to spend your holidays. Why stay in one place for a few days or weeks when there's so much to see in the world? And what better place to have a holiday full of road trips than the USA? Here's our pick of the best driving routes the country has to offer.
This iconic route was once a major artery that ran from Chicago, Illinois and through the states of Missouri, Kansas, Oklahoma, Texas, New Mexico, Arizona, and California. Though Route 66 is no longer officially recognised as the highway it once was and not noted on most maps, there are certain parts of the old highway designated as "Historic Route 66." For those who want to travel the original route, it's a great way to see parts of the country that are off the beaten path. Some areas of Route 66 snake through desolate areas that, at night especially, can be a bit creepy. However, there is so much to see along the route, including many places dedicated to preserving the Route 66 mystique. Travel through the Washita National Wildlife Refuge in Oklahoma, the Petroglyph National Monument in New Mexico, Shea's Gas Station Museum in Illinois, stay at the Wigwam Hotel in Arizona, and enjoy the Ozarks in Missouri. That's just for starters.
If you've never heard of route 772 its probably because you haven't been to Pennsylvania's Amish country. Route 772 runs a 37 mile course deep in the heart of Lancaster County and what is known as Pennsylvania Dutch Country. From Marietta to Lititz, and ending in Gap, traveling this route can be a little bit confusing as Route 772 becomes roads like Waterford Avenue, Rothsville Road, and many others as you weave your way through towns and villages. Stay the course and you'll see the Amish on their day-to-day activities as they travel in horse-drawn carriages, tend their farms and produce stands, and run their shops. You'll also have a chance to visit places such as the oldest pretzel company, Sturgis Pretzel House, and the Lancaster Quilt and Textile Museum, located in the Beaux Arts bank building.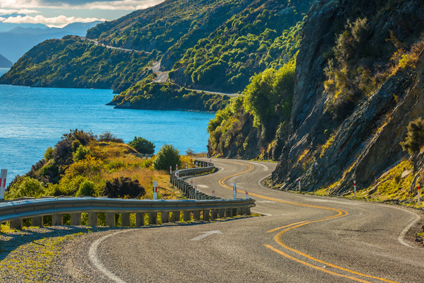 Designated as an American National Scenic Byway and nicknamed Big Sur, Highway 1 stretches along the coast of California from San Simeon to Carmel. This stunning scenic route affords views of pounding surf from the Pacific Ocean along the shores from atop steep, jagged cliffs. If you're the outdoors type, there are plenty of camping opportunities with great views. Along the coast you might see Gray, Blue, and Humpback whales as they migrate through the waters, or spot California condors and sea otters. You also might want to take the time to visit the Monterey Bay National Marine Sanctuary, 276 miles of federally protected marine life. The sanctuary also allows kayaking, camping, diving, and boating, but emphasizes care and consideration for the ecosystem and the animals that make this place their home.
Whether you're more interested in beautiful scenery or the fabric of the American culture, there are numerous highways and byways that will take you to places you may never have imagined. Break free from the usual vacation mindset and fill your next holiday with road trips. Expand your horizons and see what this great country has to offer. From seeing popular sights to finding hidden gems, it'll be a holiday you and your whole family will long remember.