If you have donned a backpack through the excitements, and relatively cost beneficial, lands of South Asia you may be in for a rude awakening the moment you reach Singapore.
Not only is there a rise in cost; all of a sudden the prices are as if you are back in North America or Western Europe. Never fear however, as with any travel location there are ways to keep the costs as low as possible while still having a good time. Some suggestions for staying on a budget while in Singapore.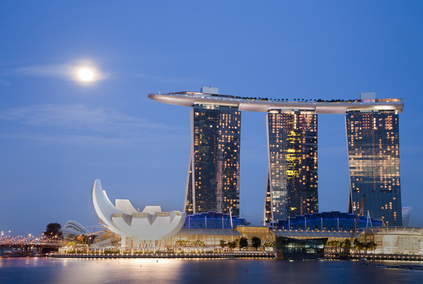 Where to Stay
The most expensive aspect of your stay in Singapore will be finding your lodging. In a city that has a real shortage of space as one might expect the cost of hotels and hostels reflects this. Still though there are a few options for the budget oriented traveller. The majority of backpacker hostels are located in Bugis, Clarke Quay, and East Coast. A dorm room will run you around $25- 30 US dollars. If a dorm room with 5 of your new best friends (strangers…) isn't what you consider a holiday worthy decision there are also relatively cheap hotels clustered around Geyland and Balestier they begin in cost at around $40 dollars night.
Eating
Singapore truly is a fusion of many Asian cultures in one (Chinese, Japanese, Thai, Malay) and even a thriving expat community and this is displayed through their food. Luckily one item that is priced reasonable in Singapore is food. The best option for enjoy good food at reasonable prices is to eat in what are called food centres. In a food centre a meal – made up of rice, some vegetable dished and some meat dishes – will usually cost around $3 dollars. The food centres are self service so no tip required. The best of the food centres is Lau Pa Sat which is located in the central business district. Lau Pa Sat offers a diverse selection paired with reasonable prices.
What to See and Do
In a city as big and cosmopolitan as Singapore luckily there are many options for the budget traveller for ways to spend their time without breaking the bank. A few suggestions include entering Sentosa Island park – make sure to say you don't want to enter the parks entertainment facilities  and it will cost just $2 dollars. Once inside you'll be able to enjoy you're fill of beach, water, cool sea breeze, and Singapore's non stop sunshine.
Additional options for low cost activity include a journey to the Esplanade. The Esplanade is a water front arts and theatre that is situated at the mouth of the Singapore River. Wander inside the free library on the third floor to see a rich variety of free artworks displayed by local and international artists.
If you fancy shopping a little and you want, and perhaps even need, to keep the price tag down head into Little India.  This area of the city boasts 24/7 markets for food, electronics, crafts, and souvenirs. Not only a market this area can act as a make shift journey through Singapore's varied cultural and historical heritage in particular of its British Colonial past. Often local souvenirs are sold in the market for 3 for ten US dollars. Stay sharp and find some fantastic deals!
Check the links below for the best prices on flights to Singapore from the UK
London Heathrow to Singapore
Manchester to Singapore
London Gatwick to Singapore
Newcastle to Singapore
Edinburgh to Singapore
Glasgow to Singapore