Back in 1969, two major things happened in the aerospace industry. Down at Cape Kennedy, Neil Armstrong, Buzz Aldrin and Michael Collins blasted off in Apollo 11 on man's first mission to the moon. It was a huge moment in human history. And yet, five months beforehand, another trio of brave pioneers had already taken a giant leap of their own – the maiden flight of the Boeing 747. Fifty years later, we're looking back on the journey of the B747, as it prepares for retirement.
The world's first ever flight of a wide-body aeroplane took place on 9th February 1969, departing from Boeing's Everett factory, just outside Seattle. The three test pilots onboard – Jack Waddell, Brien Wygle and Jesse Wallick – were the first to ever attempt to fly a plane of this size. As it turned out, there was nothing to worry about. The world watched in awe as the 170-tonne aircraft gracefully lifted off the runway and in to the history books.
Known as 'The Queen of the Skies' the B747 changed air transport for the better. It offered a large, luxurious and spacious cabin, coupled with excellent range to enable non-stop flights to far-flung destinations. With its distinctive 'hump' – which gave it an exclusive upper deck – the plane became synonymous with long-haul travel and the jet-set.
Airlines of the Seventies, Eighties and Nineties flocked to buy B747s and, after 50 years of 'Jumbo' flying, the aircraft has now clocked up over 1,500 sales. Even to this day it is still in production. But all good things must come to an end.
Once the B747's remit, long-haul flying has now become the domain of twin-engine planes. Rules that once restricted flying long distance across oceans in anything but a three or four-engined plane have now all but gone. As technology has improved, so has the range and reliability of twin-engined planes. Nowadays, the longest flights in the world, including Singapore to New York, Doha to Auckland and London to Perth, are all undertaken by planes with only two engines.
Plane design has always focused on lightweight materials, with aluminium being the material of choice for decades. However, planes like the new Boeing 787 and Airbus A350 make use of Carbon Fibre Reinforced Polymer (CFRP) which is essentially a very strong and lighter plastic. Compared to new planes that use this material and have more powerful engines – and only two of them – the B747, with its four engines and heavy frame, quickly starts to look like a dinosaur.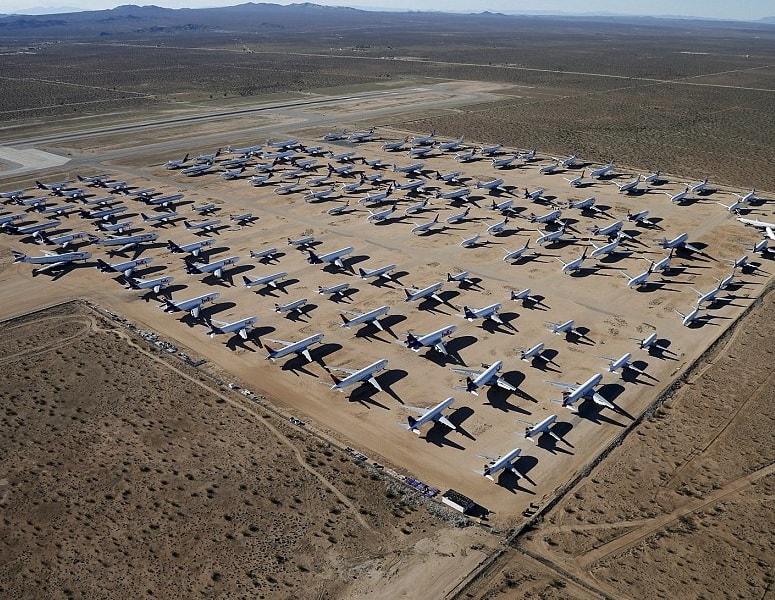 The last big-selling version of the B747 debuted in 1989, and was known as the 747-400. At one point, British Airways had a fleet of 57 of these but, today, they have just 33. The retirement date is already set, and the 'Queen of the Skies' will impressively bow out of BA service in 2024, after 54 years of continuous 747 operations in their fleet.
There are still, for now, other airlines flying the passenger 747 including Virgin Atlantic, Qantas, KLM, Thai Airways, Lufthansa, Korean Air and Air China. The last three of these airlines fly the newest version of the plane, the 747-8, but sales have been poor. And, no matter how much more efficient General Electric makes their engines, the fact is that a quad-engined plane can't compete, economically, with a twin. Qantas will retire the last of their B747s in 2020 and KLM in 2021.
If you're wondering about the size aspect of newer planes then, it's true, most twin-engined planes don't match the 747 on passenger capacity. But they do come very close and that, it would seem, is enough. The new twin-engined Boeing 777-9, which is set to make its maiden flight later in 2019, can seat over 400 passengers and can fly for over 15 hours – and it does it a lot more efficiently. Less fuel used means savings for the airlines, savings for the passengers and also, very importantly, lower CO2 emissions.
What does the future hold?
The era of the 'very-large-aircraft' is drawing to a close, and even Airbus' A380 will cease production by 2021. Qatar Airways has already announced that its fleet of 10 A380s will start leaving their fleet in just four years' time, whilst Air France has gone one step further and committed to removing their A380s by 2022. These are relatively new aircraft but, sadly, it just seems to be too difficult to operate them economically anymore.
The ironic twist of fate here may well be that, whilst Airbus' competitor to the B747, the A380, only first flew in 2005, it looks very likely that the veteran 747 will carry on in production after the final A380 rolls off the assembly line in 2021. Passenger 747 sales may well have dried up a few years ago, but their latest freighter model, the 747-8F, continues to gather occasional orders. This means that, by the time the final 747 flies off in to retirement, it could realistically at that point be nearly 100 years since Jack, Brien and Jesse made the maiden flight of that first 747 back in 1969. Now, how about that?