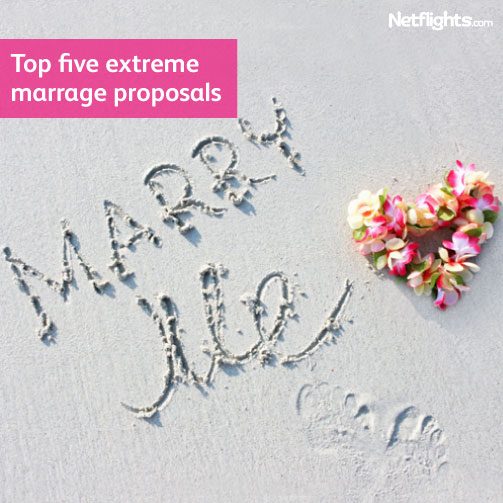 Proposing marriage can be an extremely stressful time, and getting it right is the first part of the wedding puzzle.
Over the last few years, going to the extreme has become increasingly popular when it comes to getting engaged – with everyone looking to outdo the other.
From floating proposals, to death defying jumps and near death experiences, we've compiled a list of our favourite extreme proposals.
Luckily no one got hurt – here's our top five.
The CN Tower
One of the most iconic sights in Canada, the CN Tower, offers daredevils the opportunity to take part in a death defying EdgeWalk.
Standing 1,168 feet above ground, offering fabulous views across Toronto; where else could be better to get engaged?
Well a few years ago, two people became the first to get engaged on the EdgeWalk. Although it was shouted due to the wind, the romance remained and she said yes; they even had a special table reserved in the 360 restaurant afterwards.
Just remember, all your belongings have to be left behind, so you'll have to wait for your ring.
Sky Diving
A vacation to Australia is a trip of a lifetime, and if you're thinking of proposing, this would be the perfect way to make the trip even more memorable.
For some a traditional proposal over a candle lit dinner, overlooking the Sydney harbour, just isn't good enough. This became apparent when a Welsh daredevil proposed to his girlfriend following a 15,000 foot skydive in Perth. Which, although slightly terrifying, imagine the feeling of getting engaged as you look across the stunning beauty of Australia.

Bungee Jumping
Nearly as terrifying as a sky dive, but not quite as high, this is another unique way people have popped the question.
In 2013, a couple got engaged at Killiecrankie, Perthshire in Scotland, when the groom-to-be popped the question seconds before his future fiancé plummeted 130 feet – how romantic.
Obviously, you're not limited to Scotland for these types of daring proposals. Why not get creative and head somewhere like New Zealand; where bungee jumping at places like Kawarau Bridge and The Nevis, have become some of the country's most popular attractions.

Crash a plane?
Chicago, also known as the Windy City, is a fabulous place to visit with amazing attractions like the Museum of Contemporary Art, Lincoln Park Zoo and the Willis Tower Skydeck to name a few. But one of the biggest attractions is the city's skyline itself.
A great way to see this is through a sky flight tour – which offers a fantastic opportunity to pop the question, over one of the world's most fascinating cities.
But one guy took this slightly further with an elaborate prank; where he told his girlfriend the plane was malfunctioning, and was going to crash. He then told his girlfriend to read the emergency instructions, including the 'ring engagement procedure' and despite some panic, it all worked out and they got engaged – you can even watch it on YouTube.
We'd probably go for the safer non-crashing proposal.
Zero Gravity
A few years back, a man surprised his girlfriend with a proposal in zero gravity – the word unique was made for ideas like this.
How was this possible we hear you ask? Well, the man in question took his space loving future fiancé on a special Boeing 727 aircraft, courtesy of Space Adventures in Virginia USA, flying to 35,000 feet, giving you almost zero gravity. He proposed whilst floating about in the plane.
However a proposal like this will set you back more than $3,000 per person – so get saving.