Having a cat or a dog in your life is pretty normal and they're very easy to love, most of the time! They're a distraction from our busy lives and help to ease the stresses and strains that we encounter on a daily basis. They give us unconditional love and we give it right back. For some though, life is a bit more of a struggle than for others, especially when travelling. Nervous flyers, in particular, can find going abroad quite a challenging prospect. But help is at hand, in the form of emotional support animals.
San Francisco Airport, for example, has operated a 'Wags Brigade' programme for a while now and, as we reported back in May, join a growing list of airports around the world that employ 'therapets'. These animals roam the terminal buildings (with a keeper!) and allow passengers to pet and interact with them to help ease the tensions of flying.
Recently San Francisco has even gone one step further and welcomed a new type of animal to their team. LiLou the pig – the world's first therapy pig – can be found bringing smiles, happiness and positive vibes to passengers, airport staff and pilots alike.
Animals in the airport are proving a real hit, as they generate a sense of community among strangers that can help de-stress in a busy and often hectic environment. But what about when you get in the air? In the US it is relatively commonplace for passengers to bring 'emotional support animals' onboard with them, acting as a personal form of mental health support. This is great news for those who are anxious in the air, but has nonetheless caused a stir of late with some passengers boarding with somewhat unusual companion that don't always make for the best seatmates.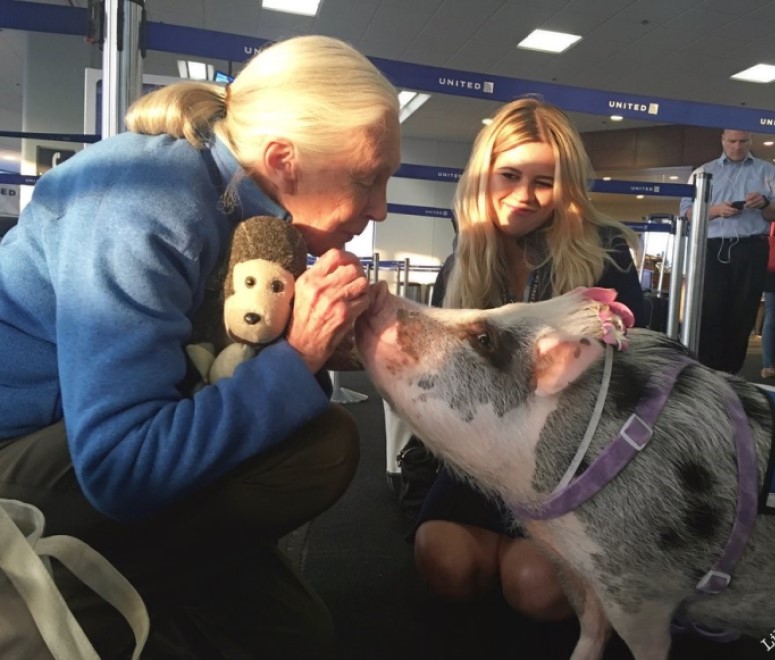 Emotional support animals are currently not permitted in the UK but service animals such as Guide Dogs are allowed onboard, so long as the correct paperwork is shown. In the US, airlines have reported a huge surge in support animal requests with United Airlines seeing a 75% increase since 2018 to 76,000 requests. However, in lieu of some animals biting other passengers, as well as causing a bit of a stink, airlines are now clamping down. American Airlines, for example, recently released a statement saying that, "We support the rights of customers, from veterans to people with disabilities, with legitimate needs for a trained service or support animal. Unfortunately, untrained animals can lead to safety issues for our team, our customers and working dogs onboard our aircraft."
A strict list of conditions must now be met, with growling, barking, biting, or disruptive animals likely to denied boarding. Cats, dogs, and even miniature horses will generally be allowed, if trained. But, like the woman who attempted to board a flight from Newark with a peacock, there's certainly now a line which you just can't cross.
Whilst our feathered friend may have had his wings clipped that day, here are seven of our favourite emotional support animals that actually made it onboard.