If you feel at home in extreme cities filled with passion and energy, a little edgy at times, but thoroughly thrilling, Manila shines.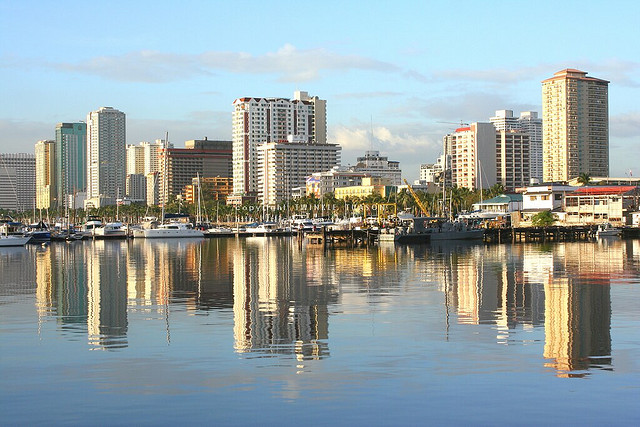 More Latin in temperament than Asian, thoroughly Westernised, developing at lightning speed, yet with some colonial relics, this is not your well-ordered Asian city. Manila is something far more exciting for the adventurous traveller.
The capital of the 7000-island Philippine archipelago, Manila is the most densely populated city on earth.
Attracting around a million tourists a year, it's hard to believe that this was once the second most devastated city in WW2.
With deep roots from its trading days with Latin America, you'll also find a real American influence here. It's all basketball, baseball, jeans and t-shirts, with most folks speaking English. But Manila does things their own distinct way. Take the 'jeepney', the local way of getting around. These WW2 surplus jeeps have been converted into colourful, metal boxes on wheels, with a kaleidoscope of decorations, glittering and studded, with mirrors and fantastic trimmings. A loud boombox will provide the soundtrack for a dash through the city's crazy traffic.
They go into areas where the buses don't, just look for the route on the sticker on the sides and windscreen of the jeepney.
Incidentally, some tour operators offer guided tours of the city in specially-made, air-conditioned jeepneys.
Another colourful local habit happens on the 1 November when this devoutly Catholic country shows their Latin connection when celebrating the annual 'Day of the Dead'.
Relatives spend time at the graves of the departed. It's far from morbid. There's live music, drinking, picnics, and so on. Some of the tombs in the Chinese Cemetery are particularly over the top, with running water, electricity, TV and swimming pools! Guards at the cemetery will give guided tours if asked (and paid).
If that's all too weird, you probably want to steer clear of Manila's answer to bull-fighting, cock-fighting. This is all perfectly legal here, with 'cockpits' all over the city.
A walk on the renovated Baywalk along the Manila Bay shore is a far more civilized affair, with plenty of good restaurants nearby. From the Baywalk you can enjoy the legendary sunsets that you won't find in most other Asian cities.
It's also pretty restful and cultured at the historic Manila Hotel. This elegant legacy of the US colonial era was where General George Macarthur lived before the Japanese invaded. More recently, Marlon Brando and Bill Clinton have been visitors.
At night, there are plenty of options. The party bars of Malate cater to all tastes, with 'girly' bars a big attraction for young men. It's a lot more salubrious, but still pretty loud at a karaoke bar like Redbox where well-off young trendies gather. Karaoke is very big here, a national pastime.
Another bar that is totally unique is the Hobbit House. Yes, you heard correct, this is a Lord of the Rings-inspired creation run by a staff of genuine 'little people'. Opened in 1973, it boasts nearly 150 types of ale, beer and cider, as well as food and live music.
The Singing Cooks and Waiters Restaurant does exactly what it says in the name. A decades-old institution, it serves Filipino dishes such as kare-kare baka (beef in peanut sauce) and adobong pusit (squid adobo). The food is good, the staffs' singing a bit dodgy.
Manila's Chinatown, one of largest in world, is also a good place to eat like a local, as well as shop for exotic souvenirs.
Escape the heat and humidity of the city with a trip to the cool mountain air of Tagatay, an hour and a half south of the city. Here you can see the extraordinary natural phenomenon of a lake within a volcano within a lake within a volcano!
Whatever you get up to on your Manila visit, let us know how you get on. What were the highlights, did you pick up any good tips along the way? We'd like to hear all about your time in Manila.
For the latest deals on last minute flights and holidays to Manila use the links below.