We love helping families plan their summer holidays – from choosing a destination, giving ideas for things to do and even helping parents keep the kids entertained on a long haul flight! This week, we asked an experienced swimming teacher for her top tips on helping kids learn to swim on holiday. Brogan is a part time swimming instructor in Glasgow, with five years of experience under her belt; here you can find her advice on how to ensure your little ones are confident and safe in the water!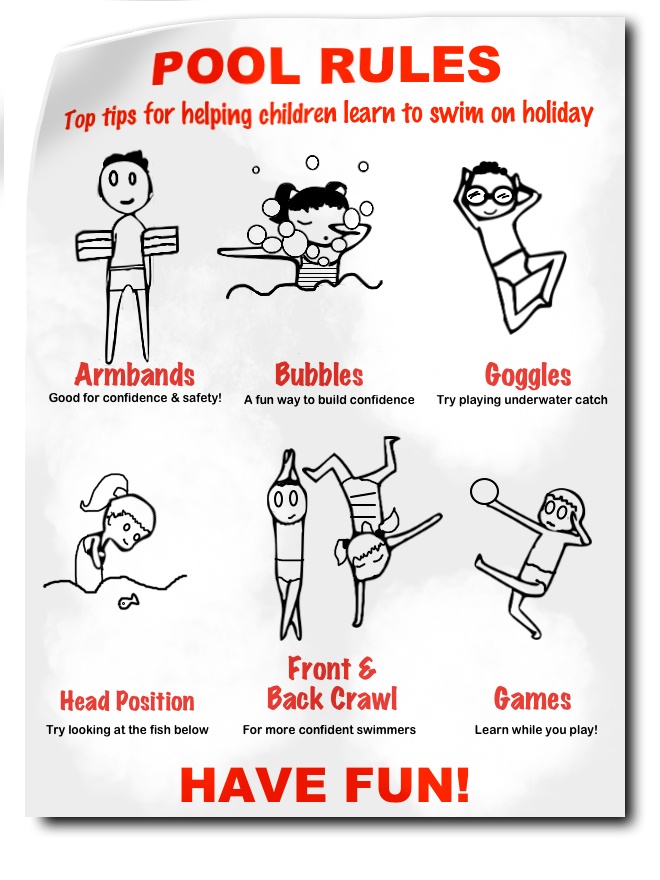 Summer's fast approaching and of course for us Brits that means one thing: time to get away somewhere relaxing (and preferably sunny) for a week or two. For those of us with families there's nothing quite like a holiday lounging by the pool – there's always plenty to keep the children occupied whilst allowing the adults some much deserved peace and quiet. However, these family holidays are also a great time to teach our children a much needed and important skill in an extremely comfortable and fun way – how to swim. Below are a number of key things you should think about whilst teaching your children to swim on holiday.
Non-confident swimmers (Usually Infants and Toddlers):
Buoyancy aids: With smaller or less confident children (2.5+) armbands can be extremely useful, although aren't a necessity. They are an extremely effective way to build up a child's water confidence and can also double up as an excellent safety precaution if your toddler likes to explore the poolside.
Noodles: (long, cylindrical floats) are a much more effective buoyancy aid for non-confident swimmers once in the pool, as they allow the child to adopt a more comfortable, streamlined position whilst giving them stability. They're very cheap and usually on sale in most local holiday destinations newsagents. The best way to use a noodle safely is:
1. Curve the noodle into a half circle and place each end under the children's armpits.
2. Make sure there is a large enough space between the child's face and front of the noodle, allowing them to place their face in the water and providing a much more stable base than if the float was directly under their chin.
3. Make sure your child's centre of gravity is low – repeatedly telling them to keep their chin in the water, when their face is above the water, creates an extremely stable flotation device.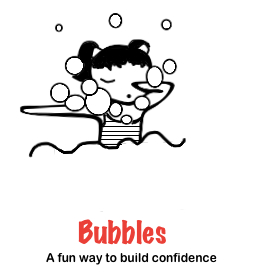 Blowing bubbles: An excellent way to build up water confidence for children who are scared to submerge in the water is to get them to blow bubbles. A really simple, but effective way to get them laughing and enjoying their time in the pool. A trick I've learned is to tell the children to imagine there's a HUGE birthday cake under the water and it's their job to blow out all the candles. This usually means they adopt the correct mouth shape naturally. But remember to tell them to take a big breath above the water first.
Goggles: In most cases, goggles are essential. Not only for the child, but also the adult. Once your child is more confident in the water (able to place their face under for short periods of time) a good game to play is submerging with them, telling them to come and catch you. You can either hold onto your child's hands/wrists for the entire submersion or you can practice letting go for short periods of time. Eye contact is really important, which is why I suggest both yourself and your child submerge wearing goggles. Eye contact provides an extra layer of support for your child and is the easiest way for you to be able to assess how they're feeling when under the water.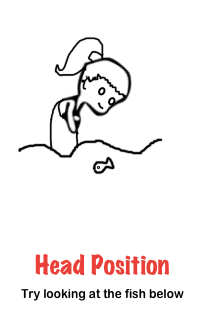 Head position: Once your child's able to place their face under the water, head position is key. Tell them to point their whole face at the bottom of the pool – even suggest they go looking for fish down by your feet. The head position is correct when the head is in line with the body in the same way it would be when standing upright facing forwards.
Have fun: The most important thing to remember is to keep it fun. Jumping in is a fantastic way to build a child's confidence. Get them to stand on the poolside with their toes curving over the edge and remind them to jump out towards you. Stand close enough to catch them to begin with and slowly move further away, allowing them to jump alone – picking them up immediately after they've submerged. The kids I teach all look forward to jumping in at the end of every lesson and enjoy imitating their favourite animals as they jump – this is usually funny for both the child and the parents.
Confident swimmers and older children:
Once your child's confident in the water (can swim short distances with their face in the water) here are a few handy tips to improve their basic skills: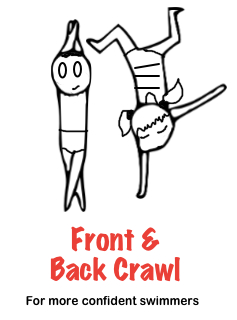 Front crawl:
1. Get your child to hold a float at the bottom, in both hands. Get them to splash their toes, blowing slow bubbles under the water, for as long as they can manage.
2. Once they can do this confidently introduce one arm rotations. Hold onto the float with one arm, and keeping the rotating arm straight (easier for beginners) get them to practise the front crawl arm action. Alternate the arms.
3. Remove the float and get them to put the whole stroke together. This will be easier if you show them how to swim the stroke fully. Remember, kids always find it easier to learn from visuals.
Back Crawl:
1. Similarly to front crawl get them to hug the float on their tummy – like a teddy bear – tell them to point their chins to the sky and gently holding their head walk behind them as they splash their toes. When they're confident enough, remove your hands and get them to do it on their own.
2. Holding on with one arm, introduce arm rotations with the free arm, again keeping the moving arm straight. Alternate arms.
3. Remove the float and tell them to stick their arms to their sides, keeping their chin back, splashing their toes as quickly as possible – the same as with the float. Remind them that keeping their chin pointing to the sky is really important, as well as pushing their belly upward too.
Games:
Even simple things like throwing and catching in the pool will drastically improve a child's confidence. A favourite with the older children I teach is sinking hoops to the bottom of the pool, for them to swim down and pick up. Start off shallower, working your way into deeper (but not too deep) water. You can add as many sinkers as possible; creating little obstacle courses the more your child's confidence grows. You can also incorporate this game with jumping in.
So, when you're on holiday this summer enjoying each other's company and basking in the glorious sunshine that it seems the UK's weather forecast's forgotten about remember one thing: The key to learning to swim/and having a good time is to quite simply, have some fun.