Flybe, Europe's largest regional carrier, was saved from closure this week as government ministers and shareholders agreed a rescue deal that saw the immediate future of the airline safeguarded.
A range of measures were agreed that will see investors inject a further £30m into the airline, whilst the government has reportedly agreed to a £106m deferral of Flybe's outstanding air passenger duty (APD) tax bill and a potential loan of £100m – and mean that it's 8.5 million passengers can continue to book flights with Flybe on its many services around the UK and to mainland Europe – and it's 2,400 employees remain in work.
Exact details of the government deal remain publicly undisclosed but leaked details have so far been enough to draw criticism from the likes of Willie Walsh from IAG, parent company of British Airways and Iberia. Ryanair boss, Michael O'Leary, also said that the rescue deal was a "badly thought-out bailout of a chronically loss-making airline", and that any tax holiday should be extended to all airlines. "We must be treated the same as Flybe if fair competition is to exist," he said.
HMRC has pointed out, however, that 'Time to Pay agreements are common where taxes or duties are owed,' and that over 700,000 such agreements were arranged last year. IAG has, however, already filed a complaint with the EU, arguing the rescue breaches state aid rules.
Exeter-based Flybe, which is owned by Connect Airways – a consortium of Virgin Atlantic, Stobart Aviation and Cyrus Capital Partners – ran in to trouble in 2018 which saw the airline put up for sale. The Virgin-led consortium purchased Flybe in February 2019 with plans to turn the airline around, including an upcoming rebrand to 'Virgin Connect' later this year.
Flybe employs over 2400 people and currently operates a fleet of 68 regional aircraft, including the Bombardier Dash 8 Q400 and Embraer E175, with bases at regional UK airports such as Southampton and Belfast.
Chairman of Connect Airways, Lucien Farrell, said: "We are very encouraged with recent developments, especially the government's recognition of the importance of Flybe to communities and businesses across the UK. As a result, the shareholder consortium has committed to keep Flybe flying with additional funding alongside government initiatives."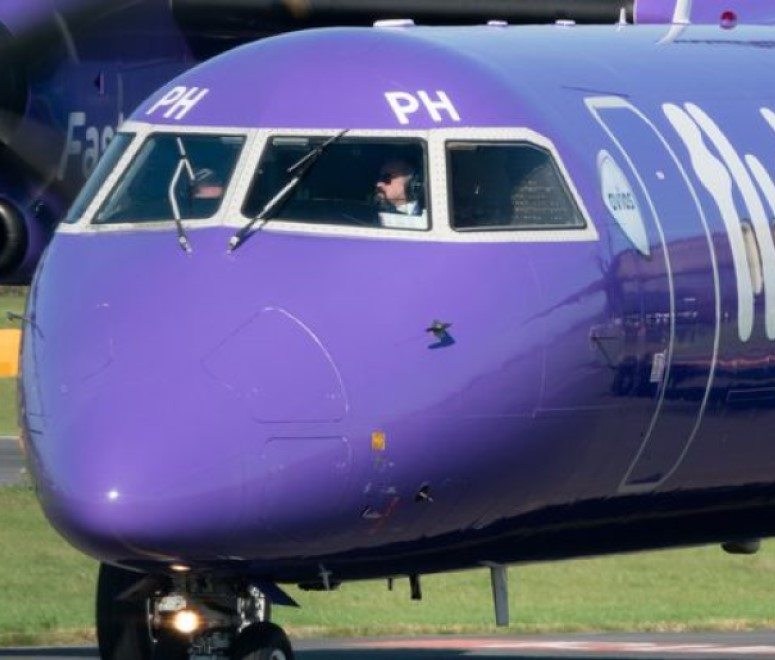 Business Secretary, Andrea Leadsom, said she was "delighted" that an agreement had been reached after three days of rescue talks. Meanwhile Chancellor Sajid Javid said, "I welcome Flybe's confirmation that they will continue to operate as normal, safeguarding jobs in UK and ensuring flights continue to serve communities across the whole of the UK."
Flybe has struggled for many years with the rise in fuel prices since 2016 especially hurting the airline. APD is also cited as having a key negative impact on the airlines' bookings with the regional airline being taxed twice as much (£26) for return UK domestic flights, the mainstay of Flybe operations, compared with a return UK to mainland Europe flight (£13).
With Brexit approaching and the UK economy about to face some undoubtedly challenging times, the government is all too aware of the importance of ensuring that the UK regions remain connected. In another departure from how Thomas Cook was denied any government assistance prior to their shutdown, the Treasury has now also announced that APD is to be 'reviewed'.
But not everyone is pleased with the move. Doug Parr, Greenpeace UK's chief scientist, said of the APD review: "The government cannot claim to be a global leader on tackling the climate emergency one day, then making the most carbon-intensive kind of travel cheaper the next. Cutting the cost of domestic flights while allowing train fares to rise is the exact opposite of what we need if we're to cut climate-wrecking emissions from transport."
For now, Flybe flights are set to continue as normal and customers can continue to book – although they're advised to ensure their travel insurance includes a supplier failure clause. It remains to be seen if the business can become viable long-term without the need for any additional aid from its shareholders or indeed, the State – but it is now up to those in charge from across the new management to implement the promised turnaround plan to bring it back in to profitability and deliver the enhanced connectivity in to Manchester and London Heathrow that Virgin Atlantic seeks.