Terminal 5 at London Heathrow is the busiest airport terminal in the UK, with over 32 million passengers each year – more than Edinburgh Airport and Birmingham Airport combined. But, to remain safe and open during the coronavirus pandemic, Terminal 5 has undergone something of a transformation.
Only Terminals 3 and 5 are currently open at Heathrow, so T5 – normally used exclusively by British Airways, Iberia and American Airlines – is now hosting a range of airlines. And a number of new measures have been introduced to keep passengers safe. So, with all these changes, what's it actually like to fly from Terminal 5?
We asked one of our Netflights team members to visit the UK's most famous terminal and report back – here's what she found.
From the moment you arrive at Terminal 5, it's clear that changes have been made. A machine scans your temperature as you enter the building, and there are signs everywhere with COVID-19 safety requirements and advice. As with other UK airports, it's mandatory for everyone to wear a mask, although you're allowed to remove it to eat and drink. Passengers in the terminal seemed very self-aware and respectful, with social distancing being observed.
One major difference is how much quieter it is. There are fewer people than usual, so it feels safe and relaxed. The normal hectic airport atmosphere, with people rushing all around you, just doesn't exist. It's all very calm – I actually felt safer in Terminal 5 than in my local supermarket.
There are 600 contactless hand sanitising stations, and seating is spread out to allow for social distancing. There's also a robot (pictured) called Victoria, which cleans and disinfects the facilities using UV lights. Normally used in hospitals, this machine effectively kills all germs and bacteria, and can move around without being operated by humans – clever.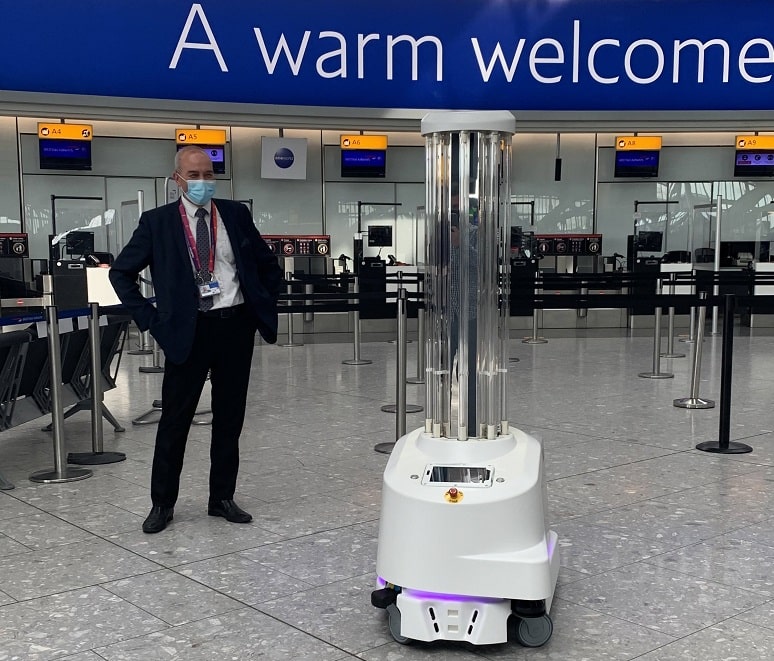 The check-in experience was very simple and smooth. All the desks have protective screens, and the self-check-in kiosks are regularly cleaned. When you check in, you'll be asked to temporarily remove your mask, so you can be identified against your passport.
British Airways, in particular, is encouraging passengers to download their app and use their contactless check-in, to reduce the risk of germs spreading. BA's also encouraging everyone to take less hand luggage onboard – if it goes in the hold instead, this reduces the risk of contamination in the cabin.
If you're flying to a country which requires a temperature check before you travel, you'll head to a specific zone, set up by BA. The temperature checks are contactless, but there are staff members on hand if you need assistance. If your temperature result is high, you'll be tested again 10 minutes later – as your temperature might just be raised due to nerves or rushing to the airport. However, if your temperature remains high on the second test, you won't be allowed to fly.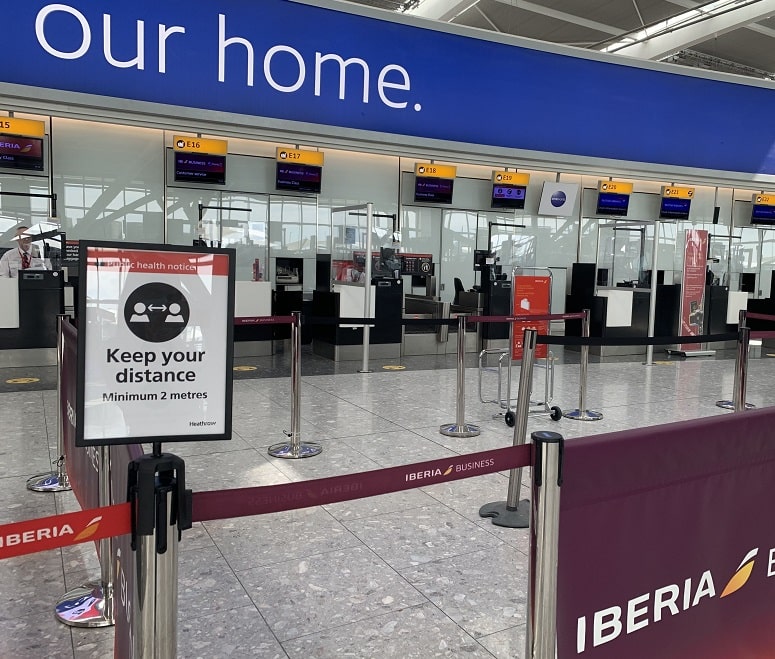 Airline lounge experience
If you want a relaxing pre-flight experience, the British Airways Lounge is the place to go. It felt very safe and normal, even with the changes that have been made. All staff wear masks and gloves, and there are signs and hand sanitisers everywhere. The seating areas are well spread out, with new partition screens to ensure everyone has plenty of space. And all the fabric seats have been replaced with leather ones, so they can be cleaned regularly throughout the day.
As you'd expect, the buffet service has temporarily stopped. Instead, you simply scan a QR code on your phone to bring up the menu, order online, and your food and drinks will be brought to you. It's all very straightforward. Even with all the safety precautions, the lounge still felt luxurious and was a nice treat.
The spa is currently closed, but the showers are available if you want to freshen up. The Concord Terrace – an open space where you can watch the planes coming and going – is also open, and works in a similar way to the lounge. It's a lovely spot, where you feel nicely tucked away from everyone else.
If you usually indulge in some retail therapy before you fly, you'll be pleased to know that most of the shops in Terminal 5 are open, including designer names like Burberry, Gucci and Tiffany & Co.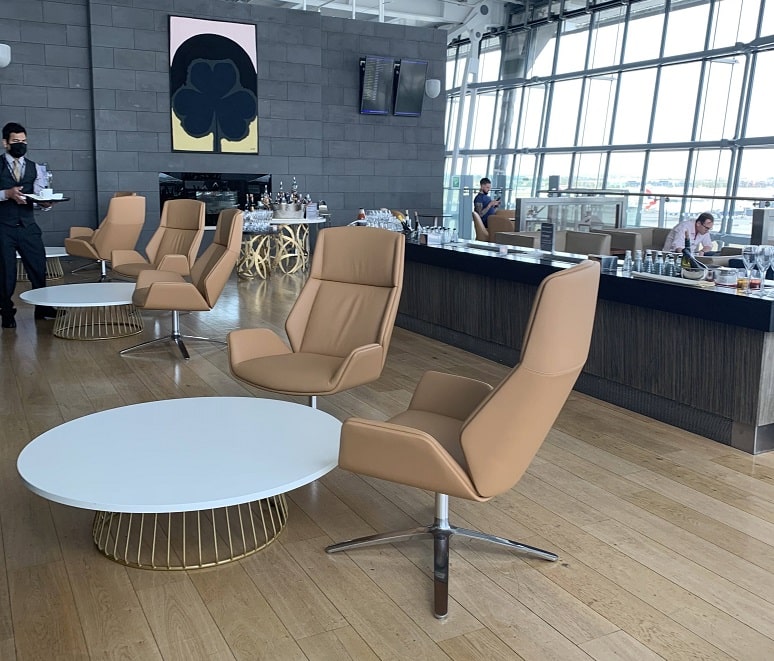 To avoid the usual rush to the gate, announcements are now clearer and more informative, with advice on sustaining safety measures. When you reach the gate, you'll notice there's a lot more contactless technology and self-service screens, but staff are around to help if you need them.
The boarding process has changed. Instead of boarding by cabin class, passengers now board by seat number, with the plane being filled row-by-row from the back to the front – this removes the risk of people coming into contact with others in the aisle, while trying to find their seats.
If you need to catch a bus from the gate to your plane, don't worry. The number of buses has increased, so that everyone has enough space. If a flight normally uses three buses, for instance, there are now five. And the buses are all thoroughly cleaned between each use.
Want to know what it's like onboard? Read about the changes airlines have made to be 'flygienic'.
Arrivals experience
When you land back at Heathrow Terminal 5, getting your luggage is very easy. Baggage collection is actually rather empty – it feels like you've landed at a tiny local airport, rather than one of the biggest in the world. The baggage is loaded onto the carousel with large spaces in between bags, so that no one touches anyone else's bag. And there are markers on the floor, to encourage people to keep their distance from their fellow passengers. You'll also find sanitising stations where you can clean both your hands and bags.
Overall impression of Terminal 5
Heathrow and British Airways have made a lot of changes to keep their customers safe. I felt extremely comfortable in Terminal 5, and the whole process was very easy. Personally, I sometimes find airports quite daunting and hectic, as I end up rushing around trying to find where I'm supposed to be. But this new experience is completely different – I actually preferred it. The calm, relaxed atmosphere makes it easy to know where you should be and what you should do. You have time to think and breathe, which is a much nicer experience! And there are staff members on hand if you need them.
Going to an airport might feel intimidating at the moment but, after this experience, I would encourage people to go for it. Terminal 5 is clean and safe and, having seen the measures that have been put in place, I would feel comfortable to return.