Architecture has always been a hot bed of opinion. Summing up numerous emotions over the years ranging from anger to euphoria, this controversial and forward thinking art form regularly divides the opinion of the masses.
Over the years we've seen weird hotel designs like Igloo Village in Finland and Magic Mountain (which is designed after a volcano) in Chile. Then we've had some striking hotels like the 321 metre high Burj Al Arab in Dubai, the unusual in the shape of the Ice Hotel in Sweden and the resourceful like Das Park Hotel in Austria – this allows you to stay in rooms made from actual sewage pipes. We're still not that sure about the last one, but each to their own!
These are all very interesting, but just like fashion, technology and nearly every industry around it's important to keep things moving, and pushing the boundaries of what's normal, different, weird and just plain crazy.
The New Breed of Hotel
But what's next? What's new? What could you be staying in when you travel in the future? These are all questions we should be asking as we see hotels adapt with the rapid social changes happening in the world. After all these places are hubs for people from all corners of the planet and from different backgrounds and cultures.
I doubt we'll be staying in space pods anytime soon, but with the advance of certain technology potentially opening the door for space tourists, who knows where that could lead.
However there are some rather intriguing hotels creeping up across the globe. These include Amsterdam's eco-chic four-star Fletcher Hotel and the unusual Hang Nga Guesthouse, which is a tree house-come-hotel in Vietnam. Then we have the futuristic cliff edge hotel, which has been commissioned in Lima, Peru, and of course Dubai's Hydropolis, which is yet to materialise, yet still could. As you can see, the landscape is already changing. But what's next?
Futuristic
If half of the stuff that's floating around in relation to the future of hotel design actually comes true or if even a fraction of the designs become a reality, then we won't know what to do with ourselves when planning our holidays.
Although Dubai's Hydropolis seemed to be at the forefront of underwater holidaying, the design of the Three Spirits floating hotel takes cruises and underwater vacations to the next level, offering three ships that have an option to unite. This isn't where the potential of ocean holidaying could end however, as designs for an arc like ship, simply known as the Arc Hotel offers a floating paradise that could even withstand natural disasters.
However not all these futuristic hotels are based in, or under the water – some are still on land. This is the case for The Graft Tower (based in Puerto Rico), which is an eco-hotel and vertical farm, which sees fibres grafted around a skeletal frame and pod like rooms nestled like egg sacks in a cobweb. It all sounds very interesting, albeit a little freaky!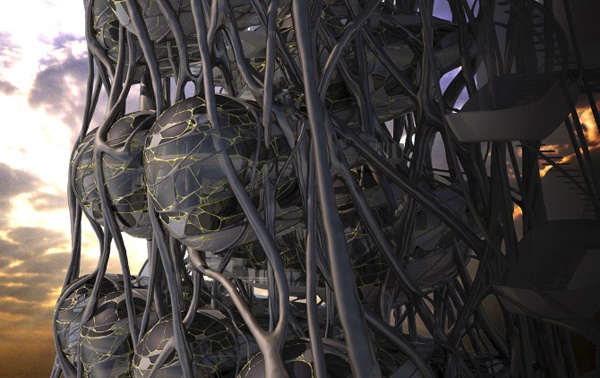 Then there's the Aerotel Russian Floating Hotel, which from the name you can assume what it entails. The lace like hotel on the sea would be serviced by airships and features an open net like structure, holding parks, roads and hanging gardens. Very sci-fi indeed.
Of course these are just concepts at the moment, but everything had to start somewhere, so in a few years who knows what we could be staying in. With excellent flight prices to destinations across the globe, allowing you to travel wherever you want and with a new and exciting future developing for the world of architecture, you can experience the excitement that comes with staying somewhere that wows you every time you look at it. After all that's what a holiday should be about.
Here's hoping for a bold new future in not only architecture, but holiday experiences too.