As the biggest adult playground in the world, gambling is usually the first port of call for those visiting Las Vegas. But with casinos for as far as the eye can see, it's extremely easy to get caught up in the money dropping whirlwind surrounding you. And with no windows or natural light coming in when you're inside, time can lose all meaning and the days just fly by.
However this is the trap most Vegas virgins make and the casinos love it. This is why we've highlighted a few tips to help you keep your chips stacked.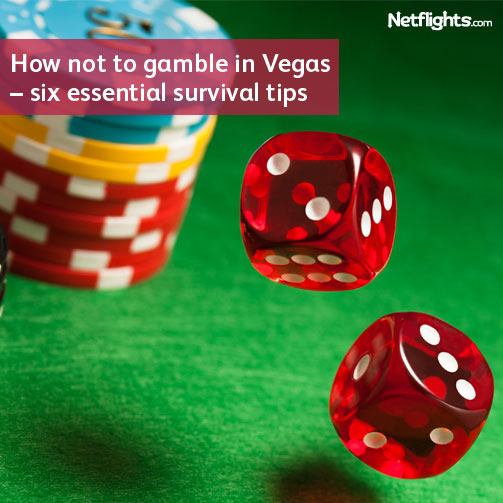 Beware the locals
When it comes to gambling those pennies just remember; the locals have been at it for a while. So if you arrive at a poker table and the dealer knows the others by name, leaving may be a good idea.
Ask a dealer
If you don't know how to play a certain game then you can always ask the dealers for some advice. However they'll only help clarify the rules, but if you catch them when it's not busy, some will give you tips and explain details. This could prevent an awkward losing streak you can't get out of. If you still don't get the rules, many casinos offer gaming lessons for beginners. Places like Caesars Palace and the Aliante Casino and Hotel provide this service for free; just ask your concierge.
Pick a table
Don't be fooled by the simplistic nature of the slot machines, because if anything's going to take you for a ride it's these. The rule of thumb in Vegas tends to be; the easier it is, the more you lose. Mastering the rules of a table game will definitely take longer than learning the art of button bashing; but with the tables, you'll get more bangs for your buck.
Slow and steady
Here's another great reason to choose tables; they're slower paced. If you're sitting at a slot machine the method of putting a constant stream of money in, becomes second nature. But at a table, especially a full one, the number of hands you play an hour will be reduced, and it's much more fun playing with other holidaymakers.
Play sober
We understand part of the fun with Vegas is enjoying a good drink, and by all means enjoy yourself, but don't fall into the trap of drunken gambling. If you thought drunk dialling was bad, this is ten times worse, as not only do you lose your dignity, but a pretty sizeable chunk of your holiday funds too. Don't be fooled by those free drinks either, it's one of the oldest casinos tricks in the book to get you to spend more money.
Go off the strip
If there's one mistake many visitors make, it's sticking to the strip and not seeing anything else. The same applies to gambling off the strip too. Most locals gamble off the strip at places like Fremont Street. Here you'll find a number of local casinos, and although not as fancy as the mega casinos you see on TV, they offer a cheaper alternative. Places to check out at Fremont include Binion's, El Cortez and Four Queens.
Of course there's much more to Vegas than hitting the Casino's, but chances are you'll try them quite a lot. Hopefully, thanks to these trusty tips, you'll be prepared to take on the gambling landscape without getting caught out.