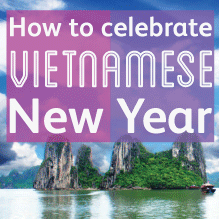 Plan on being in Vietnam during Tet (Vietnamese New Year), and want to observe this holiday properly?
Your first task is to find a guesthouse where a family will be celebrating this auspicious occasion on the premises.
Once this is sorted, check out the tips below for a Tet you won't soon forget.
Prepare yourself to celebrate Tet properly
In the days leading up to Tet, the locals will be busy preparing themselves for the coming New Year, and you should also follow suit; if only to get into the spirit of the holiday.
First, remember that New Year celebrations in Vietnam last three consecutive days. As such, it's vital that you purchase anything you think you might need beforehand, as the vast majority of shops will be closed during this period of time.
If you seek to emulate what your Vietnamese hosts are doing, try to purchase some new clothes, clean your guesthouse room, and apologize to any fellow travellers you might have offended in prior days. This is to purify your spirit heading into Tet.
Eat traditional foods
If you pick your accommodation or home stay well, you'll be in for a treat. There are many mouth-watering dishes served during this holiday that you'll get to eat along with your host family.
Banh Chung, or Square Cake, is a glutinous rice cake that contains mung bean and pork, and is wrapped up in a banana leaf, while Gio Cha (Vietnamese sausage) is served alongside sticky rice.
The main course will likely consist of Thit Ga (boiled chicken), served with lemon and a salt and pepper sauce for flavouring. When the time comes to enjoy something sweet, a tray of Mut Tet (Tet jam) will be passed around.
Unlike Western jams, Mut Tet is solid, and is often embedded with pumpkin and/or sunflower seeds; so enjoy the chance to enjoy a truly unique sweet.
Buy flowers for your host
When Vietnamese New Year comes around, the host family and relatives will buy flowers, or trees, to celebrate the season.
As a traveller, the easier way to observe this custom is to head to the market and obtain a bouquet of flowers, and give them as a gift for the family that is hosting you.
Common types that are well-loved include marigolds, chrysanthemums, paperwhites, and mao ga flowers. But if you don't know what's what, just get what looks beautiful to you; it is the thought that counts after all.
Learn some New Year's greetings
There are a number of phrases the Vietnamese use to wish each other well in the New Year. If you make the effort to practice and memorise a few, you'll impress and win over most locals you use them on.
For example, saying 'Năm mới dồi dào sức khỏe' means that you wish the recipient health in the New Year, while 'Năm mới tấn tài tấn lộc' means you hope that wealth will bless them over the next twelve months.
Don't be intimidated by the accents – with a bit of effort, you'll get the intonations down well enough, so most will understand what you're wishing them.