[wpsr_facebook]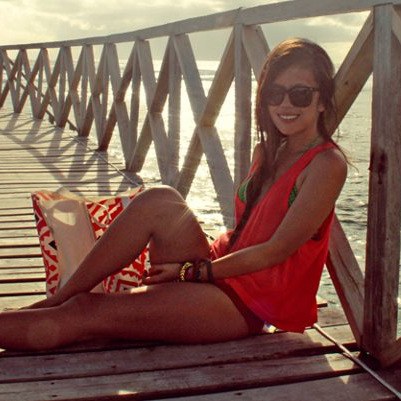 Our insiders tips series gives you tips and advice about destinations by people who live and work there. This page is about Manila.
Hannah Kate Lim – Actor/Musician – Melbourne, Victoria.
1. Why I love Manila?
Like our local food, Manila is not for everyone. If you love it, you will always love it. If it shocks you the first time, it will surely show its softer side later on and endear itself to you. I have never heard of a foreigner saying they hated Manila. It's more often filled with stories of them dancing their asses off in some club with (always) "the most beautiful woman they have ever seen" or eating balut with a mixture of fear and fascination. Whatever the case may be, you can always sense they fell in love with the city.
2. Best place in the city to party?
The Philippines has a number of legitimate (and yes, some not-so-legitimate) party destinations that you can check out.
If you're a big fan of Western pop, rock and R&B music, you'll feel right at home in the bars because we play everything from Lady Gaga to Neyo to Katy Perry, with a few '90s music and K-Pop hits thrown in for good measure. In between the more popular tracks, you'll be treated to a sizzling mix of techno, electronic and house music that will allow you to catch your breath before the next dance.
The latest and most hyped up addition to the Manila party scene is Republiq. Republiq is truly impressive. A lavishly designed and decorated nightclub located within the Resorts World Casino and lifestyle complex in Manila, Republiq is the hottest nightclub in the Philippines.
Since opening in 2010, Republiq has established a huge following in the Manila nightclubbing scene and is packed with guests every night it opens. Inspired primarily by the clubbing scene of Las Vegas, and also drawing influences from the leading supperclubs of New York, Miami and Ibiza, it is the largest nightclub in the Philippines- comfortably accommodating 300 seated and 700 standing guests.
As the dominant force in Manila nightclubbing, Republiq attracts a steady stream of the biggest international DJ's and high profile performing artists.
The easiest way to get here is by cab. Ask the cab driver to take you to Resort's World Manila. You'll not miss it, it's pretty close to the airport.
The Malate district of Manila is THE PLACE where everything from bars, nightclubs and discos to karaoke clubs, gay clubs and lounges can be found. Most bars in Manila close around 2am, but some will stay open later.
One of the more popular places in Malate is the Hobbit House. It features live musicians performing in a very Tolkien-esque club.
If you are asking yourself – what could be more fun than partaking in a little karaoke? This happens to be one of the most popular pastimes for Filipinos which is why there are numerous karaoke bars peppered throughout the Malate area for travelers  tourists and just those passing through to enjoy a drink a sing along.
So where is Malate? It is near Manila bay. This area of Malate was once the centre of development of modern Manila. However, with the advent of the development of Makati City, it lost its ground. Makati is the Philippine's version of Singapore because it is a super-modern financial, trading and entertainment district of Manila.
3. Best local food and where to get it?
The streets!! Malate is the perfect spot to get authentic local food. Whether you're going during the day or at night, a lot of stalls selling local barbecue snacks should be spotted easily. Philippine barbecue is a must-try, it's so flavourful that you would want to have a second and for sure a third serving!
After trying out the local barbecue, since you're just around the corner, might as well wait for a "Balut" vendor to walk by.
If you're of Filipino or other Asian descent, "Balut" eggs might not sound at all exotic. But if you didn't grow up with Asian foods, eating balut might be out of your food comfort zone. Balut eggs, considered a delicacy, are fertilized eggs that contain partially developed duck embryos. Although duck eggs are commonly used, chicken eggs are highly available as well.
Balut vendors normally hit the streets at night. Better be very alert so you can catch one! One "Balut" is normally sold at Php 20.
4. Top insider tip!/Best not to miss tourist experience in the city!
-If you've heard the word "dampa" (wet market), that could be because U.S. celebrity chef Anthony Bourdain ate lunch at one when he visited Manila.
You choose your own seaside catches of the day and vendors will cook it for you — grilled, steamed, fried, however you like. There are several dampas around Manila, but the more popular ones are on Macapagal Avenue (largest variety) and Farmers Market (where Bourdain ate). Damp and murky, it smells and feels like what it is — a wet market. Best dress casual.
-There's good reason to not overdo things on Friday nights. From 7 a.m. to 2 p.m. on Saturdays, Salcedo Park turns into a weekend market where home-based cooks sell their delicacies. On Sundays, Legazpi Park turns into a market, with a focus on organic produce and beauty products.
-Little people boxing. Either you'll love it or hate it.
Located in Makati's red light district, Ringside has drawn many a spectator's curiosity, including burlesque dancer Dita von Teese, who stopped by on her trip to Manila a few years ago.
If you're game, you can join boxers onstage and play referee. One warning: If you're male and look like you work out, the lady boxers may try to convince you to referee with your shirt of!!
5. What you love to do in the city at the weekend?
When in the Philippines, I would highly recommend hitting the nearby beach during the weekend.
Now that even tiny islands such as Koh Samui are becoming mainstream, Boracay, in the Philippines, may be one of the last little-known Asian beach getaways. The sandy-shored speck is accessible via an hour-long flight from Manila to Caticlan, followed by a 10-minute ferry ride. Go now, before the crowds arrive.
blog.netflights.com/2012/12/23/visit-boracay-the-best-island-in-the-world/
If you'd like to detach yourself from the stress of city life without doing serious damage to your pocket, I would recommend visiting the historical island of Corregidor.
Corregidor Island is one of the most important and celebrated places in the battle in the Pacific Theatre during World War 2- now that guns are finally silent, the island serves as a distinct destination for people of all ages and walks of life in order to understand, learn and appreciate the courage and bravery of Filipinos amidst the indescribable horrors of war.
Tours to Corregidor Island begin by jumping on a boat leaving from the small jetty at the Cultural Centre of the Philippines on Roxas Boulevard in Manila. The terminal is a small cramped building right next to the posh Manila Yacht Club. Usually, it is best to get a package tour from a licensed tour agency or one can purchase it from the terminal. There are usually two tour options, one can pick a day tour (which would usually be around PhP1500-PhP2000++) which most tourists do, or have an overnight stay in the island. Overnight stays should be booked in advance. There is limited accommodation on the tiny island at the elegant but unassuming Filipino-Spanish-style Corregidor Hotel. Usually lunches for the day tour are held on its airy veranda.
Learn More about Manila

Manila Guide, Sightseeing, Lifestyle & Culture, Airport Guide
Manila Blog Postings