[wpsr_facebook]

Our insiders tips series gives you tips and advice about destinations by people who live and work there. This page is about New York.
Kate Revill –  originally from Scotland has been living and working in New York for 4 years.
1.Best place in the city to party?
If you're young, beautiful and ultra-hip you may want to try your luck on the door at Le Bain at The Standard Hotel in the meatpacking district. My recommendation is to forget Le Bain and head to Cielo (also in the meatpacking district) for the mid-week club nights. Monday's resident is Francois K throwing his party Deep Space or Wednesdays is Louie Vega's (Masters at Work) Roots party. Did I mention this is every week? Both are a lot of fun with a great crowd and a mind blowing sound system. Be prepared for a night of awesome music in one of the best clubs on the planet with the biggest disco ball you'll probably ever see in your lifetime.
www.standardhotels.com/high-line/food-drink/le-bain
If you're lucky enough to be in the city during the summer months there are a few outdoor day parties that are definitely worth checking out. Justin Carter and Eamon Harkin's party Sunday Best at Gowanus Canal in Brooklyn never fails to please the ears and dancing feet. Do these guys know how to throw a party? Of course they do, they're Irish! When not flying DJs in from around the world the guys who run it do a pretty fine job on the decks themselves. Drinks are cheap and there's great Mexican fare to eat….many a fine Sunday afternoons have been (happily) lost here.
Warm Up at MOMA's contemporary space in Long Island City, PS1, on Saturdays is a great mix of bands and dance music, Scissor Sisters famously played there a few years ago. Although the bands can be a bit hit or miss it's worth hanging around for the DJs later in the day. Inside you can check out the weird and wonderful art or take in some rays in the outdoor artist installations commissioned especially for Warm Up each year. As the day progresses the music heats up with some classic disco and house with the likes of Danny Krivit, Todd Terry, Floating Points and Tim Sweeney taking to the decks.
2. Why you love New York?
It's a cliché but anything can happen in New York. Nothing surprises me anymore! It's such a culturally diverse city but feels very safe and the people are extremely polite and friendly. The food here is some of the best in the world and you have the theatre, art, ballet, museums, street performances, parks, amazing shopping and iconic buildings…it is the ultimate city.
3. Best out of town trip?
The white sandy beaches of the Hamptons on Long Island; check out the kitsch and faded old world glamour of Coney Island or experience Fall in upstate New York.
4. Best local food and where to get it?
New York is all about the weekend brunch washed down with copious amounts of Bloody Mary's or Mimosas or both. Try the West Village for cool little spots like One Hundred Acres where you can drink a Bloody Mary with a shucked oyster on top along with your Eggs Benedict. Areas of Brooklyn like Williamsburg, Greenpoint, DUMBO and Bushwick have some excellent places that pride themselves on local produce and artisan food making.
www.hundredacresnyc.com
If you're not leaving Manhattan (your loss) bagels are quintessentially New York, like the ones from Daniels Bagels on 3rd Avenue for cream cheese and lox. Gourmet food trucks can be found around the city (not to be confused with the gyro grilling/middle eastern trucks-although these can be pretty good sometimes too!), and of course, there's always the famous burger and fries at Shake Shack.
If budget allows there are seven, yes seven, 3 Michelin star rated restaurants: Chef's Table at Brooklyn Fare, Daniel, Jean Georges, Le Bernadin, Masa, Per Se and my personal favourite, Eleven Madison Park.
5. Top insider tip!
• A 3 course lunch at one of Jean Georges Michelin starred restaurants is an absolute bargain at around $30. Be treated like royalty for a couple of hours while you overlook Central Park and dine like a king. It is relatively easy to get a mid-week reservation for lunch, especially for Nougatine, Jean Georges sister restaurant (they share the same kitchen).
• Sunday roller disco in Central Park (near the Mall), follow the disco tunes and ye shall find!
• Get out of Manhattan and explore Long Island City and Brooklyn. In Long Island city you will see the best views of Manhattan from Gantry Park (along the Queens side of the East River) and if you're in the area check out the graffiti covered 5 Pointz while you still can before it's torn down. Take the 7 train one stop from Grand Central to Vernon Boulevard and head towards the river for the park or to Court House Square for 5 Pointz. Plenty of good foodie places along Vernon Boulevard too.
• In Brooklyn, Williamsburg and DUMBO are probably what Manhattan was like say 20 years ago when it was still full of artists and had the "cool" vibe that it is sadly lacking these days. Bedford Avenue between North 6th to North 8th streets and the streets leading off of this main drag are where you will find all the cute little shops and restaurants. Well worth a wander. DUMBO is pretty awesome too if you want a slice of the wide cobblestoned streets and converted loft spaces that many people associate with New York. You'll find stunning views of Manhattan from the park underneath the Manhattan and Brooklyn bridges, a restored vintage carousal and a good starting off point to walk across the Brooklyn Bridge.
• Take the East River Water Taxi from 34th street, hop on and off to get to Long Island City, Williamsburg and DUMBO. A great option if you're short on time and would like to fit them all in one day.
• Never be afraid to ask directions or for help. New Yorkers like to be of assistance!
• Last but not least, my ultimate insiders tip…If you like soul and funk music you must, must, must, experience Gospel in a Harlem church on a Sunday. Line up outside with the regulars (not the coached in tourists) and sit with the congregation. You WILL FEEL like you belong and you WILL want to get up and dance! Trust me.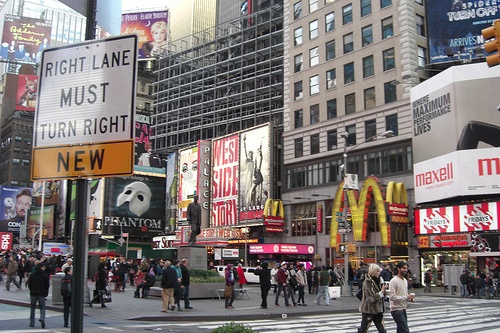 Learn More about New York

New York Guide, Sightseeing, Lifestyle & Culture, Airport Guide
New York Blog Postings
Department stores in New York
The Best places to see contemporary art in New York City
Interesting places to see in New York