[wpsr_facebook]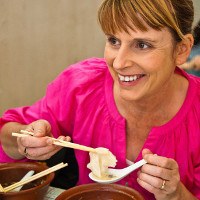 Our insiders tips series gives you tips and advice about destinations by people who live and work there. This page is about Shanghai.
Fiona Reilly
1. Why I love Shanghai?
Shanghai is an intense and vibrant city, pushing you forward with its extraordinary momentum and drive, until you can't imagine being anywhere else. Shiny, modern and cosmopolitan on the surface, the history of the city seeps through in unexpected ways as you walk the streets of the former French Concession and peak into lanes filled with old houses and a very traditional way of life – old friends sitting outside in the spring sunshine playing a fierce game of mah jong, young friends playing badminton, or a mother preparing the evening meal over an outdoor sink. All of these experiences merge together to make Shanghai an absolutely unforgettable blend of old and new.
2. Best place in the city to party?
Leave generic nightclubs behind for a night – you can find those in any metropolis in the world- and spend a night having a uniquely Shanghai experience, channelling the elegant Soong sisters and decadent jazz age of the 1930s. Wear your tuxedo and spend an hour watching the sun set over the city from the 36th floor bar of the Shangri-La Hotel in Pudong. Once it's dark, head back over the river to the Bund and walk along the riverside promenade while everyone watches the nightly spectacle of coloured neon lights on Pudong's stunning skyline. Make your way to the House of Blues and Jazz on Fuzhou Lu where Mr Lin Dongfu, often wearing a fedora and linen three-piece suit, runs a line-up of international jazz and blues musicians in his gorgeous art-deco bar, where you can order champagne or old-fashioned cocktails and dance until the small hours. Sunday nights are jam nights, when the House opens the stage to professional musicians from all over Shanghai.
Shangri La Hotel, 33 Fu Cheng Lu, Pudong
www.shangri-la.com/shanghai/pudongshangrila/
House of Blues and Jazz, 60 Fuzhou Lu, near the Bund
www.houseofbluesandjazz.com/
3. Best local food?
You'd better visit Shanghai with an enormous appetite because the city has a dazzling variety of eating experiences – from the heights of fine dining to the easy delights of local street foods on every corner.
For an unforgettable night try French chef Paul Pairet's Ultraviolet, billed as the ultimate in unique dining. Just ten guests a night are transported to a secret location and served twenty courses in a multi-sensory, immersive environment, with those who have experienced it describing it as the most extraordinary dining experience of their life.
Shanghai also has its own cuisine, with the food emphasising sweetness and richness. New Jesse restaurant at Xintiandi is very centrally located and has a menu full of local Shanghai favourites including hong shao rou, cubes of pork belly braised with soy, sugar and Shaoxing wine until it melts in the mouth; silken tofu braised with the tender meat of the famed local Shanghai hairy crab; and warm red dates stuffed with glutinous rice.
Street foods can be found all day and into the evening at Sipailou Lu near Yu Gardens and along Xiangyang Lu in the former French Concession
Ultraviolet by Pail Pairet
uvbypp.cc/
New Jesse Restaurant, Building 2, 181 Taicang Lu, Xintiandi
www.cityweekend.com.cn/shanghai/listings/restaurants/shanghai/has/jesse-restaurant/
4. Top insider tip/Best not to miss tourist experience in the city?
To discover a side of Shanghai's history known by few, visit the Jewish Refugees Museum in Hongkou and learn the incredible story of 30,000 Jewish people who survived World War II after being offered refuge in Shanghai when no other city in the world would take them.
Shanghai Jewish Refugees Museum, 62 Changyang Lu, Hongkou District www.shanghaijews.org.cn/english/
And don't leave Shanghai without trying the quintessential Shanghainese food – pork dumplings called xiaolongbao filled with a piping hot savoury broth. They take quite a bit of practice to eat but are seriously addictive. My favourite xiaolongbao restaurant is also one of Shanghai's oldest – Jia Jia Tang Bao, just north of People's Square.
Jia Jia Tang Bao, 90 Huanghe Lu, near Fengyang Lu.
5. What do you love to do in the city at the weekend?
My perfect Shanghai weekend is spent riding around the city on a bicycle soaking in the street life and stopping for frequent snacks along the way. Shanghai is a city built for cycling with bicycle lanes, quiet leafy back streets and not a single hill, so these routes also make for an equally pleasant walk.
I start at Baker and Spice on Anfu Lu, at the western end of the former French Concession, for coffee and toasted Italian-style fruit bread. Anfu Lu is always beautiful – the plane trees are leafy and dense in the summer months and their tops meet together in the middle of the street, creating a long green archway.
There are certain streets in the French Concession that are lovely for cycling, and if you pick the right route you can cycle all the way to the Old City without ever going along a main road. From Anfu Lu I head along Changle Lu then south along Xiangyang Lu until the start of Nanchang Lu. I never tire of riding here….all the familiar shops and faces…..the fruit man, the vegetable lady, the bike repairer, the watch repairer, the man who decorates Chinese wedding cars every weekend with flowers and stuffed toys.
Almost at the end of Nanchang Lu is the entrance to Fuxing Park, a traditional Chinese park originally established by the French, it's endlessly busy with ballroom dancing, kite-flying, trumpet practice, card games and tea drinking, and always worth a stop. Nanchang Lu then crosses over an 8-lane road and heads towards the old city past Xintiandi, where the crowds are lined up at the site of The First National Congress Of The Communist Party Of The People's Republic Of China right beside some of the city's most exclusive shopping and restaurants.
Past Xintiandi the houses become older and more interesting as you get closer to the old city proper. Riding eastwards along Fangbang Lu I can't help but stop at two favourite places – the Bird and Insect Market, and across the road, the Dongtai Lu Antiques and Curios Market. The sound of the crickets is deafening before I even step into the insect market – cricket season has begun, and I see three men poring over a book of cricket varieties with intense concentration.
I often stop at 638 Fangbang Lu for a quick delicious lunch of noodle soup, enjoying the theatrics as Mr Ma hand pulls a lump of dough into long, fine noodles. Fangbang Lu passes right by Yu Gardens, but I usually keep going and head straight for the street food area that starts on the corner of Fangbang Lu and Sipailou Lu where you can wander and snack on delights like spicy noodle salad, sticky rice squares, freshly cooked sweet wafers and miniature Chinese toffee apples, made with a row of hawthorns on a stick. A perfect Shanghai weekend always has to end with great food!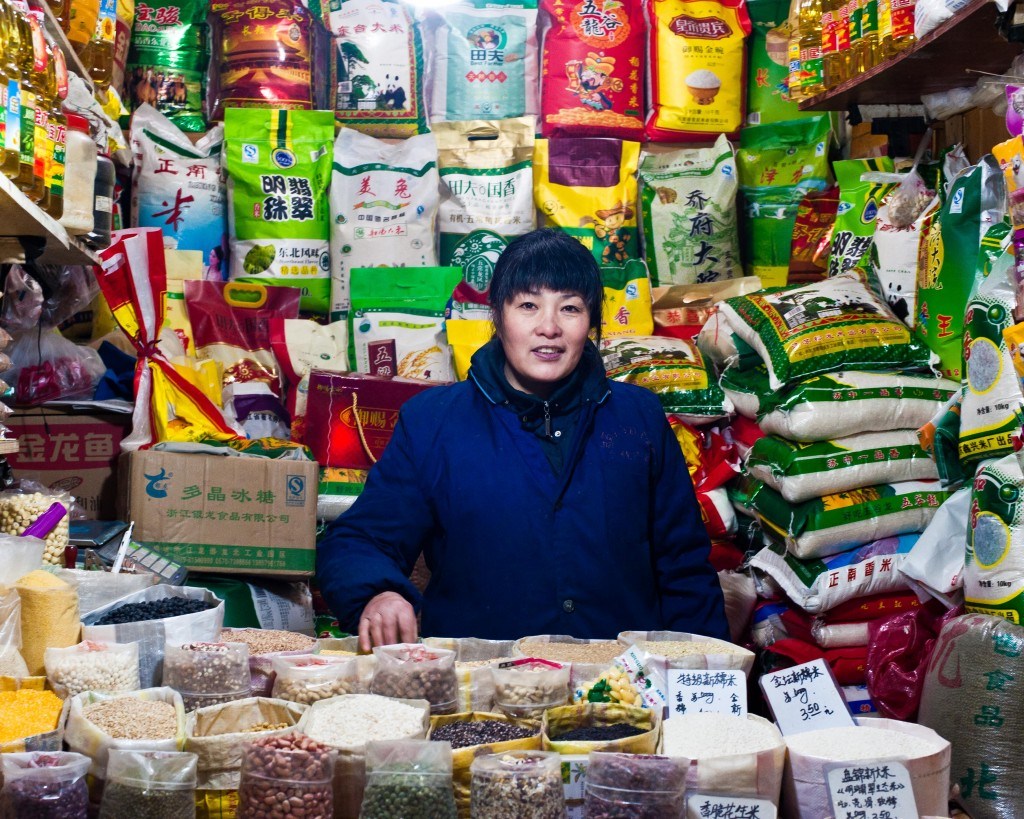 Learn More about Shanghai

Shanghai Guide, Sightseeing, Lifestyle & Culture, Airport Guide
Shanhai Blog Postings
The Bund of Shanghai
Exploring Shanghais Museums for Free
4 Nights in Shanghai Things to Do