JetBlue has unveiled more details of what passengers can expect when its transatlantic services start this week – including its new Mint seating for premium passengers. JetBlue's much-awaited transatlantic services will take off from London Heathrow (Terminal 2) to New York JFK from 12th August 2021. Flights from London Gatwick will follow shortly after, starting on 30th September. And the prices are ideal for the budget-conscious traveller. For the LHR-JFK route, the airline's simplest ticket, Blue Basic, starts at around £320 return. At the other end of the spectrum, a return ticket in the Mint cabin will set you back around £1,200 – significantly less than some of their competitors.
In entering the ultra-competitive (and ultra-profitable) US-UK market, the airline will go head-to-head with legacy carriers like British Airways, Delta, United, American Airlines and Virgin Atlantic with services from JFK, Newark and Boston to London. It will also be competing with some of the best premium product in the sky, including BA's Club Suite on Boeing 777s, Virgin Atlantic's new Upper Class seat on its A350s and Delta's recently refitted Boeing 767s.
Whilst not a 'budget' airline in the traditional sense, JetBlue does not position itself as a full-service carrier like it's legacy competitors ether – which means we can expect its prices to often be a lot lower. Management will have watched Norwegian's struggles (even before the pandemic killed off its transatlantic ambitions completely) and won't want to make the same mistakes. Equally, they know that transatlantic travellers are among the most knowledgeable and demanding out there. Market watchers correctly predicted competitive prices as JetBlue seeks to grab some share early on. Coupled with a brand-new, spacious and comfortable onboard product – especially in the premium cabins – the airline could be on to a winning combination.
Then there's the product itself. Remember that JetBlue fly A321 LR and A321 NEO – both narrow-body – aircraft, yet the Mint seating in Business manages to give every passenger their own suite with a lie-flat seat, a large seat back screen, storage and even a door, so the space becomes an enclosed cocoon. Passengers who snag the bulk head seats in the first row of the 24-seat cabin get even more space, with an additional seat where a guest can join them once at cruising altitude.
The seats are Thompson Aero Seating's VantageSOLO model, arranging in a 1-1 herringbone configuration that gives every passenger direct aisle access – so none of that annoying 'having to step over your seat mate' hassle.
As JetBlue's President and Chief Operating Officer, Joanna Geraghty says:
'Mint was an idea to make premium travel across the U.S. less stuffy and more affordable, and its performance has exceeded even our most optimistic expectations…We put our heart into this redesign of Mint and were inspired by our original vision of offering customers an exceptional experience at a lower fare – which is what JetBlue is all about.'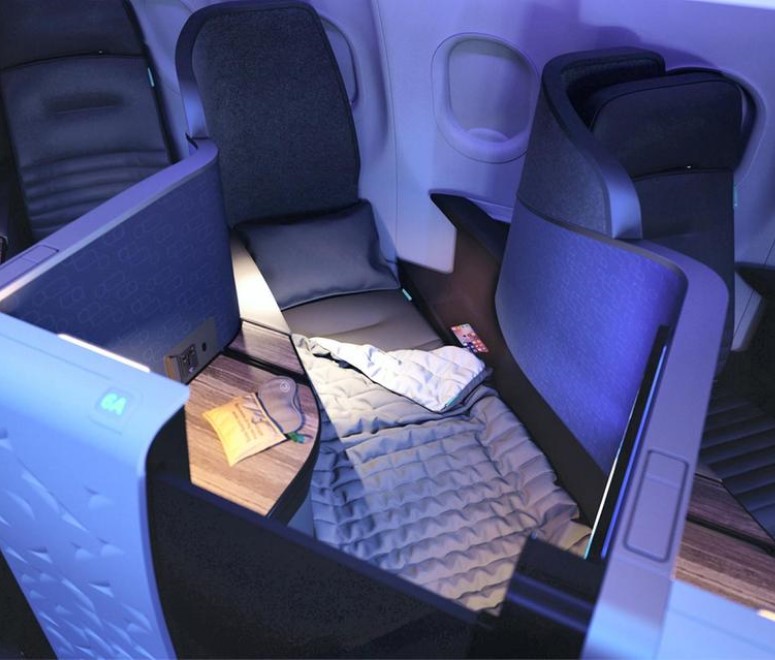 With Norwegian's demise as a force in transatlantic aviation, the legacy carriers may have thought they could begin to relax and enjoy their monopoly once again. But JetBlue seems determined for them not to have it that easy. A competitively-priced and desirable product will always be welcomed by travellers, and JetBlue will be hoping that the foothold these initial routes give them – combined with this onboard experience – will be enough to attract sufficient demand and enable them to kick on to expand their network to the UK and in to Europe in the years ahead.