If there's something Vegas is known for other than its casinos, it's the amount of weddings that take place there.
And over the decades Sin City has seen its fair share of controversial nuptials; especially when it comes to celebrities.
Here's our round up of the most notorious celebrity marriages that began in Vegas.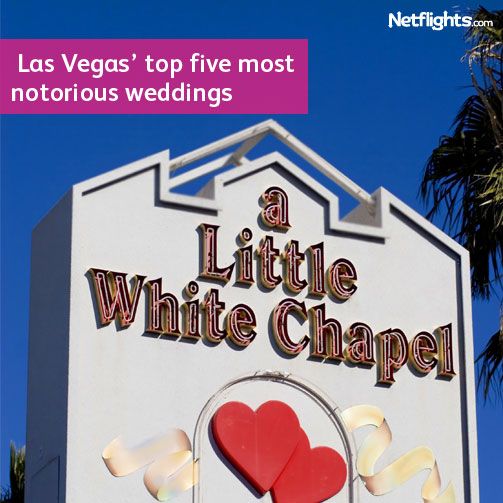 5 – Mickey Rooney
Although the celebrated child star of the 1930s didn't really have a notorious Vegas wedding, his inclusion on the list is because he did it more than once.  In fact Rooney married a phenomenal seven times here. Luckily his seventh wedding, and eighth overall, lasted until two years before his death; proving you can have a Vegas marriage that's built to last.
4 – Sinead O'Connor
'Nothing compares to you' or you, or you, or you, seems to have been O'Connor's mantra in life. The controversial Irish singer has been married four times, and chose to celebrate her most recent walk down the aisle in Vegas. However 17 days later, the singer announced that her and her therapist husband would be divorcing, after living together for seven days. Strangely, about a week later they announced they weren't separating. We still have no idea what's happening here.
3 – Axl Rose
The Guns and Roses singer wrote his hit song 'Sweet Child o' Mine' about his future wife Erin Everly, and in April 1990, the pair eloped in Vegas. However a month later Rose filed for divorce. They then reconciled, before she left him in November of that year, finally annulling the marriage in January 1991. Turns out, according to Everly, Rose had threatened to kill himself if she didn't marry him – talk about a shot gun wedding.
2 – Britney Spears
Possibly one of the most notorious weddings to happen in Vegas came from the pop princess herself. This is what many consider to be the beginning of the breakdown that happened around 2006/2007, but for a 'shocking' 55 hours in 2004, Spears was married to Jason Alexander. It was soon annulled.
1 – Ross and Rachel
For a decade they kept us guessing if they would end up together following the 'we were on a break' debacle. But on May 20th 1999 we all gasped as the world welcomed a very drunken 'Mrs Ross' and 'Mr Rachel', complete with permanent marker detailing. Ok we know they weren't really together but for those 10 long seasons they were a big part of our lives; thankfully she got off the plane.