If you're planning on jetting off during summer 2012, you're probably planning your holiday wardrobe, travel itinerary and dreaming about those long, cool drinks on the beach…But before you can take up your position in the sun, you'll first need to complete that dreaded holiday preparation – packing!
Well, we've done some of the packing legwork by finding some of the most useful, child friendly and fashion-forward luggage for summer 2012. Whether you're looking for a suitcase big enough to fit a Miami wardrobe in, or a hand luggage bag which is big, bold and beautiful, we've found the best travel friendly cases and bags.
Family Luggage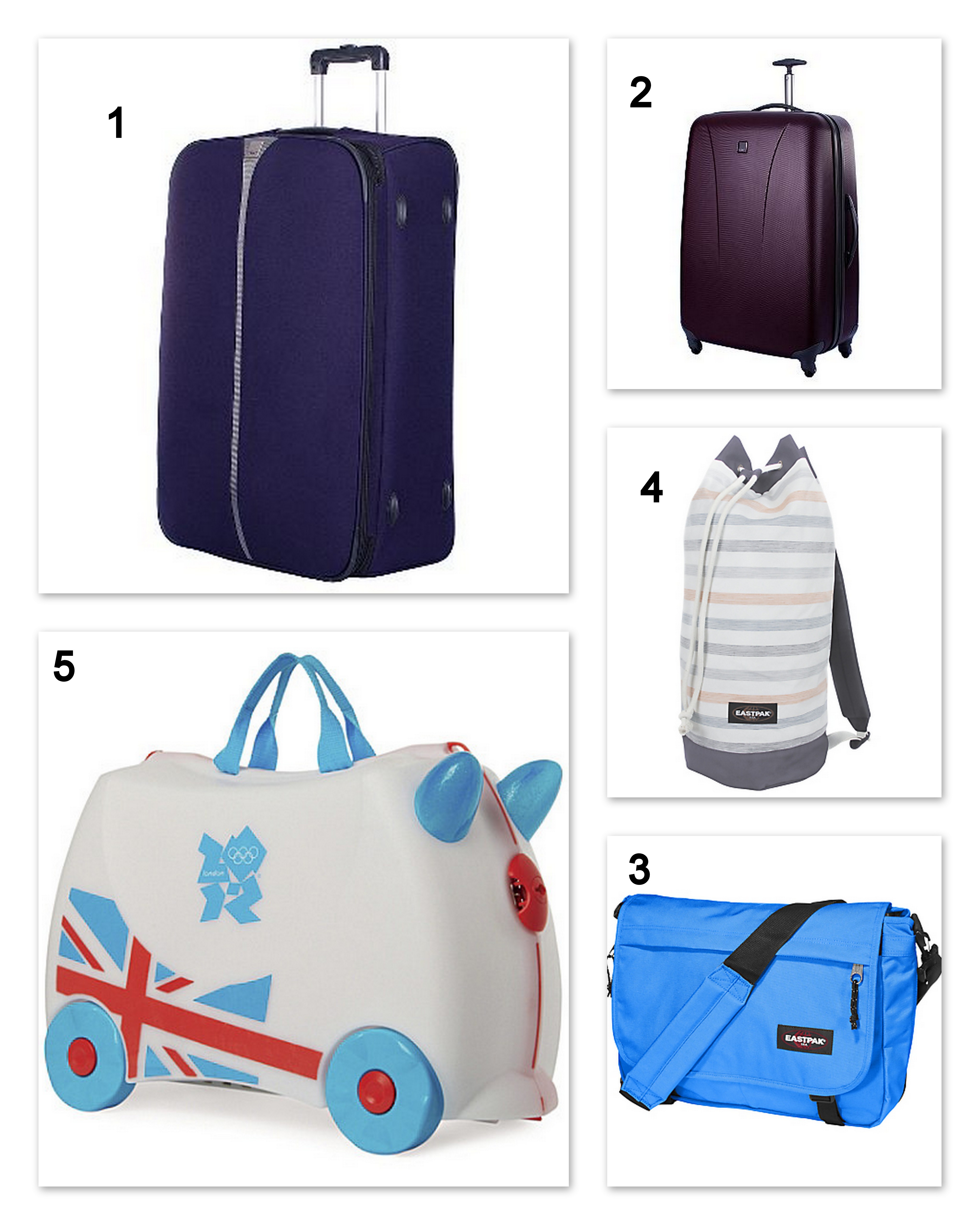 If you're heading away with the kids in tow, you'll be looking for bags with lots of space and easy access to those important bits and bobs! We love this Tripp Superlite II Large Suitcase in Grape (1) – it's large enough to fit the kid's clothes in too, and has a soft shell – meaning it's easy to squeeze more in! Find it at Debenhams.
Looking for something easy to push through the airport? This Tripp lite case (2) has four wheels, and will glide quickly through departures! It can also be found at Debenhams.
When it comes to hand luggage, lots of pockets and compartments is always a good idea – as is an easy to clean appearance. We recommend Easterpak's bags – they're great for on the go families with kids in tow. The blue Messenger bag (3) can be packed with bottles and food for babies, whilst the stylish beach bag (4) means mum can go from airport to poolside in one move! Both of these can be found at John Lewis – take a look at the messenger bag or the beach bag.
And to keep the little one's happy, why not get them their own suitcase filled with toys and games for the flight? This Trunki 2012 Olympic ride-on suitcase (5) is very cute and great for smaller kids – especially as they can ride their way through the airport! This is also available at John Lewis.
Business Baggage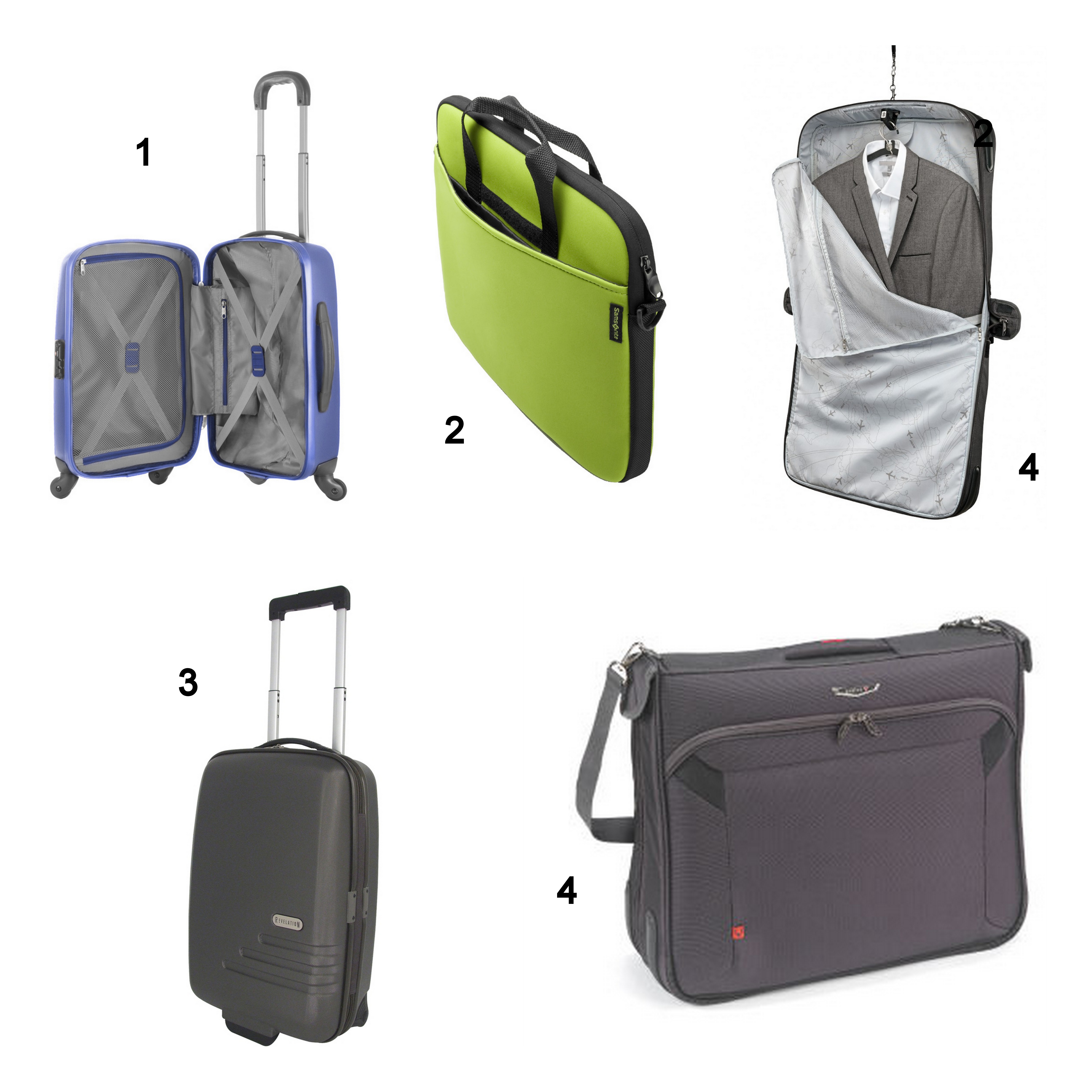 Whilst it may be called 'Business Class', many people travelling on business don't get quite as snazzy an experience as they'd like – especially if they have to work during their flight. Because of this, organised, sturdy luggage is recommended – but that doesn't have to mean unattractive!
Cabin baggage is especially important for business travellers, and this Samsonite hard backed case (1) is small enough to go in an overhead locker, but large enough to carry important work files! It also comes in a number of colours if you're looking for something more business-professional – find it on the Samsonite website. For your laptop, this neon green Samsonite laptop case (2) will protect your laptop and ensure that you don't forget it when you leave the plane! Find it here.
We also love this Antler suitcase (3) – as well as being smart enough to match a business suit as you power through airport security, it's also lightweight enough to quickly throw into a taxi once you reach your destination! It's available via the Antler website.
Finally, this Antler garment holder (4) is a gem for anyone travelling with a suit. On the outside it looks tiny, but unfold it to find two hangers for your shirt, jacket and trousers – perfect for the next day's business meeting! It can also be bought from the Antler site.
Fashion Forward Luggage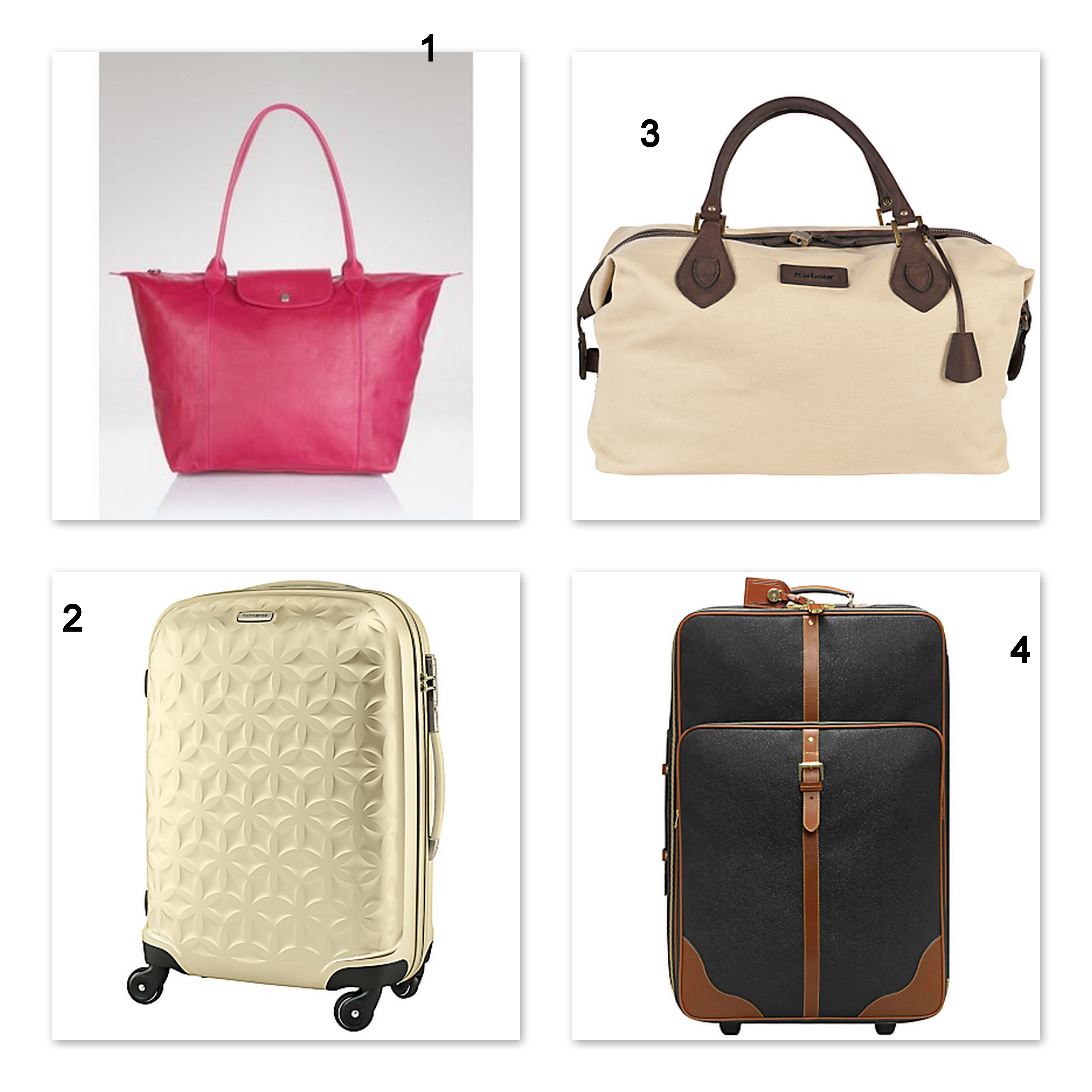 If you, like Victoria Beckham, believe that the airport is your runway, then your luggage becomes your de-facto accessories. Your carry-on is your new handbag, your suitcase is your prop and your sunglasses are absolutely necessary. Take a look at the most fashion forward luggage and travel accessories.
The Longchamp bag has long been loved by travellers – as well as being classically classy, it also folds up into a small rectangle and can be packed away when not needed. Summer 2012 has seen a raft of colours launched – but it's the brand new leather version (1) which will be turning heads across the concourse.
This large, cream Samsonite case (2) is also very of-the-moment – as well as the pastel colouring, it also has a sweet embossed flower design. Find it at John Lewis.  Great for a beach summer holiday! Continuing on the cream theme, this Barbour holdall (3) is a great casual carry-on option; large enough to hold all of your travel essentials, and cute enough to take to the beach, too! It's also available from John Lewis.
Finally, this Mulberry suitcase collection (4) found at John Lewis, will make you the envy of every girl in the terminal – sleek and structured, it screams of an understated luxury – a perfect way to start your holiday!