For our latest instalment of the #NetflightsNotebook series we're taking you to the place known as the party capital of the world – Las Vegas.
With a reputation that includes stories of shotgun weddings, all night partying and extreme gambling you expect to leave Vegas filled with wild and weird stories.
But aside from the glitz, glamour, gambling, all night partying, extravagant buffets and star studded performances, there's another side of Vegas to experience.
Now thanks to Netflights.com, you'll see a side of Vegas you didn't know existed, with various shopping, dining and drinking opportunities, alongside activities that don't involve slot machines.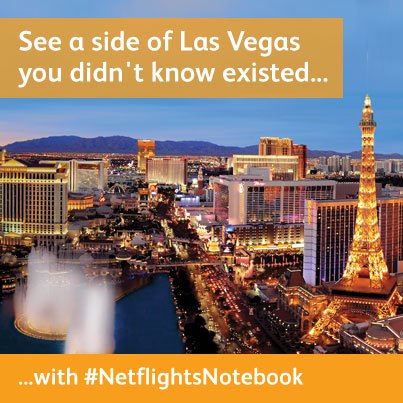 Bars
The partying in Vegas has become legendary over the decades, with the strip dominating nights out for the millions that descend upon this city of sin every year.
But away from the big nightclubs and popular bars, you'll find a collection of equally amazing places to drink, dance, and laugh.
Straying from the norm you'll find numerous bars that cater to a wide clientèle. The Griffin plays home to a friendly number of regulars behind a black curtain, who enjoy the electronic dancing in the back room and the comfort of the brick arches and blazing fires that surround the reasonably priced bar. Or head to the dimly lit lounge of the Downtown Cocktail Room, where you'll find an array of unique cocktail creations and a world soundtrack behind a metal looking wall (which is actually the door). Then there's the  more eccentric Frankie's Tiki Room, where you'll find some retro erotic visuals playing as you drink the rum induced drinks on offer, or maybe you'd like to keep it cheap with Champagne's Café, which acts as a throwback to a time Vegas has since forgotten. With cheap beers and an eclectic mix of customers propping themselves up on the bar stools, you can enjoy this place 24 hours a day. Or take a wander to Dino's Lounge for some amazing karaoke, cheap drinks and a friendly atmosphere in this bar frequented by bikers, giving you a total alternative to the glitz and glam of the strip.
Heading down to East Fremont Street you'll find an entertainment scene that just won't stop growing. Amongst this crowd you'll find the Beauty Bar, home to two small stages filled with live local music and perfect for those who're bored with showgirls and sparkles. If its live music you like, then the Double Down Saloon has free shows every night – although mostly punk, it's the perfect place to escape the razzmatazz of places like the Colosseum.
Restaurants
In a place which is known for its larger than life appearance, some foodie treats can be rather expensive, but if you know where to look you can find a diverse culinary selection at an affordable price. For cheap pizza head to Grimaldi's at Palazzo, where two can easily eat for less than $20, or try Slice of Vegas at Mandalay Bay, where one portion is big enough for two – or you could take advantage of happy hour.
Lovers of Mexican food should venture to the Luxor Hotel and experience Tacos and Tequila, where two can easily dine for under $25 or check out Tacos el Gordo on the strip, which might be a take away but is excellently priced.
For those searching for Asian inspired dishes, Le Thai in downtown Vegas has one of the best bars and contains some of the best noodles in and around the area. Or you could hit up Grand Wok and Sushi, which provides some of the cheapest and best priced Asian food around. Seafood lovers will love places like Pasta Pirate and the Oyster Bar at the Palace, which offer seafood beyond belief, all at exceptionally reasonable fares. But if you want to keep it traditional and head out for a good ol' American burger, then KGB at Harrah's provide the all American dining experience, whereas BLT gives you a simple, straightforward and affordable menu of burgers, fries and beer.
Although keeping it cheap might be a great idea, Vegas is filled with some of the best and brilliantly different restaurants around. At the Crown & Anchor British Pub, you can treat yourself to some of the most traditional of British foods, but it's their crispy chicken fingers that'll keep you hooked. The Hot 'n' Juicy Crawfish serves up some of the tastiest seafood around, with its blend of garlic and Cajun spices – the hot n juicy shrimp taste like nothing on earth.
Then there's local treasures like the Naked City Pizza Shop, which hides itself in Moon Doggie's Bar. A favourite with locals it serves up some of the best pizza and 'lowbrow' food around, that you just can't help indulging yourself in.
From the local treasures to the more bizarre, Vegas also offers up some weirdly wonderful restaurants such as Dick's Last Resort, which has been nicknamed 'the shame o' the strip.' This establishment failed originally and now operates as a 'fun-dining' restaurant, offering funnily rude staff and vulgar décor, to add to the hilarious vibe and delicious food.
Shopping
With so much to do, shopping may not be top of your agenda. But with Vegas providing some excellent shopping malls, it's hard not to indulge yourself a little.
Unique
But try going against the grain and heading to some of the more unusual shopping haunts about town. Comic books can fix anything, which is the ethos adopted at Alternate Reality Comics, giving you a break from the super cool pretensions held at some bigger stores. With Vegas holding a reputation as a playground for adults, it's only natural that you should find the odd toy shop; and at the Toy Shack you'll find more toys that you could wish for. With thousands stacked throughout you can get anything from the very new to the best of vintage in this toy mecca.
Then there's the strangely fascinating Pits 'n' Weiners, filled with several mini galleries and shops – it's actually a former medical clinic. Here you can shop for presents that scream Vegas, without actually saying Vegas, and pick up some unique and amazing t-shirts, block prints and other wonderful creations.
Vintage
The Attic has being bursting with vintage gems since the 1980s and even houses its own section of retro sunglasses – protecting your eyes in classic style in the sun soaked Vegas. Other places such as Gypsy Den have a slightly different vibe to the disco and 80s influenced Attic. Here you'll find throwbacks to the likes of Stevie Nicks and Patti Smith, alongside amazing and unusual art.
If it's still designer you want, you can check out some fabulous pre-owned celebrity gear at the Refinery Celebrity Resale Boutique. Here you can buy clothes that have walked the red carpet at a discount price; it's where bargain and bragging combine as you hit the best in vintage celebrity obsession.
Souvenirs
Finally you'll want to take back a few souvenirs for your friends, or risk the cold shoulder after your amazing Vegas excursion. But where do you buy them? Well there's only one place to get gifts here and that's the Bonanza Gift Shop, which is pretty close to being the World's largest and stocks everything you could imagine for ages 1 – 100.
Things to do
So you've eaten, had a drink and searched the rails and shelves of several shops, but what do you do now?
Well it's time to indulge yourself in some of that all-important Las Vegas fun. Just remember there's much more than casinos and stage shows, if you dare to stray from the crowds.
Something a little different
You may have taken in the views of the strip, but when you're hopping from place to place you can get lost in the hustle and bustle of the dazzling lights. With this in mind try something a little different and take in the sights from above on a helicopter ride, which also gives you a breathtaking view of the Grand Canyon as well.
As you'll see from this, Vegas has some spectacular scenery. Take the opportunity to visit some of the most spectacular spots on earth, where the untouched beauty will give you an entirely different view of Las Vegas. Go hiking at Mary Jane Falls, wander around the mountain at Lee Canyon, or get exploring at Red Rock Canyon.
Quirky Vegas
Maybe the peaceful side of Vegas isn't what you had your mind on? After all this is a place known for its wild side. You can experience this in a completely different way as you go skiing and snowboarding near Mouth Charleston; yes skiing in the desert is real! Just make sure you visit Vegas between late November and early April to make the most of this unusual experience.
The Sci-Fi screening room is excellent for those who love a good B-movie or a little bit of retro trash, as cult films and television shows are screened regularly. Then there's the Pinball Hall of Fame where you can amuse yourself on vintage pinball machines for hours on end, or for a slightly different activity check out Dig This, the only heavy equipment playground in America. Here you can drive bulldozers and excavators and basically smash things – excellent fun and a once in a lifetime opportunity.
Museums
Finally you can't come to Vegas and not check out one of the many museums that house everything from traditional artefacts, to the more unusual things you'd expect to find in this fascinating city. The Neon Museum is a great place to start – here you'll find hundreds of neon signs that date back to the 1930s, giving you a strangely unique look at the life of Vegas past. For the more unusual check out The Mob Museum, which is dedicated to the world of organized crime, law enforcement and the impact it's had on the city's landscape over the decades.
Finally for something completely out of the norm museum-wise, head to the Erotic Heritage Museum. You may feel like you've just fallen through a door in Amsterdam, but what you'll get is an amazing and unique look at the socio-cultural perspective of the erotic heritage of Vegas, that began in the American Sexual Revolution.
Maybe you thought you had your Vegas excursion all planned out to the finest detail, but if you want something different or something a little more from this lively and energetic city, these tips we've provided are just the tip of the iceberg. But hopefully you'll be able to have the best Vegas trip possible.
Have you been to Vegas recently? Where are your favourite haunts?