For this week's edition of #NetflightsNotebook we're heading to the largest city in Canada, Toronto. With attractions like the CN Tower – providing spectacular views, a 360 restaurant and an edge walk 356m above the ground – along with the spectacular Lake Ontario, a thriving theatre scene and a host of different sports from hockey to basketball, you can see why Toronto has become so popular.
But as we know, when cities become popular tourist destinations, many places get filled pretty quickly, which is why travelling like a local is a great alternative.
Here at Netflights we love ensuring our customers get the best from their holidays, which is why we aspire to make them expert travellers before they even set foot on a plane. So buckle up and read on, as we teach you how to holiday like a local in Canada's Queen City.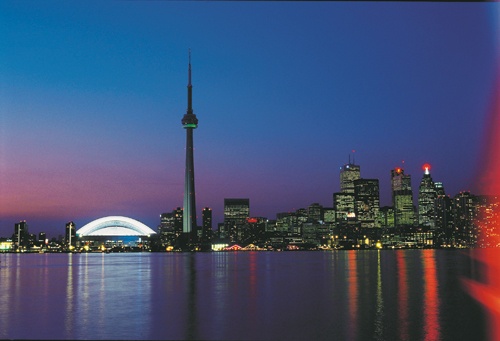 Bars
Whilst in Toronto you're going to want to hit the bars, but instead of hitting the ones everyone hears about, take a little time out to explore local drinking holes. You'll be pleasantly surprised at what you find.
Toronto is filled with unusual little bars just waiting for you to explore. Places like SPiN allow you to act like a child and play ping pong on one of its 12 tables as well as a lounge, private party room and two bars. If you prefer bowling then no problem as you can venture towards The Ballroom Bowl, where you can sip cocktails and enjoy the four fully stocked bars whilst watching over 60 TV screens, play pool and obviously play 10 pin bowling. The there's Get Well, where you can enjoy a variety of craft beers whilst partaking in a bit of retro video-gaming with classic arcade games that including Space Invaders, Pac-Man, Tetris and Pin Ball amongst others.
If you prefer your alcohol made from grapes and a more relaxed atmosphere, head to Mavrik. A quaint wine bar located on Queen Street that stocks a variety of small batch wines, there's even homemade ice cream on the menu.
Then there are those of you who might want to catch a bit of live music with your drinks, and there are plenty of venues that offer just that. The Horseshoe Tavern may not seem like the most ideal bar in the world, but if walls could talk this place wouldn't stop. With previous performances from bands like The Police, Barenaked Ladies and The Strokes, in the back bar, the tavern also plays home to locals bands in its front bar. You could also check out Sneaky Dee's with its iconic graffiti covered walls spread over two floors, where you'll get live acts, cheap beer, DJs and plenty of dancing.
Food
Where Toronto really stands out with its food is the dining experience itself. Not one to shy away from the unusual, as we saw with its bar offerings, Toronto has an equally eclectic array of restaurants too. With robotic animals that include snakes, monkeys, elephants and waiters dressed in safari attire, The Rainforest Café is an excellent place to enjoy a unique dining experience – there's even a simulated thunder storm every half hour. You could try something completely out of the ordinary and head to O.Noir, where you can dine in dark. This is done to showcase the food's flavour more – you could even try the surprise starter if you're feeling exceptionally daring.
Late night dining is big in Toronto too with many restaurants not opening until 11pm. Places like the 416 Snack Bar offer drinks with junky finger foods, whereas Happy Child serves fancy fast food in stylish paper hats. Food and Liquor offer inventive meals like pulled pork and spiked lemonade, which you can enjoy at one of the many high top tables or in the backyard patio. Then there's 3030, a late night bar-come-restaurant with various board games, live acts, DJs and a blend of world tastes.
For a more traditional and delightful meal in the evening, you'll be wowed by the delights spread throughout the city. Dive into the succulent flavours of the Middle East at The Sultan's Tent & Café Moroc, where you can enjoy the delights of sweet keskesu and couscous royale while taking in some belly dancing in this little slice of Morocco. Don't be fooled by the exterior of the Segovia Restaurant, which houses a delightful Spanish surprise on the inside; with its spacious and cheery atmosphere, excellent prices and authentic and tasty dishes. Harbour Sixty is a restaurant that oozes elegance and class with its timeless decor and luxurious atmosphere.
For the vegetarians and vegans out there, head to Vegetarian Haven, where instead of meat you'll find an eclectic range of alternative and tasty vegan options on the menu.
Things to do
With so much to see and do in Toronto, it would be easy to just visit the CN Tower or Niagara Falls. Although you should experience them, make sure you head off the beaten track and take a look at the things you wouldn't necessarily have thought of.
Toronto is filled with museums and art galleries, showcasing the city's history and diverse culture, and although you may have planned to head to the Royal Ontario Museum; why don't you visit on a Friday night, where you can experience drinks, dancing and amazing food as part of the Friday Night Live series. If you want a bit more convention, but not too much, then head to the Bata Shoe Museum. This oddly shaped building houses a whole host of different footwear, from native slippers to a little red pair worn by Marilyn Monroe. Then there's the Art Gallery of Ontario (AGO) which is home to a host of fascinating exhibitions.
Take a trip completely off track and see something that only locals know about, Graffiti Alley. This fondly named street is covered in various pieces of graffiti art created by some of the city's best artists. It also changes on a regular basis too. After this take a stroll to the Distillery District, which aside from being filled with various galleries, restaurants and beer gardens, the atmosphere and architecture will throw you back to the times of the Victorians for some real life history.
If you happen to be stuck for something to do on a Friday, head over to Innis College at the University of Toronto and take in a free movie, which is put on by the Cinema Studies Student Union. Still stuck for something different to do in your spare time, visit the site of one of Toronto's most famous alternative bars/clubs, Nuts and Bolts. Although it's shut down now you can explore the area where Toronto's alternative scene exploded back in the 70s and 80s.
For a bit of relaxation, head to one of the dozens of parks, where you can lounge around and soak in the natural beauty. On the western edge of Toronto you'll find the delightful Marie Curtis Park, which is completely off the beaten track and a firm favourite for locals. You can also head to the Toronto Islands, but rather than frequenting the tourist favourites like Centre Island, head to Ward's Island for a nice relaxing, and less populated day in the park.
So if you're planning on venturing to Toronto, don't just stick to the tourist sites. As you can see there's an interesting and quirky side to this Canadian city you didn't know existed. It's just waiting to be explored.