Is 48 hours time enough to get a decent bite out of the retail delights of the Big Apple? Well, yes, but you better have a plan: what you want and where to go.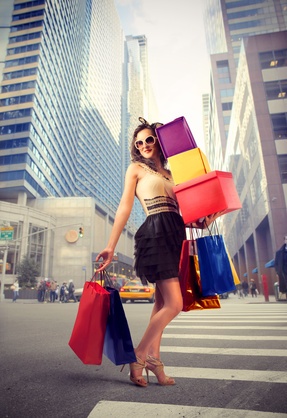 Start your forward planning with a visit to nysale.com to see who's on sale. Summer sales are usually in July/August and autumn/winter from the second weekend in October, with more cuts in early November.
For up-to-the-second general info on Manhatten, NYCGO.com is a good place to go before you board your flight to New York.
New York is a destination where the sheer variety of shopping is awe-inspiring. Midtown is all iconic department store. Downtown is the funky and fun. And out of town is for the serious discount outlet. Generally, value for money is pretty impressive too.
The perfect start to your shopathon is one or more of the major department stores. Macy's, a million square feet over nine floors, even has its own cooking school. Saks on Fifth Avenue is shoe heaven with every brand imaginable. In fact, its shoe department is such a landmark that it has its own postcode: 10022-shoe. Bergdorf Goodman is all luxury and the latest designer collection, worth a visit, even if you're on a budget just for a gawp.
And Tiffany's? Well you don't go to New York without following in the footsteps of Audrey Hepburn and browsing its exquisite jewellery and finding a special gift (or two).
For diamonds, there's a jewellery store district between Fifth and Sixth Avenues for big bargains on gold and other precious metals.
Once you've had your breath taken away by the glitz and glamour, more serious savings start at places like Century 21, selling big clothing brands at low prices for half a century.
Jump on a bus for an hour and you'll be shopping at Woodbury Common Premium Outlets. This is packed with 220 outlets stores from big names like Fendi, Prada, Balenciaga, Chanel, Gucci, Ralph Lauren….you get the picture.
If you like your clothes a little more individual and vintage, the place to go is the Hell's Kitchen Flea Market, the Antiques Garage and West 25th Street Market. These have been voted best for vintage and antique shopping bargains by Time Out and the National Geographic. Hundreds of dealers and vendors offer everything from silk rugs to slot machines, vintage handbags to African artefacts.
The Brooklyn Flea Market is another must-shop, the largest in the city. Antique and repurposed furniture, vintage clothing, jewellery, arts and crafts, it's all here on the weekend. And don't miss the yummy street food, from Asian hotdogs to perfect porchetta sandwiches.
Of course, you will need to put your feet up at some stage. Don Draper from Mad Men hangs out at such New York watering holes as the Pierre Hotel and Sardie's Restaurant. Order a Martini and take in the glamorous surroundings whilst you plan your next retail assault.
Maybe a visit to the designer boutiques down in the trendy Meatpackers district could be next – Stella McCarthy has set up shop there.
Remember to budget for tax on your return, you're only allowed a meagre £145 duty free limit. Serious shoppers don't let that stop them, and arrive in NY with two big, empty suitcases plus portable scale, so they don't go over the 46kg total limit.
If you've got some top tips for short-burst shopping in the Big Apple, we'd like to hear them. Secret shops, pop-up restaurants, best bars, super sales, spill the beans, please.
For the latest deals on flights and holidays to New York use the links below.
New York Holidays
London Heathrow to New York
Manchester to New York
London Gatwick to New York
Newcastle to New York
Glasgow to New York