Food and travel writer Fiona Reilly has lived in Shanghai's former French Concession for many years. Here she brings you an insider's guide to places to eat, drink, shop and wander known only to locals.
With its undeniable European feel with streets lined with leafy plane trees, and French-style architecture along avenues perfect for strolling, the former French Concession is a place to wander and discover unique and interesting boutiques, cafes, and bars while seeing a fascinating slice of everyday Shanghai life in the narrow lanes and lively streets.
A Spot of History
Covering an area south of Yan'an road, the French Concession became an outpost of French rule following the first Opium War in 1849. With its own laws and governance, the French Concession was populated by a mixture of French nationals and later, Russian aristocrats fleeing the 1917 Russian Revolution. The area became known for its beautiful houses, private residential lanes, rich cultural life and elegant shopping.
This ended in 1943 when French Concessions in Shanghai and other cities were handed back to the Chinese in exchange for the withdrawal of Chinese troops in French Indochina. What was once Shanghai's most exclusive residential district suffered over recent years at the hands of progress with many areas destroyed, but recognition of the historic and architectural value of the area has meant many remaining parks and buildings are being preserved and restored to their original splendour.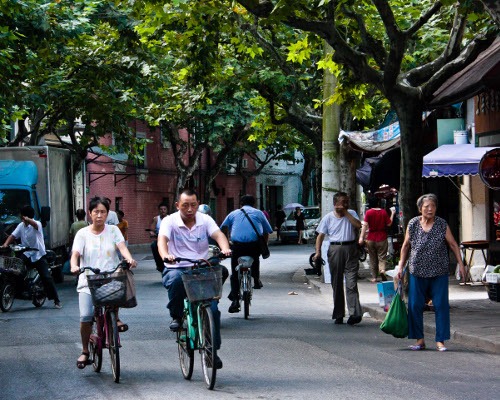 Getting Your Bearings
The former French Concession is now an amalgamation of two districts – Xuhui District and the western part of Huangpu District. The main east-west artery of the former French Concession is Huai Hai Zhong Lu, originally the Avenue Joffre and now one of Shanghai's most exclusive shopping streets. Shaanxi Nan Lu runs north-south through the centre of the former French Concession, crossing Huai Hai Zhong Lu at the South Shaanxi Road metro station (Line 1, Line 10), a great place to begin your wanderings.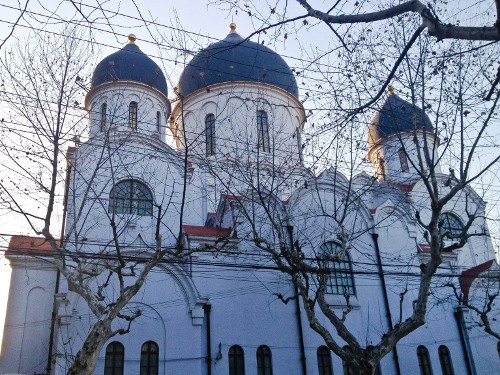 Eating Secrets
Jiashan Market
Located off a fascinating tiny market lane between Shaanxi Nan Lu and Jiashan Lu, halfway along the narrow longtang lane lined with vegetable sellers and fish vendors you will find an entrance to Jiashan Market, an unexpected leafy green square surrounded on all sides by cafes and restaurants with pleasant outdoor seating and a safe space for children to play. Melange Oasis offers coffee and simple meals, and Cafe Sambal serves Shanghai's best Malaysian nonya cuisine.
Jiashan Market, Lane 550, Shaanxi Nan Lu, Xuhui District.
www.jiashanmarket.com/en/
A Niang Noodles
Well-known amongst local Shanghainese, this noodle restaurant's popularity is apparent in the queues down the street at breakfast, lunch and dinner. Their speciality is huang yu mian – yellow fish noodles – a bowl of light, savoury soup with fine wheat noodles and slivers of sweet local fish. No English is spoken but you're welcome to just point at someone else's bowl to show what you'd like.
A Niang Noodles, 36 Sinan Lu, Xuhui District
Madison Restaurant
At Madison Restaurant, chef Austin Hu takes premium local ingredients and transforms them into modern American dishes of great elegance. Across the hallway, Madi's represents a more casual and laidback atmosphere where you can enjoy a glass of wine with a Reuben sandwich or a lavish weekend brunch.
Madison Restaurant, Building 2, 3 Fenyang Lu.
www.facebook.com/MadisonInShanghai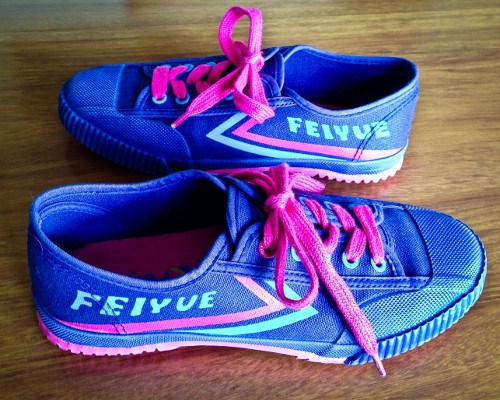 Shopping Secrets
Ru-Wa Studio
Offering beautiful traditional hand-made Chinese toys and crafts, this pocket-sized gallery and shop has instruments, hand-made kites, intricate paper-cuts, and hand-stitched stuffed toys.
Ru-Wa Studio, 75 Wulumuqi Nan Lu, Xuhui District
xiaojizhuomi.taobao.com
PCS Sneaker Shop
Chinese sneaker brand Feiyue (Flying Warrior) have taken the hip European sneaker market by storm, but to buy them at Chinese prices look no further than PCS Sneaker Shop on Nanchang Lu, where they also stock Shulong (Comfortable Dragon) sneakers.
PCS Sneaker Shop, 130 Nanchang Lu, Xuhui District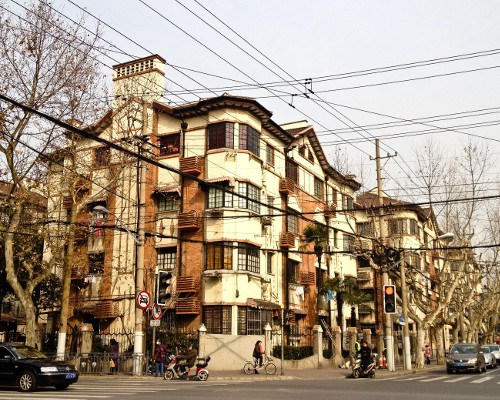 Bar Secrets
Yongkang Lu, between Jiashan Lu and Xiangyang Lu, was once a sleepy little street like any other in the former French Concession, but the last two years have seen it transform into a row of fabulous bars, many of which also serve food. The original and best is French-owned Le Cafe des Stagiaires with its rustic interior and casual vibe, a fabulous list of wines by the glass, simple French bar food and Belgian beer La Chouffe on tap.
Le Cafe des Stagiares
56 Yongkang Lu, Xuhui District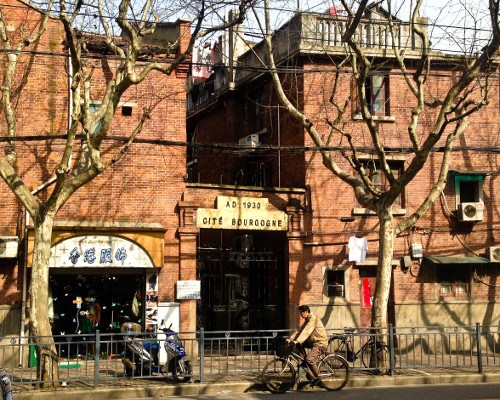 Coffee Secrets
Cafe del Volcan
Yongkang Lu's other secret find is this tiny closet-sized space where you'll find Shanghai's best coffee, hands down. Named after the slopes of the volcano in which the coffee is grown in Guatemala, Cafe del Volcan roasts and grinds its own beans and will set you up on one of its outdoor tables with a strong, smooth brew and a slice of cake so you can people watch.
Cafe del Volcan, 80 Yongkang Lu, Xuhui District.
cafevolcan.com
Walking Tours
If you'd rather join a group or have someone guide you through the former French Concession, Shanghai has several tour companies specializing in bespoke English language tours.
Untour Shanghai offer several walking tours in the former French Concession including a street food breakfast tour that passes through some of the area's oldest parks and lanes.
Noodle Walking Tours lead French Concession walks with an emphasis on history and architecture.
www.worldofnoodle.cn/index_files/NoodleWalksShanghaiFrenchConcession.htm
Newman Tours' history obsessed guides lead a French Concession Tour including the former home of a Chinese gangster.
www.newmantours.com/Newman_Tours/French_Concession.html