If you lived in Dubai, opulence and excess would just be part of the daily routine. The richest residents not only live in luxury, they have the luxury of hiring others to do their shopping for them. If a special event is coming up, all they would need is a lifestyle consultant and personal shopper to find the right outfit and accessories so they'll look like a million bucks. Where do these consultants shop? They go to the Dubai Mall where the best in fashion is all under one roof.
The Dubai Mall (www.thedubaimall.com/en) is a staggering 5.9 million square feet of retail space. For some, the world is their oyster. For the lifestyle consultant, the Dubai Mall is. Some of the consultants actually have a million-dollar budget to work with when their clients are among the richest in Dubai. With shops like Juicy Couture, Deluchy, and Donna Karan for women's fashions and Pierre Cardin, Rodeo Drive, and Billionaire for men's fashions, the consultant has the best stores to find and pick out the most stunning outfits, and these are just the tip of the iceberg.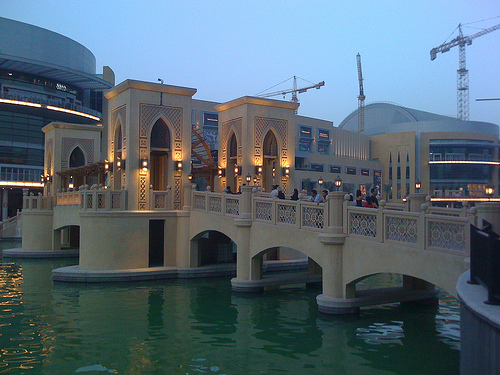 Of course, no outfit is complete without the right accessories, so stores like Louis Vuitton, Wrist, and Ripani elevate an outfit from fabulous to spectacular. The lifestyle consultant is paid well to have a great eye for fashion and for bringing together all the elements to make the outfit both eye-catching and original. Nothing would be worse than showing up at a big event looking like someone else. Clients pay for originality and glamour.
From store to store the consultant, sometimes with an assistant, views perhaps dozens of dresses or suits, most modeled by attractive men and women in-store. Those that make the cut will later be brought to the client, often in the comfort of their luxurious homes, to be viewed and decided on. The client who lives a busy life or who doesn't enjoy shopping can worry about other things while their consultant narrows down the choices and presents them with their finds.
The Dubai Mall sees as many as 54 million shoppers each year, making it the most visited retail and leisure destination in the world. Despite its popularity, shopping here can be a relaxing and enjoyable experience, a far cry from some malls that are often so crowded it's like a game of dodgems. It's also easy to get distracted from the business at hand when passing windows filled with beautiful dresses, handbags, and jewellery that insist on being noticed.
After choosing several outfits, shoes, and other accessories, the consultant then takes their finds to the client where he or she will make the final decisions. Sometimes the consultant will bring along a luxury jeweller for a private viewing. Being rich means others come to you to gain your business. When one item is worth several thousand, even several hundred thousand pounds, businesses are prepared to cater to a prospective buyer by almost any means.
There is no room in this business for someone who doesn't have a feel for what his client likes. If the client isn't happy, the consultant won't have a job for very long. If you are among the very rich, you most likely have someone you rely on to guide your fashion decisions. The style consultant and personal shopper is there to make you look amazing when you step into the public arena. All eyes are on you and the public can be brutal if you're not living up to their expectations. In Dubai, the consultant is a vital asset to the super rich.
For the latest deals on flights and holidays to Dubai use the links below.
Dubai Holidays
London Heathrow to Dubaik
Manchester to Dubai
London Gatwick to Dubai
Glasgow to Dubai
image credit katymcc