This is the first in a series of guest postings from the wonderful Will Peach one of travel bloggings most 'colourful' writers 😉 You can read more of his work at his blog The Gonzo Traveller.
I know what you're thinking. What qualifies me, Will Peach, author of painful drudgery like "Sitting in an Airplane Seat" and "Things I Ate in a Restaurant Abroad Once", to even open my mouth at the mere mention of the word "funny"?
I mean, aside from looking like I've been drawn in the notepads of a Looney Tunes studio, what do I actually bring to the table in terms of travel blogging comedy?
In short? Well, nothing. I am the deadbeat boyfriend your mother warned you about. The last catch at a disco.
Still, thank god that's only me. The rest of these writers, collected from the four corners of the Internet, have more comedic value than I could ever dream of.
Get ready to stitch up your sides and mop down your spittle washed monitors. Here are the funniest travel blog posts of 2012.
———-
Nomadic Samuel's "Funny, Crazy, Outrageous Travel Photos"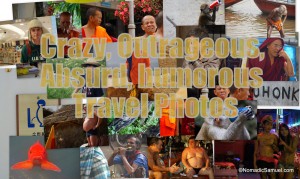 First up is this belter from everyone's favourite ginger prince Nomadic Samuel. This collection of photos makes for the perfect jump-off point for anyone who's just got themselves a new flashy camera and are wondering what to do with it.
Highlight: The uncomfortable silence you hope the Chinese guy picking his noses isn't your waiter for tonight.
"Hey, we all pick our noses from time to time. Fortunately, most of the time there isn't some swarmy sort with the audacity to fire off exposures from a comfortable distance  "
———-
Around the World L's "Our Witty, Pretty Resort in Placencia, Belize: Chabil Mar"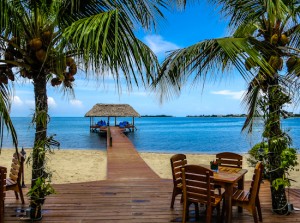 When the luscious Lillie travelled to honeymoon on the Central American paradise beaches of Belize, little did she know she'd shattered a thousand men's hearts.
Still, reading this piece, we can put that pain behind ourselves as we see Lillie pick apart her hotel's oh-so-witty "info packet" and weave it, rather deliciously, into a narrative full of comedic thrills, spills and "fishonistas".
Highlight: Said hotel's cheeky little instructions regarding bellman service.
"Please let the front desk know when you will be departing and we will be happy to have your bags picked up. Even though you may be leaving us, you are still on vacation after all. You might as well milk it."
———-
Wandering Earl's "The Disturbing Truth About Life As A Backpacker"
A nomad since 1999, Earl knows the travails of the permanent traveler more than most. In this video, a brilliant foray into the world of satire, Earl explores some of these problems while callously causing cubicle dwellers everywhere to attempt to off themselves at the nearest juncture.
Highlight: Earl's complaints about his hideous hotel view.
———-
Raising Miro's "Miro's First Drunken Love Hostel Experience"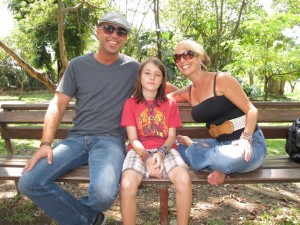 Technically this one's off limits as it first appeared in 2011, still, it's not often you get to read about a drunken Colombian hostel owner trying to romance an innocent 12-year-old kid.
Poor lad. Still Miro plays it well, locking himself in his room for ultimate protection.
Highlight: Things come to a fore as liquor loosens the lips of one lascivious licensor.
"For the next 2 hours, the drunken inn keeper continued to knock on the door, attempt to hug and kiss Miro as he either hid in his sleeping bag or the bathroom when she tried to enter for a kiss."
———-
The Edventure Project's "It's a Party Now"
Usually the act of reading a family travel blog isn't the fun filled rollercoaster we might come to expect.
The Millers however, the kooky characters behind The Edventure Project, know how to tell a good yarn full of poop, puke and puerility, turning to that old backpacking comedic staple of the chicken bus to crank up the chuckles.
Ezra, son of writer Jenn, is the eponymous hero of this story, his body caught suddenly at the mercy of his bowels, making an already hairy situation in the cramped bus all the more harrowing for the remaining six members of his family.
Highlight: Ezra's realisation that he might not make it through the journey with his underwear intact.
""I have a personal problem!" Which is quite an improvement from where he started at three, in Mexico when he had the same "personal problem" and threw himself down in the Cancun airport shouting, "I'm POOPING TO DEATH!""
———-
Unbrave Girls' "Longshen Rice Terraces"
If, at first glance, a post entitled "Longshen Rice Terraces" fails to promise you much in the laughter stakes, then clearly you haven't read Unbrave Girl.
Duped by flattery into embarking on a group tour of the Chinese countryside, our heroine pulls out all the comic stops to get past her preconceptions to end up wearing a rather fetching weather vane atop her lovely head. Worth it for the self deprecation alone.
Highlight: Mine and Sally's mutual hatred of group tour get-up.
"And, in China, there is often some kind of matching hat component involved. And I don't really do matching hats."
———-
Man Vs Clock's "Eat, Pray, Love – A Man's Perspective"
A bit late to the party, man-movie loving Anthony vacillated over sitting down to watch Hollywood blockbuster "Eat, Pray, Love" in fear of the thought it might make him a bit, well, soft.
On the brink of setting out on an adventure mirroring that of the main character herself however, he manages to pull through just in time and deliver his own rip-roaring rundown of what the big feminine fuss was all about.
Highlight: Anthony's thoughts just over the hour mark of running time.
"One hour, five minutes in: There's a cringe-worthy scene when an Italian guy admits to a table full of people, that he is scared his American girlfriend (sitting right next to him) may leave him one day. His insecurity makes me squirm. If there's any time for a Statham round-house kick…it's now."
———-
Never Ending Footsteps' "Attacked by monkeys in Monkey Forest"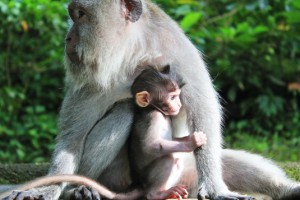 Putting together a list of tremendous travel tales to tickle your funny bones was always going to include an entry from Lauren "ridiculous situation" Juliff.
Verging on the tragic, this tale, like so many others, sees hapless Lauren fall mercy to a nasty beast in the jungles of Bali. The real question is, did it actually happen? Or was it the Japanese tourists after all? Whoever it was, laughing at the misfortune of others, sometimes at least, can be funny.
Highlight: Lauren's impending death at the murderous hands of one psychotic simian.
"I shrieked as I realised it was over. There was no point in trying to escape now. The monkey had outwitted me. He was the victor and it was time for me to surrender. I turned around, squinting in terror, bracing for the attack, waiting to die…"
———-
My Spanish Adventure's "Alone and Naked in Lisbon"
Oh, well lookie what we have here. If it isn't my own precious self?
Well, turns out I can write a funny piece afterall. Take this post as a case in point. Naturally saved as the best for last, this Portuguese apartment review falls back on the most childish comic stereotype of all. Nudity. Read on. If you dare!
Highlight: The big "reveal" at the end.
"That absolute freedom and wild wanderlust that landing in a new city and a lovely airy apartment brings? Well that can only best be embraced by tackling it. Or, perhaps better put, getting your tackle out in the midst of it…"
———
And that's it with my round up of side splittingly sick travel posts from 2012. What do guys think? Comedy gold or gross out attempts at turning your stomach? Tell us in the comments below…