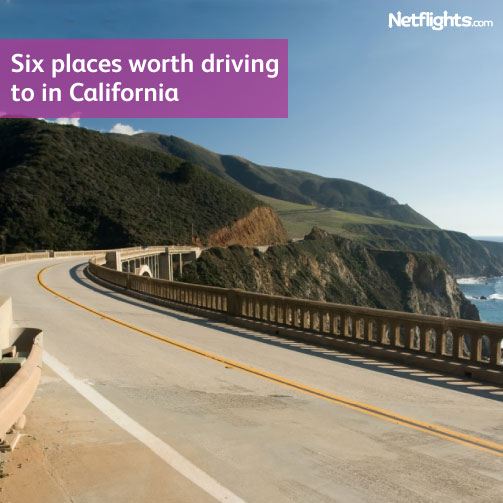 California; the land of sun, sand and surf, and a hot shot destination filled with some of the world's best cities.
Visiting California opens up the door to eight of Northern America's most populated cities, such as Los Angeles and San Francisco, filled with everything from the glitz and glamour of Hollywood to the eerily chilling Alcatraz.
Because of this many spots get overlooked. But tucked away in California are some amazing places just as exciting as the big cities; waiting to be explored. Here are six of our favourites you should visit on your California fly- drive holiday.
Bodie
If you're looking for a town with a difference, look no further than Bodie. Situated in the Bodie Hills, it's noted as being one of the best preserved ghost towns in the entire US. Once a thriving mining hub, boasting around 10,000 locals, the area was abandoned in 1932 following a fire that destroyed most of the business district.
Now more than 80 years later, the area is listed as a California Historical Landmark and a National Historic Landmark. Although many buildings were destroyed during the fire, the buildings that stand look exactly like they did then, and remain completely intact with stocked shelves and everything. But be warned, a supposed curse follows anyone who tries to take a little piece of Bodie with them.
Avalon
The coastal town of Avalon on Catalina Island, is completely unique with its distinctive Mediterranean style village that hugs the clear waters of the bay. You can't exactly drive here – but you can visit by getting a ferry from Long Beach or a helicopter.
It's not just the architecture to admire here, as Avalon is perfect for all water lovers with snorkelling, kayaking, parasailing and scuba diving activities taking place all around. For further fun, explore Crescent Avenue which is the main promenade, filled with amazing dining and shopping opportunities, or explore the town on a rented golf cart; a unique form of travel for an equally unique town.
Cayucos
Situated on the coast in San Luis Obispo County, this small population town credits itself as being the 'last of the California beach towns'. Although not true by a long stretch; Cayucos does send you back in time, giving an old fashioned vibe to those that visit.
With a number of remarkable 19th century buildings filling the area, giving you a sense of what it was like during the time of the steamers, schooners and rum runners, you could fill you time just wandering the streets. However the jewel in this small crown, comes in the form of the long fishing pier that sits next to the spotless, soft white beach, lapped by clear blue waters; a peaceful retreat indeed. That said, the waters are ideal for surfing during certain seasons; it's little wonder Budget Travel Magazine named Cayucos one of the 'coolest small towns in America'.
Ventura County
There are plenty of beach towns extremely popular with locals and travellers alike, but there are a number of well kept secrets in the California beach town world. Loved by locals, Ventura County is situated between Malibu and Santa Barbara and plays home to equally as impressive beaches.
Featuring seven miles of hidden and unspoiled sands, such as Hollywood Beach, once a playground for A-listers like Charlie Chaplin and Clark Gable; this area is ideal for secluded day trips. Alongside the stunning beaches, the historic town of Ventura itself features many quaint boutiques, restaurants, a carousel and paddle boats, giving you an unexpected old timey day out in California. Two things to ensure you do before you leave is take a walk or bike ride across the coastal promenade, for some spectacular views – or visit later in the evening, and watch the sunset from the 1,620 foot Ventura Pier.
Healdsburg
California is known around the world for its wine, and within the vast wine country region of Sonoma, you'll find Healdsburg.
This exceptional and charming town centres heavily on its historic 19th century plaza. Stand and look in awe at the intricate architecture surrounding the square, helping to maintain its old-fashioned charm, before exploring the many quaint shops and restaurants dotted around. Other great places to check out include Healdsburg Ridge and Lake Sonoma, all providing spectacular views of rolling green hills, which you don't instinctively associate with California.
And the best thing about visiting Healdsburg is no matter which way you drive, you can always arrange a visit to some of the state's best wineries.
St. Helena
All the towns on this list have something different about them, and St Helena is no exception. Its main street is well known for its tranquil vibes and distinctive Victorian houses, which now play home to various shops selling a wide range of products, and restaurants, serving up delicious food raved about by locals. But despite their new offerings, you'll instantly feel like you've been sent back to Victorian England and not residing closer to the Hollywood Hills.
Due to its distinctive vintage vibes, St Helena has been featured in many architectural and urban planning magazines; making it ideal for wandering and observing the beauty of the buildings. There are also various vineyards nearby such as Pride Mountain and Schweiger vineyards, amongst many others, offering ideal days out.
Discover your own Californian adventure with  cheap flights to the USA  and a great deal on USA car hire with Netflights.com