Have you ever wondered where that cocktail you're slinging down came from or who thought of it? Many cocktails have solidified their place in history and aren't likely to ever go out of style. What's your favorite?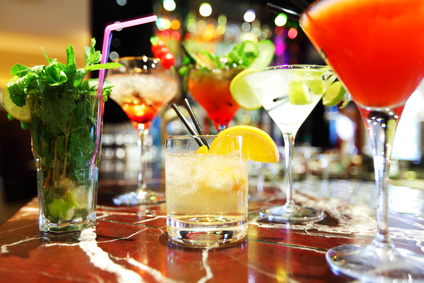 White Russian
Making its debut in the 1930's, the White Russian probably got its name because of the association of vodka being made in Russia. The original recipe differed from what it is today as is the case with many drinks that transform over time. Made with equal parts vodka, coffee liqueur, preferably Kahlua, and cream, it's the perfect sipping drink and sweet without being too sweet.
Bloody Mary
There are two opposing stories as to who invented the Bloody Mary. Comedian George Jessel claimed to create the concoction sometime in the 1950's as a hangover "cure" but others believe that a bartender named Fernand "Peter" Petriot, head bartender of the St. Regis Hotel in New York, was the drink's creator. It's believed he called them Red Snappers at that time. The tomato juice and vodka drink is often spiced up with Worcestershire sauce, salt, and pepper and topped off with a celery stick, though some places today use pickled string beans or olives.
Martini
Associated more with the jet-set, the Martini has become one of the most iconic drinks ever created. It owes its roots to the Martinez, a similar drink made popular between 1862 and 1871 and created by Julio Richelieu. The Martinez, however, was sweet while the classic Martini is anything but. Today the Martini consists of gin or vodka, with varying amounts of vermouth. The less the vermouth, the dryer the Martini.
Long Island Iced Tea
This is a potent drink that tastes much like your basic summertime ice tea. Its origins are not certain as some give credit to "Old Man Bishop" of Long Island in Tennessee in the 1920's while others credit Robert "Rosebud" Butt of Long Island, New York in the 1970's. The concoction has varied through the years, but it is generally made with equal parts gin, vodka, rum, and tequila with triple sec and a splash of cola.
Rob Roy
There seems to be no controversy about who created the Rob Roy as with many other iconic drinks. It was created at the Waldorf Hotel, New York City, in 1894 to commemorate the premiere of the Rob Roy operetta. It is served in varying degrees of sweetness; sweet, dry, or perfect, depending on one's taste. It is made with Scotch Whiskey exclusively. The sweet Rob Roy is made by adding sweet vermouth, the dry made with dry vermouth, and the perfect has an equal mixture of both.
Margarita
You've probably had a few of these popular drinks over your lifetime, either frozen or on the rocks. It's one of the most popular drinks in the US and internationally. Legend has it that the creator of this drink was a bartender in Mexico named Don Carlos Orozco, in October of 1941. It is purported that he named the drink after Margarita Henkel, the daughter of a German ambassador. Today the drink is most often made with tequila, triple sec, lime juice, and a fresh squeeze of lime and served frozen or over the rocks in a glass with a salted rim.
Now you're probably feeling a little thirsty, so go ahead and order one of these iconic cocktails. Make it a point to try one on the list you might not have sampled before. You may just find your new favorite.